Home Influence: A Tale for Mothers and Daughters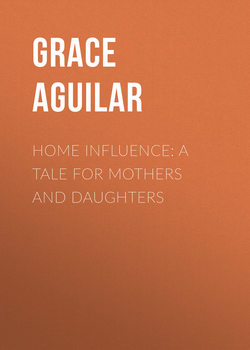 Оглавление
Aguilar Grace. Home Influence: A Tale for Mothers and Daughters
PREFACE
MEMOIR OF GRACE AGUILAR
PART I. THE SISTERS
CHAPTER I. A LAUNCH. – A PROMISE. – A NEW RELATION
CHAPTER II. GLIMPSES INTO A CHILD'S HEART. – A DEATHBED
CHAPTER III. RETROSPECTION. – THE LOWLY SOUGHT. – THE HAUGHTY FOILED
CHAPTER IV. RETROSPECTIVE. – EFFECTS OF COQUETRY. – OBEDIENCE AND DISOBEDIENCE
CHAPTER V. A HEART AND HOME IN ENGLAND. – A HEART AND HOME IN INDIA
CHAPTER VI. DOMESTIC DISCORD AND ITS END
PART II. TRAITS OF CHARACTER
CHAPTER I. YOUTHFUL COLLOQUY – INTRODUCING CHARACTER
CHAPTER II. THREE ENGLISH HOMES, AND THEIR INMATES
CHAPTER III. HOME SCENE. – VISITORS. – CHILDISH MEDITATIONS
CHAPTER IV. VARIETIES
CHAPTER V. A YOUNG GENTLEMAN IN A PASSION. – A WALK. – A SCENE OF DISTRESS
CHAPTER VI. CECIL GRAHAME'S PHILOSOPHY. – AN ERROR AND ITS CONSEQUENCES. – A MYSTERY AND A CONFIDENCE
CHAPTER VII. MR. MORTON'S STORY. – A CONFESSION. – A YOUNG PLEADER. – GENEROSITY NOT ALWAYS JUSTICE
CHAPTER VIII. AN UNPLEASANT PROPOSAL. – THE MYSTERY SOLVED. – A FATHER'S GRIEF FROM A MOTHER'S WEAKNESS. – A FATHER'S JOY FROM A MOTHER'S INFLUENCE
CHAPTER IX. TEMPTATION AND DISOBEDIENCE. – FEAR. – FALSEHOOD AND PUNISHMENT
CHAPTER X. PAIN AND PENITENCE. – TRUTH IMPRESSED, AND RECONCILIATION. – THE FAMILY TREE
CHAPTER XI. THE CHILDREN'S BALL
CHAPTER XII. EFFECTS OF PLEASURE. – THE YOUNG MIDSHIPMAN. – ILL-TEMPER, ITS ORIGIN AND CONSEQUENCES
CHAPTER XIII. SUSPICION. – A PARTING, A DOUBLE GRIEF. – INNOCENCE PROVED. – WRONG DONE AND EVIL CONFIRMED BY DOUBT
PART III. SIN AND SUFFERING
CHAPTER I. ADVANCE AND RETROSPECT
CHAPTER II. A LETTER, AND ITS CONSEQUENCES
CHAPTER III. A SUMMONS AND A LOSS
CHAPTER IV. THE BROKEN DESK
CHAPTER V. THE CULPRIT AND THE JUDGE
CHAPTER VI. THE SENTENCE, AND ITS EXECUTION
CHAPTER VII. THE LIGHT GLIMMERS
CHAPTER VIII. THE STRUGGLE
CHAPTER IX. ILLNESS AND REMORSE
CHAPTER X. MISTAKEN IMPRESSIONS ERADICATED
CHAPTER XI. THE LOSS OF THE SIREN
CHAPTER XII. FOREBODINGS
CHAPTER XIII. FORGIVENESS
CHAPTER XIV. THE RICH AND THE POOR
CHAPTER XV. A HOME SCENE, AND A PARTING
CHAPTER XVI. THE BIRTHDAY GIFT
Отрывок из книги
The following story will, the author trusts, sufficiently illustrate its title to require but few words in the way of preface. She is only anxious to impress two facts on the minds of her readers. The one – that having been brought before the public principally as the author of Jewish works, and as an explainer of the Hebrew Faith, some Christian mothers might fear that the present Work has the same tendency, and hesitate to place it in the hands of their children. She, therefore, begs to assure them, that as a simple domestic story, the characters in which are all Christians, believing in and practicing that religion, all doctrinal points have been most carefully avoided, the author seeking only to illustrate the spirit of true piety, and the virtues always designated as the Christian virtues thence proceeding. Her sole aim, with regard to Religion, has been to incite a train of serious and loving thought toward God and man, especially toward those with whom He has linked us in the precious ties of parent and child, brother and sister, master and pupil.
The second point she is desirous to bring forward is her belief, that in childhood and youth the spoken sentiment is one of the safest guides to individual character; and that if, therefore, she have written more conversation than may appear absolutely necessary for the elucidation of "Home Influence," or the interest of the narrative, it is from no wish to be diffuse, but merely to illustrate her own belief. Sentiment is the vehicle of THOUGHT, and THOUGHT the origin of ACTION. Children and youth have very seldom the power to evince character by action, and scarcely if ever understand the mystery of thought; and therefore their unrestrained conversation may often greatly aid parents and teachers in acquiring a correct idea of their natural disposition, and in giving hints for the mode of education each may demand.
.....
Eleanor's unfounded dislike toward Arthur Hamilton did not decrease when he became her brother-in-law; she chose to believe that he had injured her by being the only one who had remained proof against all the fascinations she had thrown in his way. Even in her childhood, if any one chanced to notice Emmeline more than herself, it was considered a mortal offense, and the person who had so offended was scarcely spoken to again. Therefore that Emmeline should be married before herself, and to the man she intended to captivate, but not to love, or wed, was an offense visited upon her sister by the withdrawal of her speech for six months, and on Mr. Hamilton by an insulting haughtiness of demeanor toward him, at which he only smiled; and, to her extreme annoyance, she found that even as she had failed to fascinate, she equally failed to offend. He would speak to her, would treat her with courtesy, and the quiet familiarity of an older relative – and more, actually remonstrate with her conduct whenever he thought it wrong. It was the recollection of this time, yet more than actual present feeling, which had occasioned the mistaken impressions she had infused into both her children, of the extreme severity and harshness of their uncle, thoughtlessly indeed, for the present was always all to her, and if she did think that they might one day be under his charge, she little imagined the unhappiness and mischief which their supposition of his unbending sternness might engender.
To Emmeline, the change in her young life was so marvelous, so complete – care, anxiety, loneliness, that sinking of the whole frame and heart, from the absence of appreciation and social kindness, had so departed, leaving in their stead such an intensity of quiet domestic happiness, that it was long before her full heart could believe it reality, and rest secure. She had always longed for one to reverence, to cling to, and her husband gave her room for both. As his betrothed, even before their marriage, she had been introduced to very different society to that of the marchioness; she beheld him reverenced, loved, appealed to by the wisest and the best men, often older than himself. That this man should so love, cherish, and actually reverence her – no wonder that under the magic of such feelings her character matured, displaying such engaging and unsuspected qualities, that even her husband often looked at her with astonishment, playfully asking her if she could be the same calm, almost too quiet, and seemingly too cold Emmeline Manvers whom he had first seen. Her very talents, which had seemed worthless, compared to her sister's, were called forth by her husband. She found that her voice and her touch on either piano or harp, could give him exquisite pleasure, and this once discovered, she made such improvement as almost to surprise herself. She found the sketches taken from the various lovely spots in the vicinity of their noble seat, and in which Devonshire abounds, delighted him, and when Eleanor did visit Oakwood, she was astounded at the various beautiful drawings, which evinced the employment of that leisure which she had declared must be even to the quiet Emmeline a horrid bore.
.....
Подняться наверх