Greater Britain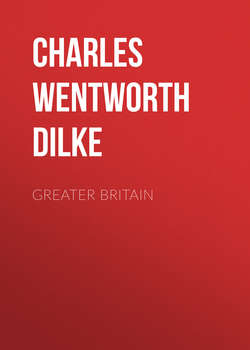 Оглавление
Charles Wentworth Dilke. Greater Britain
PREFACE
PART I. AMERICA
CHAPTER I. VIRGINIA
CHAPTER II. THE NEGRO
CHAPTER III. THE SOUTH
CHAPTER IV. THE EMPIRE STATE
CHAPTER V. CAMBRIDGE COMMENCEMENT
CHAPTER VI. CANADA
CHAPTER VII. UNIVERSITY OF MICHIGAN
CHAPTER VIII. THE PACIFIC RAILROAD
CHAPTER IX. OMPHALISM
CHAPTER X. LETTER FROM DENVER
CHAPTER XI. RED INDIA
CHAPTER XII. COLORADO
CHAPTER XIII. ROCKY MOUNTAINS
CHAPTER XIV. BRIGHAM YOUNG
CHAPTER XV. MORMONDOM
CHAPTER XVI. WESTERN EDITORS
CHAPTER XVII. UTAH
CHAPTER XVIII. NAMELESS ALPS
CHAPTER XIX. VIRGINIA CITY
CHAPTER XX. EL DORADO
CHAPTER XXI. LYNCH LAW
CHAPTER XXII. GOLDEN CITY
CHAPTER XXIII. LITTLE CHINA
CHAPTER XXIV. CALIFORNIA
CHAPTER XXV. MEXICO
CHAPTER XXVI. REPUBLICAN OR DEMOCRAT
CHAPTER XXVII. BROTHERS
CHAPTER XXVIII. AMERICA
PART II. POLYNESIA
CHAPTER I. PITCAIRN ISLAND
CHAPTER II. HOKITIKA
CHAPTER III. POLYNESIANS
CHAPTER IV. PAREWANUI PAH
CHAPTER V. THE MAORIES
CHAPTER VI. THE TWO FLIES
CHAPTER VII. THE PACIFIC
APPENDIX. A MAORI DINNER
PART III. AUSTRALIA
CHAPTER I. SYDNEY
CHAPTER II. RIVAL COLONIES
CHAPTER III. VICTORIA
CHAPTER IV. SQUATTER ARISTOCRACY
CHAPTER V. COLONIAL DEMOCRACY
CHAPTER VI. PROTECTION
CHAPTER VII. LABOR
CHAPTER VIII. WOMAN
CHAPTER IX. VICTORIAN PORTS
CHAPTER X. TASMANIA
CHAPTER XI. CONFEDERATION
CHAPTER XII. ADELAIDE
CHAPTER XIII. TRANSPORTATION
CHAPTER XIV. AUSTRALIA
CHAPTER XV. COLONIES
PART IV. INDIA
CHAPTER I. MARITIME CEYLON
CHAPTER II. KANDY
CHAPTER III. MADRAS TO CALCUTTA
CHAPTER IV. BENARES
CHAPTER V. CASTE
CHAPTER VI. MOHAMMEDAN CITIES
CHAPTER VII. SIMLA
CHAPTER VIII. COLONIZATION
CHAPTER IX
CHAPTER X. UMRITSUR
CHAPTER XI. LAHORE
CHAPTER XII. OUR INDIAN ARMY
CHAPTER XIII. RUSSIA
CHAPTER XIV. NATIVE STATES
CHAPTER XV. SCINDE
CHAPTER XVI. OVERLAND ROUTES
CHAPTER XVII. BOMBAY
CHAPTER XVIII. THE MOHURRUM
CHAPTER XIX. ENGLISH LEARNING
CHAPTER XX. INDIA
CHAPTER XXI. DEPENDENCIES
CHAPTER XXII. FRANCE IN THE EAST
CHAPTER XXIII. THE ENGLISH
Отрывок из книги
FROM the bows of the steamer Saratoga, on the 20th June, 1866, I caught sight of the low works of Fort Monroe, as, threading her way between the sand-banks of Capes Charles and Henry, the ship pressed on, under sail and steam, to enter Chesapeake Bay.
Our sudden arrival amid shoals of sharks and kingfish, the keeping watch for flocks of canvas-back ducks, gave us enough and to spare of idle work till we fully sighted the Yorktown peninsula, overgrown with ancient memories – ancient for America. Three towns of lost grandeur, or their ruins, stand there still. Williamsburg, the former capital, graced even to our time by the palaces where once the royal governors held more than regal state; Yorktown, where Cornwallis surrendered to the continental troops; Jamestown, the earliest settlement, founded in 1607, thirteen years before old Governor Winthrop fixed the site of Plymouth, Massachusetts.
.....
There is not only a scarcity of roads, but of railroads. A comparison of the railway system of Illinois and Indiana with the two lines of Kentucky or the one of Western Virginia or Louisiana, is a comparison of the South with the North, of slavery with freedom. Virginia shows already the decay of age, but is blasted by slavery rather than by war.
The works defending Richmond, hardly so strong as those of Petersburg, were attacked in a novel manner in the third year of the war. A strong body of Federal cavalry on a raid, unsupported by infantry or guns, came suddenly by night upon the outer lines of Richmond on the west. Something had led them to believe that the rebels were not in force, and with the strange aimless daring that animated both parties during the rebellion, they rode straight in along the winding road, unchallenged, and came up to the inner lines. There they were met by a volley which emptied a few saddles, and they retired, without even stopping to spike the guns in the outer works. Had they known enough of the troops opposed to them to have continued to advance, they might have taken Richmond, and held it long enough to have captured the rebel president and senate, and burned the great iron-works and ships. The whole of the rebel army had gone north, and even the home guard was camped out on the Chickahominy. The troops who fired the volley were a company of the "iron-works battalion," boys employed at the founderies, not one of whom had ever fired a rifle before this night. They confessed themselves that "one minute more, and they'd have run;" but the volley just stopped the enemy in time.
.....
Подняться наверх