The Descent of Man, and Selection in Relation to Sex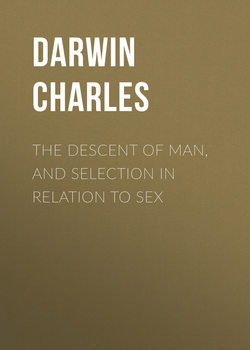 Оглавление
Darwin Charles. The Descent of Man, and Selection in Relation to Sex
PREFACE TO THE SECOND EDITION
THE DESCENT OF MAN; AND SELECTION IN RELATION TO SEX
INTRODUCTION
PART I. THE DESCENT OR ORIGIN OF MAN
CHAPTER I
CHAPTER II
CHAPTER III
CHAPTER IV
CHAPTER V
CHAPTER VI
CHAPTER VII
NOTE ON THE RESEMBLANCES AND DIFFERENCES IN THE STRUCTURE AND THE DEVELOPMENT OF THE BRAIN IN MAN AND APES BY PROFESSOR HUXLEY, F.R.S
PART II. SEXUAL SELECTION
CHAPTER VIII
CHAPTER IX
CHAPTER X
CHAPTER XI
CHAPTER XII
CHAPTER XIII
CHAPTER XIV
CHAPTER XV
CHAPTER XVI
CHAPTER XVII
CHAPTER XVIII
PART III.SEXUAL SELECTION IN RELATION TO MAN, AND CONCLUSION
CHAPTER XIX
CHAPTER XX
CHAPTER XXI
SUPPLEMENTAL NOTE
Отрывок из книги
The nature of the following work will be best understood by a brief account of how it came to be written. During many years I collected notes on the origin or descent of man, without any intention of publishing on the subject, but rather with the determination not to publish, as I thought that I should thus only add to the prejudices against my views. It seemed to me sufficient to indicate, in the first edition of my 'Origin of Species,' that by this work "light would be thrown on the origin of man and his history;" and this implies that man must be included with other organic beings in any general conclusion respecting his manner of appearance on this earth. Now the case wears a wholly different aspect. When a naturalist like Carl Vogt ventures to say in his address as President of the National Institution of Geneva (1869), "personne, en Europe au moins, n'ose plus soutenir la creation indépendante et de toutes pièces, des espèces," it is manifest that at least a large number of naturalists must admit that species are the modified descendants of other species; and this especially holds good with the younger and rising naturalists. The greater number accept the agency of natural selection; though some urge, whether with justice the future must decide, that I have greatly overrated its importance. Of the older and honoured chiefs in natural science, many unfortunately are still opposed to evolution in every form.
In consequence of the views now adopted by most naturalists, and which will ultimately, as in every other case, be followed by others who are not scientific, I have been led to put together my notes, so as to see how far the general conclusions arrived at in my former works were applicable to man. This seemed all the more desirable, as I had never deliberately applied these views to a species taken singly. When we confine our attention to any one form, we are deprived of the weighty arguments derived from the nature of the affinities which connect together whole groups of organisms – their geographical distribution in past and present times, and their geological succession. The homological structure, embryological development, and rudimentary organs of a species remain to be considered, whether it be man or any other animal, to which our attention may be directed; but these great classes of facts afford, as it appears to me, ample and conclusive evidence in favour of the principle of gradual evolution. The strong support derived from the other arguments should, however, always be kept before the mind.
.....
The bearing of the three great classes of facts now given is unmistakeable. But it would be superfluous fully to recapitulate the line of argument given in detail in my 'Origin of Species.' The homological construction of the whole frame in the members of the same class is intelligible, if we admit their descent from a common progenitor, together with their subsequent adaptation to diversified conditions. On any other view, the similarity of pattern between the hand of a man or monkey, the foot of a horse, the flipper of a seal, the wing of a bat, etc., is utterly inexplicable. (56. Prof. Bianconi, in a recently published work, illustrated by admirable engravings ('La Théorie Darwinienne et la création dite indépendante,' 1874), endeavours to shew that homological structures, in the above and other cases, can be fully explained on mechanical principles, in accordance with their uses. No one has shewn so well, how admirably such structures are adapted for their final purpose; and this adaptation can, as I believe, be explained through natural selection. In considering the wing of a bat, he brings forward (p. 218) what appears to me (to use Auguste Comte's words) a mere metaphysical principle, namely, the preservation "in its integrity of the mammalian nature of the animal." In only a few cases does he discuss rudiments, and then only those parts which are partially rudimentary, such as the little hoofs of the pig and ox, which do not touch the ground; these he shews clearly to be of service to the animal. It is unfortunate that he did not consider such cases as the minute teeth, which never cut through the jaw in the ox, or the mammae of male quadrupeds, or the wings of certain beetles, existing under the soldered wing-covers, or the vestiges of the pistil and stamens in various flowers, and many other such cases. Although I greatly admire Prof. Bianconi's work, yet the belief now held by most naturalists seems to me left unshaken, that homological structures are inexplicable on the principle of mere adaptation.) It is no scientific explanation to assert that they have all been formed on the same ideal plan. With respect to development, we can clearly understand, on the principle of variations supervening at a rather late embryonic period, and being inherited at a corresponding period, how it is that the embryos of wonderfully different forms should still retain, more or less perfectly, the structure of their common progenitor. No other explanation has ever been given of the marvellous fact that the embryos of a man, dog, seal, bat, reptile, etc., can at first hardly be distinguished from each other. In order to understand the existence of rudimentary organs, we have only to suppose that a former progenitor possessed the parts in question in a perfect state, and that under changed habits of life they became greatly reduced, either from simple disuse, or through the natural selection of those individuals which were least encumbered with a superfluous part, aided by the other means previously indicated.
Thus we can understand how it has come to pass that man and all other vertebrate animals have been constructed on the same general model, why they pass through the same early stages of development, and why they retain certain rudiments in common. Consequently we ought frankly to admit their community of descent: to take any other view, is to admit that our own structure, and that of all the animals around us, is a mere snare laid to entrap our judgment. This conclusion is greatly strengthened, if we look to the members of the whole animal series, and consider the evidence derived from their affinities or classification, their geographical distribution and geological succession. It is only our natural prejudice, and that arrogance which made our forefathers declare that they were descended from demi-gods, which leads us to demur to this conclusion. But the time will before long come, when it will be thought wonderful that naturalists, who were well acquainted with the comparative structure and development of man, and other mammals, should have believed that each was the work of a separate act of creation.
.....
Подняться наверх