Second Thoughts are Best: Or a Further Improvement of a Late Scheme to Prevent Street Robberies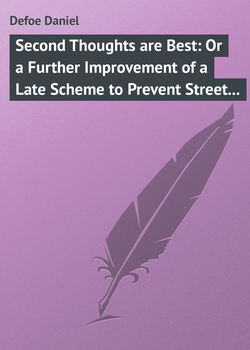 Оглавление
Defoe Daniel. Second Thoughts are Best: Or a Further Improvement of a Late Scheme to Prevent Street Robberies
MAJESTY, SACRED AND MOST AUGUST!
THE PREFACE
SECOND THOUGHTS, &c
Отрывок из книги
Nothing is more easy than to discover a thing already found out. This is verified in me and that anonymous gentleman, whom the public prints have lately complimented with a Discovery to Prevent Street Robberies; though, by the by, we have only his vain ipse dixit, and the ostentatious outcry of venal newswriters in his behalf.
But to strip him of his borrowed plumes, these are to remind the public, that about six months ago, in a treatise, entituled, Augusta Triumphans: or, the Way to make London the most flourishing City in the Universe, I laid down a plain and practicable scheme for the total suppression and prevention of street robberies, which scheme has been approved of by several learned and judicious persons.
.....
If my antagonist be necessitous, where is the merit? he does it for his own sake, not for the public. If he be not necessitous, what a sordid wretch is he to withhold his scheme for lucre? putting it up at public sale; so that if you do not give him his price you shall not have it.
Some people, indeed, are so fond of mysteries they run down everything that is plain and intelligible; they love darkness, whispers, and freemasonry, despising whatever comes in the shape of a pamphlet, be it never so useful or commendable. But in spite of prejudice, truth is the standard by which I hope all honest and impartial men will judge me.
.....
Подняться наверх