Miscellaneous Papers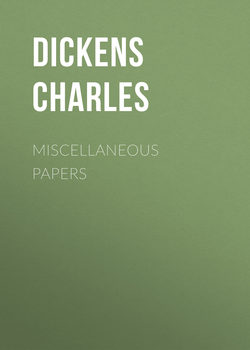 Оглавление
Dickens Charles. Miscellaneous Papers
THE AGRICULTURAL INTEREST
THREATENING LETTER TO THOMAS HOOD FROM AN ANCIENT GENTLEMAN
CRIME AND EDUCATION
CAPITAL PUNISHMENT
THE SPIRIT OF CHIVALRY IN WESTMINSTER HALL
IN MEMORIAM – W. M. THACKERAY
ADELAIDE ANNE PROCTER INTRODUCTION TO HER "LEGENDS AND LYRICS"
CHAUNCEY HARE TOWNSHEND EXPLANATORY INTRODUCTION TO "RELIGIOUS OPINIONS" BY THE LATE REVEREND CHAUNCEY HARE TOWNSHEND
ON MR. FECHTER'S ACTING
Отрывок из книги
MR. HOOD. SIR, – The Constitution is going at last! You needn't laugh, Mr. Hood. I am aware that it has been going, two or three times before; perhaps four times; but it is on the move now, sir, and no mistake.
I beg to say, that I use those last expressions advisedly, sir, and not in the sense in which they are now used by Jackanapeses. There were no Jackanapeses when I was a boy, Mr. Hood. England was Old England when I was young. I little thought it would ever come to be Young England when I was old. But everything is going backward.
.....
The dwarf being the favourite, sir, it is certain that the public mind will run in a great and eminent degree upon the production of dwarfs. Perhaps the failures only will be brought up, wild. The imagination goes a long way in these cases; and all that the imagination can do, will be done, and is doing. You may convince yourself of this, by observing the condition of those ladies who take particular notice of General Tom Thumb at the Egyptian Hall, during his hours of performance.
The rapid increase of dwarfs, will be first felt in her Majesty's recruiting department. The standard will, of necessity, be lowered; the dwarfs will grow smaller and smaller; the vulgar expression "a man of his inches" will become a figure of fact, instead of a figure of speech; crack regiments, household-troops especially, will pick the smallest men from all parts of the country; and in the two little porticoes at the Horse Guards, two Tom Thumbs will be daily seen, doing duty, mounted on a pair of Shetland ponies. Each of them will be relieved (as Tom Thumb is at this moment, in the intervals of his performance) by a wild man; and a British Grenadier will either go into a quart pot, or be an Old Boy, or Blue Gull, or Flying Bull, or some other savage chief of that nature.
.....
Подняться наверх