History of the Jews in Russia and Poland. Volume 1 of 3. From the Beginning until the Death of Alexander I (1825)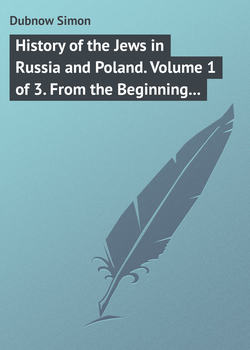 Оглавление
Dubnow Simon. History of the Jews in Russia and Poland. Volume 1 of 3. From the Beginning until the Death of Alexander I (1825)
TRANSLATOR'S PREFACE
CHAPTER I. THE JEWISH DIASPORA IN EASTERN EUROPE
CHAPTER II. THE JEWISH COLONIES IN POLAND AND LITHUANIA
CHAPTER III. THE AUTONOMOUS CENTER IN POLAND AT ITS ZENITH (1501-1648)
CHAPTER IV. THE INNER LIFE OF POLISH JEWRY AT ITS ZENITH
CHAPTER V. THE AUTONOMOUS CENTER IN POLAND DURING ITS DECLINE (1648-1772)
CHAPTER VI. THE INNER LIFE OF POLISH JEWRY DURING THE PERIOD OF DECLINE
CHAPTER VII. THE RUSSIAN QUARANTINE AGAINST JEWS (TILL 1772)
CHAPTER VIII. POLISH JEWRY DURING THE PERIOD OF THE PARTITIONS
CHAPTER IX. THE BEGINNINGS OF THE RUSSIAN RÉGIME
CHAPTER X. THE "ENLIGHTENED ABSOLUTISM" OF ALEXANDER I
CHAPTER XI. THE INNER LIFE OF RUSSIAN JEWRY DURING THE PERIOD OF "ENLIGHTENED ABSOLUTISM"
CHAPTER XII. THE LAST YEARS OF ALEXANDER I
Отрывок из книги
1. The Jewish Settlements on the Shores of the Black Sea
From the point of view of antiquity the Jewish Diaspora in the east of Europe is the equal of that in the west, though vastly its inferior in geographic expansion and spiritual development. It is even possible that the settlement of Jews in the east of Europe antedates their settlement in the west. For Eastern Europe, beginning with Alexander the Great, received its immigrants from the ancient lands of Hellenized Asia, while the immigration into Western Europe proceeded in the main from the Roman Empire, the heir to the Hellenic dominion of the East.
.....
The greatly reduced Khazar kingdom in Tauris, the survival of a mighty empire, was able to hold its own for nearly half a century, until in the eleventh century it fell a prey to the Russians and Byzantines (1016). The relatives of the last khagan fled, according to tradition, to their coreligionists in Spain. The Khazar nation was scattered, and was subsequently lost among the other nations. The remnants of the Khazars in the Crimea who professed Judaism were in all likelihood merged with the native Jews, consisting partly of Rabbanites and partly of Karaites.
In this way the ancient Jewish settlements on the Crimean Peninsula suddenly received a large increase. At the same time the influx of Jewish immigrants, who, together with the Greeks, moved from Byzantium towards the northern shores of the Black Sea, continued as theretofore, the greater part of these immigrants consisting of Karaites, who were found in large numbers in the Byzantine Empire. Even the subsequent dominion of the Pechenegs and Polovtzis, who ruled over the Tauris region after the downfall of the Khazars, failed to uproot the ancient traditions, and as late as the twelfth century the name Khazaria meets us in contemporary documents. About the year 1175 the traveler Pethahiah of Ratisbon visited "the land of the Kedars and that of the Khazars, which are separated from each other by a sea tongue," meaning the continental part of Tauris, where the nomadic Polovtzis (Kedars) were roaming about, and the Crimean Peninsula, between which two regions lie the Gulf of Perekop and the isthmus of the same name. In the land of the Kedars Pethahiah did not find genuine Jews, but minim, heretics or sectarians, who "do not believe in the traditions of the sages, eat their Sabbath meal in the dark, are ignorant of the Talmudic forms of the benedictions and prayers, and have not even heard of the Talmud." It is evident that the author is describing the Karaites.
.....
Подняться наверх