The Intermediate Sex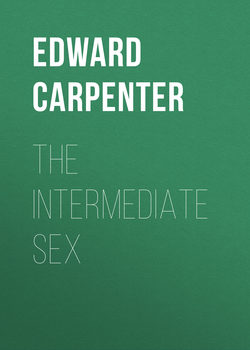 Оглавление
Edward Carpenter. The Intermediate Sex
PREFATORY NOTE TO FIRST EDITION
Introductory
II. The Intermediate Sex
III. The Homogenic Attachment
IV. Affection in Education
V. The Place of the Uranian in Society
Appendix
Отрывок из книги
The following papers, now collected in book-form, have been written—and some of them published—on various occasions during the last twelve or fourteen years, and in the intervals of other work; and this must be my excuse for occasional repetitions or overlapping of matter, which may be observable among them. I have thought it best, however, to leave them as they stand, as in this way each is more complete in itself. The second essay, which gives its title to the book, has already appeared in my "Love's Coming-of-Age" (edition 1906), but is reprinted here as belonging more properly to this volume.
A collection of quotations from responsible writers, who touch on various sides of the subject, is added at the end, to form an Appendix—which the author thinks will prove helpful, though he does not necessarily endorse all the opinions presented.
.....
It was no doubt in consequence of the observation of these signs that K. H. Ulrichs proposed his theory; and though the theory, as we have said, does not by any means meet all the facts, still it is perhaps not without merit, and may be worth bearing in mind.
In the case, for instance, of a woman of this temperament (defined we suppose as "a male soul in a female body") the theory helps us to understand how it might be possible for her to fall bonâ fide in love with another woman. Krafft-Ebing gives8 the case of a lady (A.), 28 years of age, who fell deeply in love with a younger one (B.). "I loved her divinely," she said. They lived together, and the union lasted four years, but was then broken by the marriage of B. A. suffered in consequence from frightful depression; but in the end—though without real love—got married herself. Her depression however only increased and deepened into illness. The doctors, when consulted, said that all would be well if she could only have a child. The husband, who loved his wife sincerely, could not understand her enigmatic behaviour. She was friendly to him, suffered his caresses, but for days afterwards remained "dull, exhausted, plagued with irritation of the spine, and nervous." Presently a journey of the married pair led to another meeting with the female friend—who had now been wedded (but also unhappily) for three years.
.....
Подняться наверх