Successward: A Young Man's Book for Young Men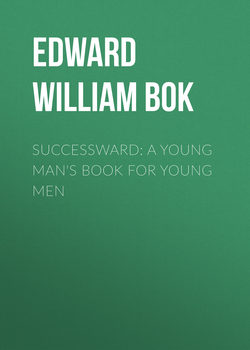 Оглавление
Edward William Bok. Successward: A Young Man's Book for Young Men
A FEW PREFATORY WORDS
I. A CORRECT KNOWLEDGE OF HIMSELF
II. WHAT, REALLY, IS SUCCESS?
III. THE YOUNG MAN IN BUSINESS
IV. HIS SOCIAL LIFE AND AMUSEMENTS
V "SOWING HIS WILD OATS"
VI. IN MATTERS OF DRESS
VII. HIS RELIGIOUS LIFE
VIII. HIS ATTITUDE TOWARD WOMEN
IX. THE QUESTION OF MARRIAGE
Отрывок из книги
THE first, the most essential, and the greatest element of success with a young man starting out to make a career is a correct knowledge of himself. He should, before he attempts anything, understand himself. He should study himself. He should be sure that, no matter whom else he may misunderstand, he has a correct knowledge of his own nature, his own character, and his own capabilities. And it is because so few young men have this knowledge of self that so many make disastrous failures, or fail in achieving what they set out for themselves at the beginning.
Every man in this world is created differently; no two are alike. Therefore, the nature, the thoughts, the character, the capacity of one man is utterly unlike that of another. What one man can understand another cannot. The success of one man indicates nothing to a second man. What one is capable of doing is beyond the power of another. Hence it is important that, first of all, a young man should look into himself, find out what has been given him, and come to a clear understanding of what he can do and what he cannot do.
.....
Some writer has said that most people find themselves out best while they are at play, upon the basis that a man shows his real side in the pleasures which he seeks and enjoys. This is true in a large measure. And the character of his pleasures will have both an indirect and a direct bearing upon the more practical side of his nature. If a young man visits an art gallery, for example, and finds that the pleasure he derives from the pictures takes the form of recreation to the mind, that he is delighted and interested in the canvases he sees so long as he is before them, but feels simply refreshed after he leaves the gallery, it is plain that his nature is not one suited to art as a vocation. He employs the picture as a means of recreation from some other study which has engrossed him most. If, on the other hand, his instincts lead him to an art gallery, and he studies rather than enjoys the pictures that he sees, is curious as to the methods of the artist, and goes away with his mind charged with the intention of getting further knowledge of what he has seen from books or other authorities, it is natural to assume that the art instinct is within him, and he should give it the fullest chance of development. But he should in every way feel, realize, and know that a love of art possesses him before he adopts it as a profession. And thus, in a way, a young man has an opportunity to study himself through his pleasures.
If, as a further example, a young man finds himself seeking the company of men older than himself, men of affairs of the world, is happiest when he can be in their company and hear them talk of business, chooses the reading of the lives of successful men as his literature, and leans toward the practical side of life, finding more real enjoyment amid the bustle of the mart than in the quiet of lane or park, the indications are that his nature points him to a business career rather than to a professional calling. If he feels this way, it is well for him to give his developing tastes full play, and follow where his instincts lead him. After a while what was at first a mere instinct or an unformed taste will develop and point him to something definite in the business world, and if he be true to himself he will sooner or later find himself in that particular position which he is best fitted to occupy and fill. His capacities will reveal themselves to him, and they will teach him his limitations. This knowledge need not thwart his ambitions, but I believe that ambition should always be just a trifle behind judgment, if possible, or, at all events, not in advance of it. Ambition is a splendid quality if properly guided and kept within check; it is a fatal possession when it is allowed too full development or sway. Like fire or water, it is a capital servant, but it makes a poor master.
.....
Подняться наверх