The Mentor: Scotland, The Land of Song and Scenery, Vol. 1, Num. 10, Serial No. 10, April 21, 1913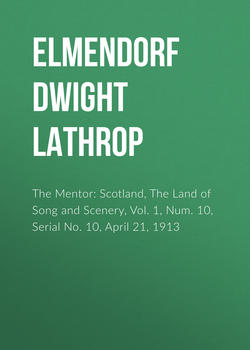 Оглавление
Elmendorf Dwight Lathrop. The Mentor: Scotland, The Land of Song and Scenery, Vol. 1, Num. 10, Serial No. 10, April 21, 1913
SCOTLAND. Robert Burns' Cottage
SCOTLAND. Ellens Isle
SCOTLAND. Melrose Abbey
SCOTLAND. Abbotsford
SCOTLAND. Stirling Castle
SCOTLAND. Fingals Cave
The Mentor "A Wise and Faithful Guide and Friend"
SCOTLAND. THE LAND OF SONG AND SCENERY
THE HOME OF BURNS
THE WALTER SCOTT COUNTRY
MELROSE ABBEY
THE HOME OF SCOTT
THE CASTLES OF SCOTLAND
THE HOME OF MARY, QUEEN OF SCOTS
THE SCOTTISH ISLES
FINGALS CAVE
Отрывок из книги
A fierce looking man who had lost his way stood on a beach of snow-white pebbles near a beautiful little glassy lake and blew a loud blast on the bugle which he held in his left hand. And almost immediately he dodged into a nearby thicket of bushes and stood there peering forth at a little skiff that came gliding toward the shore from underneath a gnarled oak tree overhanging the water. The only occupant of the boat was a beautiful young girl, who, after guiding it to a safe landing on the silvery strand, stepped gracefully out on the pebbles.
This was James Fitzjames' first sight of Ellen, the heroine of Sir Walter Scott's poem, "The Lady of the Lake," which has immortalized for all time Loch Katrine in the Trossachs, Scotland. There in the lake sleeps Ellens Isle, the pretty little island on which the girl lived – and last secret fastness of her fierce clan.
.....
In the poem Fitzjames has become separated from his companions, and his bugle call is to summon them to his side from the hunt on which they are engaged. But before they come Fitzjames makes the acquaintance of the girl and goes to Ellens Isle with her – and that's the beginning of the romance that has made Scott's poem famous.
All the country round about Loch Katrine has been made famous by Scott. Almost every spot has been the scene of one or more incidents in his novels. High above Callander rise Uamh Var, where the stag was started at the beginning of "The Lady of the Lake," and Ben Crackie, with the wild Bracklin Fall, within the roar of whose waters the seer of Clan Alpine wrapped himself in the white bull's hide to dream his dream. Northward from Callander lies the beautiful Pass of Seny, up which Duncraggan's heir rushed with the Fiery Cross, to thrust it, at the door of the little kirk of St. Bride, into the hands of the new-wed Norman, heir of Armandave. And westward from Callander lie Coilantogle Ford, where James Fitzjames fought Roderick Dhu; Lanrick Mead, the fierce clan's muster-place; and Duncraggan, scene of the Highland funeral.
.....
Подняться наверх