The Journal of a Voyage to Lisbon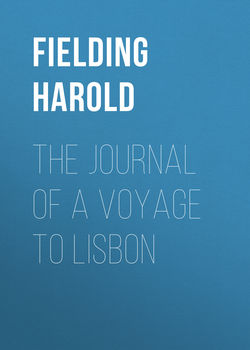 Оглавление
Fielding Harold. The Journal of a Voyage to Lisbon
INTRODUCTION TO SEVERAL WORKS
DEDICATION TO THE PUBLIC
INTRODUCTION
THE VOYAGE
Отрывок из книги
Your candor is desired on the perusal of the following sheets, as they are the product of a genius that has long been your delight and entertainment. It must be acknowledged that a lamp almost burnt out does not give so steady and uniform a light as when it blazes in its full vigor; but yet it is well known that by its wavering, as if struggling against its own dissolution, it sometimes darts a ray as bright as ever. In like manner, a strong and lively genius will, in its last struggles, sometimes mount aloft, and throw forth the most striking marks of its original luster.
Wherever these are to be found, do you, the genuine patrons of extraordinary capacities, be as liberal in your applauses of him who is now no more as you were of him whilst he was yet amongst you. And, on the other hand, if in this little work there should appear any traces of a weakened and decayed life, let your own imaginations place before your eyes a true picture in that of a hand trembling in almost its latest hour, of a body emaciated with pains, yet struggling for your entertainment; and let this affecting picture open each tender heart, and call forth a melting tear, to blot out whatever failings may be found in a work begun in pain, and finished almost at the same period with life. It was thought proper by the friends of the deceased that this little piece should come into your hands as it came from the hands of the author, it being judged that you would be better pleased to have an opportunity of observing the faintest traces of a genius you have long admired, than have it patched by a different hand, by which means the marks of its true author might have been effaced. That the success of the last written, though first published, volume of the author's posthumous pieces may be attended with some convenience to those innocents he hath left behind, will no doubt be a motive to encourage its circulation through the kingdom, which will engage every future genius to exert itself for your pleasure. The principles and spirit which breathe in every line of the small fragment begun in answer to Lord Bolingbroke will unquestionably be a sufficient apology for its publication, although vital strength was wanting to finish a work so happily begun and so well designed. PREFACE THERE would not, perhaps, be a more pleasant or profitable study, among those which have their principal end in amusement, than that of travels or voyages, if they were wrote as they might be and ought to be, with a joint view to the entertainment and information of mankind. If the conversation of travelers be so eagerly sought after as it is, we may believe their books will be still more agreeable company, as they will in general be more instructive and more entertaining. But when I say the conversation of travelers is usually so welcome, I must be understood to mean that only of such as have had good sense enough to apply their peregrinations to a proper use, so as to acquire from them a real and valuable knowledge of men and things, both which are best known by comparison. If the customs and manners of men were everywhere the same, there would be no office so dull as that of a traveler, for the difference of hills, valleys, rivers, in short, the various views of which we may see the face of the earth, would scarce afford him a pleasure worthy of his labor; and surely it would give him very little opportunity of communicating any kind of entertainment or improvement to others.
.....
The powers of Mr. Ward's remedies want indeed no unfair puffs of mine to give them credit; and though this distemper of the dropsy stands, I believe, first in the list of those over which he is always certain of triumphing, yet, possibly, there might be something particular in my case capable of eluding that radical force which had healed so many thousands. The same distemper, in different constitutions, may possibly be attended with such different symptoms, that to find an infallible nostrum for the curing any one distemper in every patient may be almost as difficult as to find a panacea for the cure of all.
But even such a panacea one of the greatest scholars and best of men did lately apprehend he had discovered. It is true, indeed, he was no physician; that is, he had not by the forms of his education acquired a right of applying his skill in the art of physic to his own private advantage; and yet, perhaps, it may be truly asserted that no other modern hath contributed so much to make his physical skill useful to the public; at least, that none hath undergone the pains of communicating this discovery in writing to the world. The reader, I think, will scarce need to be informed that the writer I mean is the late bishop of Cloyne, in Ireland, and the discovery that of the virtues of tar-water.
.....
Подняться наверх