The Flight of the Shadow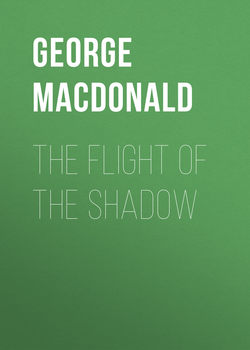 Оглавление
George MacDonald. The Flight of the Shadow
CHAPTER I. MRS. DAY BEGINS THE STORY
CHAPTER II. MISS MARTHA MOON
CHAPTER III. MY UNCLE
CHAPTER IV. MY UNCLE'S ROOM, AND MY UNCLE IN IT
CHAPTER V. MY FIRST SECRET
CHAPTER VI. I LOSE MYSELF
CHAPTER VII. THE MIRROR
CHAPTER VIII. THANATOS AND ZOE
CHAPTER IX. THE GARDEN
CHAPTER X. ONCE MORE A SECRET
CHAPTER XI. THE MOLE BURROWS
CHAPTER XII. A LETTER
CHAPTER XIII. OLD LOVE AND NEW
CHAPTER XIV. MOTHER AND UNCLE
CHAPTER XV. THE TIME BETWEEN
CHAPTER XVI. FAULT AND NO FAULT
CHAPTER XVII. THE SUMMONS
CHAPTER XVIII. JOHN SEES SOMETHING
CHAPTER XIX. JOHN IS TAKEN ILL
CHAPTER XX. A STRANGE VISIT
CHAPTER XXI. A FOILED ATTEMPT
CHAPTER XXII. JOHN RECALLS AND REMEMBERS
CHAPTER XXIII. LETTER AND ANSWER
CHAPTER XXIV. HAND TO HAND
CHAPTER XXV. A VERY STRANGE THING
CHAPTER XXVI. THE EVIL DRAWS NIGHER
CHAPTER XXVII. AN ENCOUNTER
CHAPTER XXVIII. ANOTHER VISION
CHAPTER XXIX. MOTHER AND SON
CHAPTER XXX. ONCE MORE, AND YET AGAIN
CHAPTER XXXI. MY UNCLE COMES HOME
CHAPTER XXXII. TWICE TWO IS ONE
CHAPTER XXXIII. HALF ONE IS ONE
CHAPTER XXXIV. THE STORY OF MY TWIN UNCLES
CHAPTER XXXV. UNCLE EDMUND'S APPENDIX
CHAPTER XXXVI. THE END OF THE FIRST VOLUME
Отрывок из книги
Let me look back and see what first things I first remember!
All about my uncle first; but I keep him to the last. Next, all about Rover, the dog—though for roving, I hardly remember him away from my side! Alas, he did not live to come into the story, but I must mention him here, for I shall not write another book, and, in the briefest summary of my childhood, to make no allusion to him would be disloyalty. I almost believe that at one period, had I been set to say who I was, I should have included Rover as an essential part of myself. His tail was my tail; his legs were my legs; his tongue was my tongue!—so much more did I, as we gambolled together, seem conscious of his joy than of my own! Surely, among other and greater mercies, I shall find him again! The next person I see busy about the place, now here now there in the house, and seldom outside it, is Miss Martha Moon. The house is large, built at a time when the family was one of consequence, and there was always much to be done in it. The largest room in it is now called the kitchen, but was doubtless called the hall when first it was built. This was Miss Martha Moon's headquarters.
.....
"No doubt the world would come to an end, but it would go out singing, not crying. I don't see that would matter. There would be enough to make each other happy in heaven, and the Lord could make more as they were wanted."
"Uncle says it takes God a long time to make a man!" I ventured to remark.
.....
Подняться наверх