The Seaboard Parish, Volume 3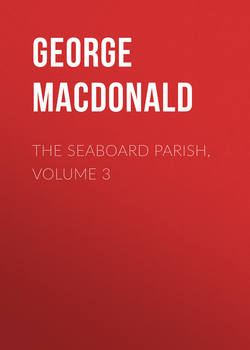 Оглавление
George MacDonald. The Seaboard Parish, Volume 3
CHAPTER I. A WALK WITH MY WIFE
CHAPTER II. OUR LAST SHORE-DINNER
CHAPTER III. A PASTORAL VISIT
CHAPTER IV. THE ART OF NATURE
CHAPTER V. THE SORE SPOT
CHAPTER VI. THE GATHERING STORM
CHAPTER VII. THE GATHERED STORM
CHAPTER VIII. THE SHIPWRECK
CHAPTER IX. THE FUNERAL
CHAPTER X. THE SERMON
CHAPTER XI. CHANGED PLANS
CHAPTER XII. THE STUDIO
CHAPTER XIII. HOME AGAIN
Отрывок из книги
The next day was very lovely. I think it is the last of the kind of which I shall have occasion to write in my narrative of the Seaboard Parish. I wonder if my readers are tired of so much about the common things of Nature. I reason about it something in this way: We are so easily affected by the smallest things that are of the unpleasant kind, that we ought to train ourselves to the influence of those that are of an opposite nature. The unpleasant ones are like the thorns which make themselves felt as we scramble—for we often do scramble in a very undignified manner—through the thickets of life; and, feeling the thorns, we grumble, and are blind to all but the thorns. The flowers, and the lovely leaves, and the red berries, and the clusters of filberts, and the birds'-nests do not force themselves upon our attention as the thorns do, and the thorns make us forget to look for them. But a scratch would be forgotten—and that in mental hurts is often equivalent to a cure, for a forgotten scratch on the mind or heart will never fester—if we but allowed our being a moment's repose upon any of the quiet, waiting, unobtrusive beauties that lie around the half-trodden way, offering their gentle healing. And when I think how, not unfrequently, otherwise noble characters are anything but admirable when under the influence of trifling irritations, the very paltriness of which seems what the mind, which would at once rouse itself to a noble endurance of any mighty evil, is unable to endure, I would gladly help so with sweet antidotes to defeat the fly in the ointment of the apothecary that the whole pot shall send forth a pure savour. We ought for this to cultivate the friendships of little things. Beauty is one of the surest antidotes to vexation. Often when life looked dreary about me, from some real or fancied injustice or indignity, has a thought of truth been flashed into my mind from a flower, a shape of frost, or even a lingering shadow—not to mention such glories as angel-winged clouds, rainbows, stars, and sunrises. Therefore I hope that in my loving delay over such aspects of Nature as impressed themselves upon me in this most memorable part of my history I shall not prove wearisome to my reader, for therein I should utterly contravene my hope and intent in the recording of them.
This day there was to be an unusually low tide, and we had reckoned on enlarging our acquaintance with the bed of the ocean—of knowing a few yards more of the millions of miles lapt in the mystery of waters. It was to be low water about two o'clock, and we resolved to dine upon the sands. But all the morning the children were out playing on the threshold of old Neptune's palace; for in his quieter mood he will, like a fierce mastiff, let children do with him what they will. I gave myself a whole holiday—sometimes the most precious part of my life both for myself and those for whom I labour—and wandered about on the shore, now passing the children, and assailed with a volley of cries and entreaties to look at this one's castle and that one's ditch, now leaving them behind, with what in its ungraduated flatness might well enough personate an endless desert of sand between, over the expanse of which I could imagine them disappearing on a far horizon, whence however a faint occasional cry of excitement and pleasure would reach my ears. The sea was so calm, and the shore so gently sloping, that you could hardly tell where the sand ceased and the sea began—the water sloped to such a thin pellicle, thinner than any knife-edge, upon the shining brown sand, and you saw the sand underneath the water to such a distance out. Yet this depth, which would not drown a red spider, was the ocean. In my mind I followed that bed of shining sand, bared of its hiding waters, out and out, till I was lost in an awful wilderness of chasms, precipices, and mountain-peaks, in whose caverns the sea-serpent may dwell, with his breath of pestilence; the kraken, with "his skaly rind," may there be sleeping
.....
When I opened the door, forgetting to announce my approach as I ought to have done, I saw Wynnie leaning over Connie, and Connie's arm round her waist. Wynnie started back, and Connie gave a little cry, for the jerk thus occasioned had hurt her. Wynnie had turned her head away, but turned it again at Connie's cry, and I saw a tear on her face.
"My darlings, I beg your pardon," I said. "It was very stupid of me not to knock at the door."
.....
Подняться наверх