The Seaboard Parish, Complete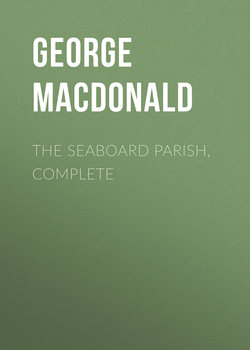 Оглавление
George MacDonald. The Seaboard Parish, Complete
VOLUME I
CHAPTER I. HOMILETIC
CHAPTER II. CONSTANCE'S BIRTHDAY
CHAPTER III. THE SICK CHAMBER
CHAPTER IV. A SUNDAY EVENING
CHAPTER V. MY DREAM
CHAPTER VI. THE NEW BABY
CHAPTER VII. ANOTHER SUNDAY EVENING
CHAPTER VIII. THEODORA'S DOOM
CHAPTER IX. A SPRING CHAPTER
CHAPTER X. AN IMPORTANT LETTER
CHAPTER XI. CONNIE'S DREAM
CHAPTER XII. THE JOURNEY
CHAPTER XIII. WHAT WE DID WHEN WE ARRIVED
CHAPTER XIV. MORE ABOUT KILKHAVEN
CHAPTER XV. THE OLD CHURCH
CHAPTER XVI. CONNIE'S WATCH-TOWER
CHAPTER XVII. MY FIRST SERMON IN THE SEABOARD PARISH
VOLUME II
CHAPTER I. ANOTHER SUNDAY EVENING
CHAPTER II. NICEBOOTS
CHAPTER III. THE BLACKSMITH
CHAPTER IV. THE LIFE-BOAT
CHAPTER V. MR. PERCIVALE
CHAPTER VI. THE SHADOW OP DEATH
CHAPTER VII. AT THE FARM
CHAPTER VIII. THE KEEVE
CHAPTER IX. THE WALK TO CHURCH
CHAPTER X. THE OLD CASTLE
CHAPTER XI. JOE AND HIS TROUBLE
CHAPTER XII. A SMALL ADVENTURE
CHAPTER XIII. THE HARVEST
VOLUME III
CHAPTER I. A WALK WITH MY WIFE
CHAPTER II. OUR LAST SHORE-DINNER
CHAPTER III. A PASTORAL VISIT
CHAPTER IV. THE ART OF NATURE
CHAPTER V. THE SORE SPOT
CHAPTER VI. THE GATHERING STORM
CHAPTER VII. THE GATHERED STORM
CHAPTER VIII. THE SHIPWRECK
CHAPTER IX. THE FUNERAL
CHAPTER X. THE SERMON
CHAPTER XI. CHANGED PLANS
CHAPTER XII. THE STUDIO
CHAPTER XIII. HOME AGAIN
Отрывок из книги
Dear Friends,—I am beginning a new book like an old sermon; but, as you know, I have been so accustomed to preach all my life, that whatever I say or write will more or less take the shape of a sermon; and if you had not by this time learned at least to bear with my oddities, you would not have wanted any more of my teaching. And, indeed, I did not think you would want any more. I thought I had bidden you farewell. But I am seated once again at my writing-table, to write for you—with a strange feeling, however, that I am in the heart of some curious, rather awful acoustic contrivance, by means of which the words which I have a habit of whispering over to myself as I write them, are heard aloud by multitudes of people whom I cannot see or hear. I will favour the fancy, that, by a sense of your presence, I may speak the more truly, as man to man.
But let me, for a moment, suppose that I am your grandfather, and that you have all come to beg for a story; and that, therefore, as usually happens in such cases, I am sitting with a puzzled face, indicating a more puzzled mind. I know that there are a great many stories in the holes and corners of my brain; indeed, here is one, there is one, peeping out at me like a rabbit; but alas, like a rabbit, showing me almost at the same instant the tail-end of it, and vanishing with a contemptuous thud of its hind feet on the ground. For I must have suitable regard to the desires of my children. It is a fine thing to be able to give people what they want, if at the same time you can give them what you want. To give people what they want, would sometimes be to give them only dirt and poison. To give them what you want, might be to set before them something of which they could not eat a mouthful. What both you and I want, I am willing to think, is a dish of good wholesome venison. Now I suppose my children around me are neither young enough nor old enough to care about a fairy tale, go that will not do. What they want is, I believe, something that I know about—that has happened to myself. Well, I confess, that is the kind of thing I like best to hear anybody talk to me about. Let anyone tell me something that has happened to himself, especially if he will give me a peep into how his heart took it, as it sat in its own little room with the closed door, and that person will, so telling, absorb my attention: he has something true and genuine and valuable to communicate. They are mostly old people that can do so. Not that young people have nothing happen to them; but that only when they grow old, are they able to see things right, to disentangle confusions, and judge righteous judgment. Things which at the time appeared insignificant or wearisome, then give out the light that was in them, show their own truth, interest, and influence: they are far enough off to be seen. It is not when we are nearest to anything that we know best what it is. How I should like to write a story for old people! The young are always having stories written for them. Why should not the old people come in for a share? A story without a young person in it at all! Nobody under fifty admitted! It could hardly be a fairy tale, could it? Or a love story either? I am not so sure about that. The worst of it would be, however, that hardly a young person would read it. Now, we old people would not like that. We can read young people's books and enjoy them: they would not try to read old men's books or old women's books; they would be so sure of their being dry. My dear old brothers and sisters, we know better, do we not? We have nice old jokes, with no end of fun in them; only they cannot see the fun. We have strange tales, that we know to be true, and which look more and more marvellous every time we turn them over again; only somehow they do not belong to the ways of this year—I was going to say week,—and so the young people generally do not care to hear them. I have had one pale-faced boy, to be sure, who will sit at his mother's feet, and listen for hours to what took place before he was born. To him his mother's wedding-gown was as old as Eve's coat of skins. But then he was young enough not yet to have had a chance of losing the childhood common to the young and the old. Ah! I should like to write for you, old men, old women, to help you to read the past, to help you to look for the future. Now is your salvation nearer than when you believed; for, however your souls may be at peace, however your quietness and confidence may give you strength, in the decay of your earthly tabernacle, in the shortening of its cords, in the weakening of its stakes, in the rents through which you see the stars, you have yet your share in the cry of the creation after the sonship. But the one thing I should keep saying to you, my companions in old age, would be, "Friends, let us not grow old." Old age is but a mask; let us not call the mask the face. Is the acorn old, because its cup dries and drops it from its hold—because its skin has grown brown and cracks in the earth? Then only is a man growing old when he ceases to have sympathy with the young. That is a sign that his heart has begun to wither. And that is a dreadful kind of old age. The heart needs never be old. Indeed it should always be growing younger. Some of us feel younger, do we not, than when we were nine or ten? It is not necessary to be able to play at leapfrog to enjoy the game. There are young creatures whose turn it is, and perhaps whose duty it would be, to play at leap-frog if there was any necessity for putting the matter in that light; and for us, we have the privilege, or if we will not accept the privilege, then I say we have the duty, of enjoying their leap-frog. But if we must withdraw in a measure from sociable relations with our fellows, let it be as the wise creatures that creep aside and wrap themselves up and lay themselves by that their wings may grow and put on the lovely hues of their coming resurrection. Such a withdrawing is in the name of youth. And while it is pleasant—no one knows how pleasant except him who experiences it—to sit apart and see the drama of life going on around him, while his feelings are calm and free, his vision clear, and his judgment righteous, the old man must ever be ready, should the sweep of action catch him in its skirts, to get on his tottering old legs, and go with brave heart to do the work of a true man, none the less true that his hands tremble, and that he would gladly return to his chimney-corner. If he is never thus called out, let him examine himself, lest he should be falling into the number of those that say, "I go, sir," and go not; who are content with thinking beautiful things in an Atlantis, Oceana, Arcadia, or what it may be, but put not forth one of their fingers to work a salvation in the earth. Better than such is the man who, using just weights and a true balance, sells good flour, and never has a thought of his own.
.....
"Nobody does."
"Nobody!" she exclaimed. "How do the grammars and history-books come to be written then?"
.....
Подняться наверх