A History of Chinese Literature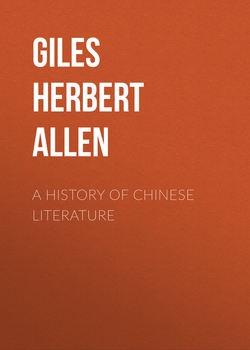 Оглавление
Giles Herbert Allen. A History of Chinese Literature
PREFACE
BOOK THE FIRST. THE FEUDAL PERIOD (B.C. 600-200)
CHAPTER I. LEGENDARY AGES – EARLY CHINESE CIVILISATION – ORIGIN OF WRITING
CHAPTER II. CONFUCIUS – THE FIVE CLASSICS
CHAPTER III. THE FOUR BOOKS – MENCIUS
CHAPTER IV. MISCELLANEOUS WRITERS
Chapter V. POETRY – INSCRIPTIONS
CHAPTER VI. TAOISM – THE "TAO-TÊ-CHING"
BOOK THE SECOND. THE HAN DYNASTY (B.C. 200 – A.D. 200)
CHAPTER I. THE "FIRST EMPEROR" – THE BURNING OF THE BOOKS – MISCELLANEOUS WRITERS
CHAPTER II. POETRY
CHAPTER III. HISTORY – LEXICOGRAPHY
CHAPTER IV. BUDDHISM
BOOK THE THIRD. MINOR DYNASTIES (A.D. 200-600)
CHAPTER I. POETRY – MISCELLANEOUS LITERATURE
CHAPTER II. CLASSICAL SCHOLARSHIP
BOOK THE FOURTH. THE T'ANG DYNASTY (A.D. 600-900)
CHAPTER I. POETRY
CHAPTER II. CLASSICAL AND GENERAL LITERATURE
BOOK THE FIFTH. THE SUNG DYNASTY (A.D. 900-1200)
CHAPTER I. THE INVENTION OF BLOCK-PRINTING
CHAPTER II. HISTORY – CLASSICAL AND GENERAL LITERATURE
CHAPTER III. POETRY
CHAPTER IV. DICTIONARIES – ENCYCLOPÆDIAS – MEDICAL JURISPRUDENCE
BOOK THE SIXTH. THE MONGOL DYNASTY (A.D. 1200-1368)
CHAPTER I. MISCELLANEOUS LITERATURE – POETRY
CHAPTER II. THE DRAMA
CHAPTER III. THE NOVEL
BOOK THE SEVENTH. THE MING DYNASTY (A.D. 1368-1644)
CHAPTER I. MISCELLANEOUS LITERATURE – MATERIA MEDICA – ENCYCLOPÆDIA OF AGRICULTURE
CHAPTER II. NOVELS AND PLAYS
CHAPTER III. POETRY
BOOK THE EIGHTH. THE MANCHU DYNASTY (A.D. 1644-1900)
CHAPTER I. THE "LIAO CHAI" – THE "HUNG LOU MÊNG"
CHAPTER II. THE EMPERORS K'ANG HSI AND CH'IEN LUNG
CHAPTER III. CLASSICAL AND MISCELLANEOUS LITERATURE – POETRY
CHAPTER IV. WALL LITERATURE – JOURNALISM – WIT AND HUMOUR – PROVERBS AND MAXIMS
BIBLIOGRAPHICAL NOTE
Отрывок из книги
The date of the beginning of all things has been nicely calculated by Chinese chronologers. There was first of all a period when Nothing existed, though some enthusiasts have attempted to deal with a period antecedent even to that. Gradually Nothing took upon itself the form and limitations of Unity, represented by a point at the centre of a circle. Thus there was a Great Monad, a First Cause, an Aura, a Zeitgeist, or whatever one may please to call it.
After countless ages, spent apparently in doing nothing, this Monad split into Two Principles, one active, the other passive; one positive, the other negative; light and darkness; male and female. The interaction of these Two Principles resulted in the production of all things, as we see them in the universe around us, 2,269,381 years ago. Such is the cosmogony of the Chinese in a nutshell.
.....
The following is a well-known colloquy between Mencius and a sophist of the day who tried to entangle the former in his talk: —
The sophist inquired, saying, "'Is it a rule of social etiquette that when men and women pass things from one to another they shall not allow their hands to touch?'
.....
Подняться наверх