Fairy Tales of Hans Christian Andersen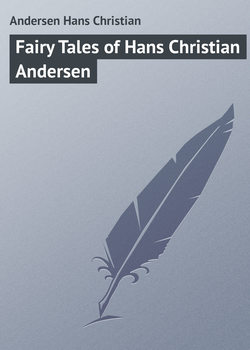 Оглавление
Hans Christian Andersen. Fairy Tales of Hans Christian Andersen
A STORY
BY THE ALMSHOUSE WINDOW
THE ANGEL
ANNE LISBETH
THE CONCEITED APPLE-BRANCH
BEAUTY OF FORM AND BEAUTY OF MIND
THE BEETLE WHO WENT ON HIS TRAVELS
THE BELL
THE BELL-DEEP
THE BIRD OF POPULAR SONG
THE BISHOP OF BORGLUM AND HIS WARRIORS
THE BOTTLE NECK
THE BUCKWHEAT
THE BUTTERFLY
A CHEERFUL TEMPER
THE CHILD IN THE GRAVE
CHILDREN'S PRATTLE
THE FARM-YARD COCK AND THE WEATHER-COCK
THE DAISY
THE DARNING-NEEDLE
DELAYING IS NOT FORGETTING
THE DROP OF WATER
THE DRYAD
JACK THE DULLARD. AN OLD STORY TOLD ANEW
THE DUMB BOOK
THE ELF OF THE ROSE
THE ELFIN HILL
THE EMPEROR'S NEW SUIT
THE FIR TREE
THE FLAX
THE FLYING TRUNK
THE SHEPHERD'S STORY OF THE BOND OF FRIENDSHIP
THE GIRL WHO TROD ON THE LOAF
THE GOBLIN AND THE HUCKSTER
THE GOLDEN TREASURE
THE GOLOSHES OF FORTUNE
A BEGINNING
WHAT HAPPENED TO THE COUNSELLOR
THE WATCHMAN'S ADVENTURES
THE EVENTFUL MOMENT – A MOST UNUSUAL JOURNEY
THE CLERK'S TRANSFORMATION
THE BEST THING THE GOLOSHES DID
SHE WAS GOOD FOR NOTHING
GRANDMOTHER
A GREAT GRIEF
THE HAPPY FAMILY
A LEAF FROM HEAVEN
HOLGER DANSKE
IB AND LITTLE CHRISTINA
THE ICE MAIDEN
I. LITTLE RUDY
II. THE JOURNEY TO THE NEW HOME
III. THE UNCLE
IV. BABETTE
V. ON THE WAY HOME
VI. THE VISIT TO THE MILL
VII. THE EAGLE'S NEST
VIII. WHAT FRESH NEWS THE PARLOR-CAT HAD TO TELL
IX. THE ICE MAIDEN
X. THE GODMOTHER
XI. THE COUSIN
XII. EVIL POWERS
XIII. AT THE MILL
XIV. NIGHT VISIONS
XV. THE CONCLUSION
THE JEWISH MAIDEN
THE JUMPER
THE LAST DREAM OF THE OLD OAK
THE LAST PEARL
LITTLE CLAUS AND BIG CLAUS
THE LITTLE ELDER-TREE MOTHER
LITTLE IDA'S FLOWERS
THE LITTLE MATCH-SELLER
THE LITTLE MERMAID
LITTLE TINY OR THUMBELINA
LITTLE TUK
THE LOVELIEST ROSE IN THE WORLD
THE MAIL-COACH PASSENGERS
THE MARSH KING'S DAUGHTER
THE METAL PIG
THE MONEY-BOX
WHAT THE MOON SAW
INTRODUCTION
FIRST EVENING
SECOND EVENING
THIRD EVENING
FOURTH EVENING
FIFTH EVENING
SIXTH EVENING
SEVENTH EVENING
EIGHTH EVENING
NINTH EVENING
TENTH EVENING
ELEVENTH EVENING
TWELFTH EVENING
THIRTEENTH EVENING
FOURTEENTH EVENING
FIFTEENTH EVENING
SIXTEENTH EVENING
SEVENTEENTH EVENING
EIGHTEENTH EVENING
NINETEENTH EVENING
TWENTIETH EVENING
TWENTY-FIRST EVENING
TWENTY-SECOND EVENING
TWENTY-THIRD EVENING
TWENTY-FOURTH EVENING
TWENTY-FIFTH EVENING
TWENTY-SIXTH EVENING
TWENTY-SEVENTH EVENING
TWENTY-EIGHTH EVENING
TWENTY-NINTH EVENING
THIRTIETH EVENING
THIRTY-FIRST EVENING
THIRTY-SECOND EVENING
THE NEIGHBOURING FAMILIES
THE NIGHTINGALE
THERE IS NO DOUBT ABOUT IT
IN THE NURSERY
THE OLD BACHELOR'S NIGHTCAP
THE OLD CHURCH BELL (WRITTEN FOR THE SCHILLER ALBUM)
THE OLD GRAVE-STONE
THE OLD HOUSE
WHAT THE OLD MAN DOES IS ALWAYS RIGHT
THE OLD STREET LAMP
OLE-LUK-OIE, THE DREAM-GOD
MONDAY
TUESDAY
WEDNESDAY
THURSDAY
FRIDAY
SATURDAY
SUNDAY
OLE THE TOWER-KEEPER
FIRST VISIT
SECOND VISIT
THIRD VISIT
OUR AUNT
THE GARDEN OF PARADISE
THE PEA BLOSSOM
THE PEN AND THE INKSTAND
THE PHILOSOPHER'S STONE
THE PHOENIX BIRD
THE PORTUGUESE DUCK
THE PORTER'S SON
POULTRY MEG'S FAMILY
THE PRINCESS AND THE PEA
THE PSYCHE
THE PUPPET-SHOW MAN
THE RACES
THE RED SHOES
EVERYTHING IN THE RIGHT PLACE
A ROSE FROM HOMER'S GRAVE
THE SNAIL AND THE ROSE-TREE
A STORY FROM THE SAND-HILLS
THE SAUCY BOY
THE SHADOW
THE SHEPHERDESS AND THE SHEEP
THE SILVER SHILLING
THE SHIRT-COLLAR
THE SNOW MAN
THE SNOW QUEEN
STORY THE FIRST
SECOND STORY. A LITTLE BOY AND A LITTLE GIRL
THIRD STORY. THE FLOWER GARDEN OF THE WOMAN WHO COULD CONJURE
FOURTH STORY. THE PRINCE AND PRINCESS
FIFTH STORY. LITTLE ROBBER-GIRL
SIXTH STORY. THE LAPLAND WOMAN AND THE FINLAND WOMAN
SEVENTH STORY. OF THE PALACE OF THE SNOW QUEEN AND WHAT HAPPENED THERE AT LAST
THE SNOWDROP
SOMETHING
SOUP FROM A SAUSAGE SKEWER
WHAT THE FIRST LITTLE MOUSE SAW AND HEARD ON HER TRAVELS
WHAT THE SECOND MOUSE HAD TO TELL
WHAT THE FOURTH MOUSE, WHO SPOKE BEFORE THE THIRD, HAD TO TELL
HOW IT WAS PREPARED
THE STORKS
THE STORM SHAKES THE SHIELD
THE STORY OF A MOTHER
THE SUNBEAM AND THE CAPTIVE
THE SWAN'S NEST
THE SWINEHERD
THE THISTLE'S EXPERIENCES
THE THORNY ROAD OF HONOR
IN A THOUSAND YEARS
THE BRAVE TIN SOLDIER
THE TINDER-BOX
THE TOAD
THE TOP AND BALL
THE TRAVELLING COMPANION
TWO BROTHERS
TWO MAIDENS
THE UGLY DUCKLING
UNDER THE WILLOW-TREE
IN THE UTTERMOST PARTS OF THE SEA
WHAT ONE CAN INVENT
THE WICKED PRINCE
THE WILD SWANS
THE WILL-O-THE WISP IS IN THE TOWN, SAYS THE MOOR WOMAN
THE STORY OF THE WIND
THE WINDMILL
THE STORY OF THE YEAR
Отрывок из книги
Near the grass-covered rampart which encircles Copenhagen lies a great red house. Balsams and other flowers greet us from the long rows of windows in the house, whose interior is sufficiently poverty-stricken; and poor and old are the people who inhabit it. The building is the Warton Almshouse.
Look! at the window there leans an old maid. She plucks the withered leaf from the balsam, and looks at the grass-covered rampart, on which many children are playing. What is the old maid thinking of? A whole life drama is unfolding itself before her inward gaze.
.....
She reached the Boulevards. Here a sea of light streamed forth from the gas-flames of the lamps, the shops and the cafes. Here stood in a row young and slender trees, each of which concealed its Dryad, and gave shade from the artificial sunlight. The whole vast pavement was one great festive hall, where covered tables stood laden with refreshments of all kinds, from champagne and Chartreuse down to coffee and beer. Here was an exhibition of flowers, statues, books, and colored stuffs.
From the crowd close by the lofty houses she looked forth over the terrific stream beyond the rows of trees. Yonder heaved a stream of rolling carriages, cabriolets, coaches, omnibuses, cabs, and among them riding gentlemen and marching troops. To cross to the opposite shore was an undertaking fraught with danger to life and limb. Now lanterns shed their radiance abroad; now the gas had the upper hand; suddenly a rocket rises! Whence? Whither?
.....
Добавить отзыв
Отзывы и комментарии читателей
Нет рецензий. Будьте первым, кто напишет рецензию на книгу Fairy Tales of Hans Christian Andersen
Подняться наверх