The Channings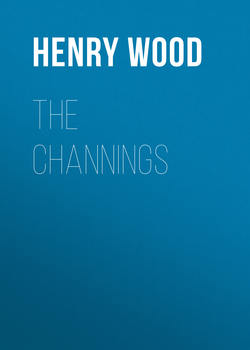 Оглавление
Henry Wood. The Channings
CHAPTER I. – THE INKED SURPLICE
CHAPTER II. – BAD NEWS
CHAPTER III. – CONSTANCE CHANNING
CHAPTER IV. – NO HOLIDAY TO-DAY
CHAPTER V. – ROLAND YORKE
CHAPTER VI. – LADY AUGUSTA YORKE AT HOME
CHAPTER VII. – MR. KETCH
CHAPTER VIII. – THE ASSISTANT-ORGANIST
CHAPTER IX. – HAMISH'S CANDLES
CHAPTER X. – A FALSE ALARM
CHAPTER XI. – THE CLOISTER KEYS
CHAPTER XII. – A MISHAP TO THE BISHOP
CHAPTER XIII. – MAD NANCE
CHAPTER XIV. – KEEPING OFFICE
CHAPTER XV. – A SPLASH IN THE RIVER
CHAPTER XVI. – MUCH TO ALTER
CHAPTER XVII. – SUNDAY MORNING AT MR. CHANNING'S, AND AT LADY AUGUSTA'S
CHAPTER XVIII. – MR. JENKINS ALIVE AGAIN
CHAPTER XIX. – THE LOSS
CHAPTER XX. – THE LOOMING OF AN AWFUL FEAR
CHAPTER XXI. – MR. BUTTERBY
CHAPTER XXII. – AN INTERRUPTED DINNER
CHAPTER XXIII. – AN ESCORT TO THE GUILDHALL
CHAPTER XXIV. – THE EXAMINATION
CHAPTER XXV. – A MORNING CALL
CHAPTER XXVI. – CHECKMATED
CHAPTER XXVII. – A PIECE OF PREFERMENT
CHAPTER XXVIII. – AN APPEAL TO THE DEAN
CHAPTER XXIX. – A TASTE OF "TAN."
CHAPTER XXX. – THE DEPARTURE
CHAPTER XXXI. – ABROAD
CHAPTER XXXII. – AN OMINOUS COUGH
CHAPTER XXXIII. – NO SENIORSHIP FOR TOM CHANNING
CHAPTER XXXIV. – GERALD YORKE MADE INTO A "BLOCK."
CHAPTER XXXV. – THE EARL OF CARRICK
CHAPTER XXXVI. – ELLEN HUNTLEY
CHAPTER XXXVII. – THE CONSPIRATORS
CHAPTER XXXVIII. – THE DECISION
CHAPTER XXXIX. – THE GHOST
CHAPTER XL. – MR. KETCH'S EVENING VISIT
CHAPTER XLI. – THE SEARCH
CHAPTER XLII. – AN OFFICIAL CEREMONY INTERRUPTED
CHAPTER XLIII. – DRAGGING THE RIVER
CHAPTER XLIV. – MR. JENKINS IN A DILEMMA
CHAPTER XLV. – A NEW SUSPICION
CHAPTER XLVI. – A LETTER FOR MR. GALLOWAY
CHAPTER XLVII. – DARK CLOUDS
CHAPTER XLVIII. – MUFFINS FOR TEA
CHAPTER XLIX. – A CHÂTEAU EN ESPAGNE
CHAPTER L. – REALLY GONE!
CHAPTER LI. – AN ARRIVAL IN A FLY
CHAPTER LII. – A RELIC FROM THE BURIAL-GROUND
CHAPTER LIII. – THE RETURN HOME
CHAPTER LIV. – "THE SHIP'S DROWNED."
CHAPTER LV. – NEWS FROM ROLAND
CHAPTER LVI. – THE BROKEN PHIAL
CHAPTER LVII. – A GHOST AGAIN
CHAPTER LVIII. – BYWATER'S DANCE
CHAPTER LIX. – READY
CHAPTER LX. – IN WHAT DOES IT LIE?
Отрывок из книги
The ground near the cathedral, occupied by the deanery and the prebendal residences, was called the Boundaries. There were a few other houses in it, chiefly of a moderate size, inhabited by private families. Across the open gravel walk, in front of the south cloister entrance, was the house appropriated to the headmaster; and the Channings lived in a smaller one, nearly on the confines of the Boundaries. A portico led into it, and there was a sitting-room on either side the hall. Charley entered; and was going, full dash, across the hall to a small room where the boys studied, singing at the top of his voice, when the old servant of the family, Judith, an antiquated body, in a snow-white mob-cap and check apron, met him, and seized his arm.
"Hush, child! There's ill news in the house."
.....
"Not I," said Mr. Yorke. "I know that, whoever it may have been deserves a sound flogging, if he did it willfully."
"Then, sir, why do you suppose I know?"
.....
Подняться наверх