The Age of Pope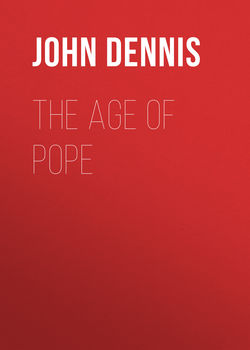 Оглавление
John Dennis. The Age of Pope
PREFACE
THE AGE OF POPE
INTRODUCTION
I
II
III
PART I. THE POETS
CHAPTER I. ALEXANDER POPE
CHAPTER II. PRIOR, GAY, YOUNG, BLAIR, THOMSON
CHAPTER III. MINOR POETS
PART II. THE PROSE WRITERS
CHAPTER IV. JOSEPH ADDISON – SIR RICHARD STEELE
CHAPTER V. JONATHAN SWIFT – JOHN ARBUTHNOT
CHAPTER VI. DANIEL DEFOE – JOHN DENNIS – COLLEY CIBBER – LADY MARY WORTLEY MONTAGU – EARL OF CHESTERFIELD – LORD LYTTELTON – JOSEPH SPENCE
CHAPTER VII. FRANCIS ATTERBURY – LORD SHAFTESBURY – BERNARD DE MANDEVILLE – LORD BOLINGBROKE – BISHOP BERKELEY – WILLIAM LAW – BISHOP BUTLER – BISHOP WARBURTON
INDEX OF MINOR POETS AND PROSE WRITERS
CHRONOLOGICAL TABLE
ALPHABETICAL LIST OF WRITERS
Отрывок из книги
The death of John Dryden, on the first of May, 1700, closed a period of no small significance in the history of English literature. His faults were many, both as a man and as a poet, but he belongs to the race of the giants, and the impress of greatness is stamped upon his works. No student of Dryden can fail to mark the force and sweep of an intellect impatient of restraint. His 'long-resounding march' reminds us of a turbulent river that overflows its banks, and if order and perfection of art are sometimes wanting in his verse, there is never the lack of power. Unfortunately many of the best years of his life were devoted to a craft in which he was working against the grain. His dramas, with one or two noble exceptions, are comparative failures, and in them he too often
In two prominent respects his influence on his successors is of no slight significance. As a satirist Pope acknowledged the master he was unable to excel, and so did many of the eighteenth century versemen, who appear to have looked upon satire as the beginning and the end of poetry. Moreover Dryden may be regarded, without much exaggeration, as the father of modern prose. Nothing can be more lucid than his style, which is at once bright and strong, idiomatic and direct. He knows precisely what he has to say, and says it in the simplest words. It is the form and not the substance of Dryden's prose to which attention is drawn here. There is a splendour of imagery, a largeness of thought, and a grasp of language in the prose of Hooker, of Jeremy Taylor, and of Milton which is beyond the reach of Dryden, but he has the merit of using a simple form of English free from prolonged periods and classical constructions, and fitted therefore for common use. The wealthy baggage of the prose Elizabethans and their immediate successors was too cumbersome for ordinary travel; Dryden's riches are less massive, but they can be easily carried, and are always ready for service.
.....
It may be questioned whether there is a single Wit of the age who did not love port too well, like Addison and Fenton, or suffer from 'carnivoracity' like Arbuthnot. Every section of English society was infected with the 'devil drunkenness,' and the passion for gin created by the encouragement of home distilleries produced a state of crime, misery, and disease in London and in the country which excited public attention. 'Small as is the place,' writes Mr. Lecky, 'which this fact occupies in English history, it was probably, if we consider all the consequences that have flowed from it, the most momentous in that of the eighteenth century – incomparably more so than any event in the purely political or military annals of the country.'6
The cruelty of the age is seen in a contempt for the feelings of others, in the brutal punishments inflicted, in the amusements then popular, and in a general contempt for human suffering. Public executions were so frequent that they were disregarded; and criminals of any note, like Dr. Dodd, were exhibited in their cells for the gaolers' benefit prior to execution; mad people in Bedlam, chained in their cells, also formed one of the sights of London. As late as 1735 men were pressed to death who refused to plead on a capital charge; and women were publicly flogged, and were also burnt at the stake by a law that was not repealed until 1794. Of the heads on Temple Bar, daily exposed to Johnson's eyes in his beloved Fleet Street, we are reminded by an apposite quotation of Goldsmith; and Samuel Rogers, the banker-poet, who died as recently as 1855, remembered having seen one there in his childhood. The public exhibition of offenders in the pillory was not calculated to refine the manners of the people. It afforded a cruel entertainment to the mob, who may be said to have baited these poor victims as they were accustomed to bait bulls and bears. Every kind of offensive missile was thrown at them, and sometimes the strokes proved deadly.
.....
Подняться наверх