Maurice Tiernay, Soldier of Fortune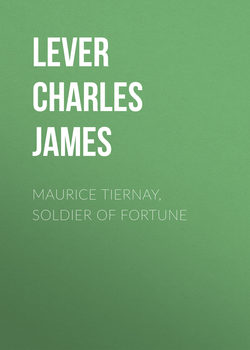 Оглавление
Lever Charles James. Maurice Tiernay, Soldier of Fortune
NOTICE
CHAPTER I. 'THE DAYS OF THE GUILLOTINE'
CHAPTER II. THE RESTAURANT 'AU SCELERAT'
CHAPTER III. THE 'TEMPLE'
CHAPTER IV. 'THE NIGHT OF THE NINTH THERMIDOR'
CHAPTER V. THE CHOICE OF A LIFE
CHAPTER VI. 'THE ARMY SIXTY YEARS SINCE'
CHAPTER VII. A PASSING ACQUAINTANCE
CHAPTER VIII. 'TRONCHON'
CHAPTER IX. A SCRAPE AND ITS CONSEQUENCES
CHAPTER X. AN ARISTOCRATIC REPUBLICAN
CHAPTER XI. 'THE PASSAGE OF THE RHINE'
CHAPTER XII. 'A GLANCE AT STAFF-DUTY'
CHAPTER XIII. A FAREWELL LETTER
CHAPTER XIV. A SURPRISE AND AN ESCAPE
CHAPTER XV. SCRAPS OF HISTORY
CHAPTER XVI. AN OLD GENERAL OF THE IRISH BRIGADE
CHAPTER XVII. LA ROCHELLE
CHAPTER XVIII. 'THE BAY OF BATHFRAN'
CHAPTER XIX. A RECONNAISSANCE
CHAPTER XX. KILLALA
CHAPTER XXI. OUR ALLIES
CHAPTER XXII. THE DAY OF 'CASTLEBAR'
CHAPTER XXIII. THE TOWN-MAJOR OF CASTLEBAR
CHAPTER XXIV. THE MISSION TO THE NORTH
CHAPTER XXV. A PASSING VISIT TO KILLALA
CHAPTER XXVI. A REMNANT OF 'FONTENOY'
CHAPTER XXVII. THE CRANAGH
CHAPTER XXVIII. SOME NEW ACQUAINTANCES
CHAPTER XXIX. THE BREAKFAST AT LETTERKENNY
CHAPTER XXX. SCENE IN THE ROYAL BARRACKS
CHAPTER XXXI. A BRIEF CHANGE OF LIFE AND COUNTRY
CHAPTER XXXII. THE 'ATHOL' TENDER
CHAPTER XXXIII. A BOLD STROKE FOR FAME AND FORTUNE
CHAPTER XXXIV. GENOA IN THE SIEGE
CHAPTER XXXV. A NOVEL COUNCIL OP WAR
CHAPTER XXXVI. GENOA DURING THE SIEGE
CHAPTER XXXVII. MONTE DI PACCIO
CHAPTER XXXVIII. A ROYALIST 'DE LA VIEILLE ROCHE'
CHAPTER XXXIX. A SORROWFUL PARTING
CHAPTER XL. THE CHATEAU OF ETTENHEIM
CHAPTER XLI. AN 'ORDINARY' ACQUAINTANCE
CHAPTER XLII. THE 'COUNT DE MAUREPAS,' ALIAS —
CHAPTER XLIII. A FOREST RIDE
CHAPTER XLIV. AN EPISODE OF '94
CHAPTER XLV. THE CABINET OF A CHEF DE POLICE
CHAPTER XLVI. A GLANCE AT THE 'PREFECTURE DE POLICE'
CHAPTER XLVII. THE VILLAGE OP SCHWARTZ-ACH
CHAPTER XLVIII. A VILLAGE 'SYNDICUS'
CHAPTER XLIX. A LUCKY MEETING
CHAPTER L. THE MARCH ON VIENNA
CHAPTER LI. SCHÖNBRUNN IN 1809
CHAPTER LII. KOMORN FORTY TEARS AGO
CHAPTER LIII. A LOSS AND A GAIN
CHAPTER LIV. MAURICE TIERNAY'S 'LAST WORD AND CONFESSION'
Отрывок из книги
Neither the tastes nor the temper of the age we live in are such as to induce any man to boast of his family nobility. We see too many preparations around us for laying down new foundations, to think it a suitable occasion for alluding to the ancient edifice. I will, therefore, confine myself to saying, that I am not to be regarded as a mere pretender because my name is not chronicled by Burke or Debrett. My great-grandfather, after whom I am called, served on the personal staff of King James at the Battle of the Boyne, and was one of the few who accompanied the monarch on his flight from the field, for which act of devotion he was created a peer of Ireland, by the style and title of Timmahoo – Lord Tiernay, of Timmahoo the family called it – and a very rich-sounding and pleasant designation has it always seemed to me.
The events of the time, the scanty intervals of leisure enjoyed by the king, and other matters, prevented a due registry of my ancestors' claims; and, in fact, when more peaceable days succeeded, it was judged prudent to say nothing about a matter which might revive unhappy recollections, and open old scores, seeing that there was now another king on the throne 'who knew not Joseph'; and so, for this reason and many others, my greatgrandfather went back to his old appellation of Maurice Tiernay, and was only a lord among his intimate friends and cronies of the neighbourhood.
.....
Meanwhile the commissary and his assistants prepared to depart. Already the massive drapery of red cloth was drawn over the guillotine, and every preparation made for withdrawing, when the mob, doubtless dissatisfied that they should be defrauded of any portion of the entertainment, began to climb over the wooden barricades, and, with furious cries and shouts, threaten vengeance upon any who would screen the enemies of the people.
The troops resisted the movement, but rather with the air of men entreating calmness than with the spirit of soldiery. It was plain to see on which side the true force lay.
.....
Подняться наверх