Villainage in England: Essays in English Mediaeval History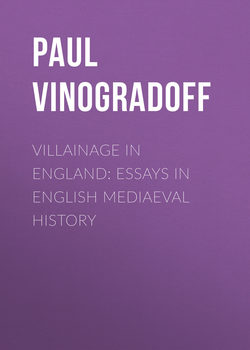 Оглавление
Paul Vinogradoff. Villainage in England: Essays in English Mediaeval History
PREFACE
INTRODUCTION
FIRST ESSAY. THE PEASANTRY OF THE FEUDAL AGE
CHAPTER I. THE LEGAL ASPECT OF VILLAINAGE. GENERAL CONCEPTIONS
CHAPTER II. RIGHTS AND DISABILITIES OF THE VILLAIN
CHAPTER III. ANCIENT DEMESNE
CHAPTER IV. LEGAL ASPECT OF VILLAINAGE. CONCLUSIONS
CHAPTER V. THE SERVILE PEASANTRY OF MANORIAL RECORDS
CHAPTER VI. FREE PEASANTRY
CHAPTER VII. THE PEASANTRY OF THE FEUDAL AGE. CONCLUSIONS
SECOND ESSAY. THE MANOR AND THE VILLAGE COMMUNITY
CHAPTER I. THE OPEN FIELD SYSTEM AND THE HOLDINGS
CHAPTER II. RIGHTS OF COMMON
CHAPTER III. RURAL WORK AND RENTS
CHAPTER IV. THE LORD, HIS SERVANTS AND FREE TENANTS
CHAPTER V. THE MANORIAL COURTS
CHAPTER VI. THE MANOR AND THE VILLAGE COMMUNITY
APPENDIX
I
II
III
IV
V
VI
VII
VIII
IX
X
XI
XII
XIII
XIV
XV
Отрывок из книги
When the time comes for writing a history of the nineteenth century, one of the most important and attractive chapters will certainly be devoted to the development of historical literature. The last years of a great age are fast running out: great has been the strife and the work in the realm of thought as well as in the material arrangement of life. The generations of the nineteenth century have witnessed a mighty revival of religious feeling; they have attempted to set up philosophical systems as broad and as profound as any of the speculations of former times; they have raised the structure of theoretical and applied science to a height which could hardly have been foreshadowed some two hundred years ago. And still it is to historical study that we have to look as the most characteristic feature of the period. Medieval asceticism in its desperate struggle against the flesh, and Puritanism with its sense of individual reconciliation with God, were both more vigorous forms of religious life than the modern restorations of faith and Church, so curiously mixed up with helplessness, surrender of acquired truth, hereditary instincts, and utilitarian reflection. In philosophy, Hegel's metaphysical dialectic, Schopenhauer's transformation of Kant's teaching, and the attempts of English and French positivism at encyclopaedical science may be compared theoretically with Plato's poetical idealism or with the rationalistic schools of the seventeenth and eighteenth centuries. But it would be difficult to deny, that in point of influence on men's minds, those older systems held a more commanding position than these: Hegel seems too arbitrary and phantastical, Schopenhauer too pessimistic, positivism too incomplete and barren as to ultimate problems to suit the practical requirements of philosophy; and people are already complaining of the decay of philosophical study. In science, again, the age of Darwin is certainly second to none, but it has to share its glory with the age of Newton, and it may be reasonably doubted whether the astronomer, following in the footsteps of Galileo and Kepler, was not actuated by even greater thirst and pride of knowledge than the modern biologist or geologist. It is otherwise with regard to history.
Students of science are wont to inveigh against the inexact character of historical research, its incoherence and supposed inability to formulate laws. It would be out of place here to discuss the comparative value of methods and the one-sided preference given by such accusers to quantitative analysis; but I think that if these accusers were better acquainted with the subject of their attacks, or even more attentive to the expressions of men's life and thought around them, they would hardly dare to maintain that a study which in the short space of a century has led to a complete revolution in the treatment of all questions concerning man and society, has been operating only by vague assumptions and guesses at random. An investigation into methods cannot be undertaken in these introductory pages, but a general survey of results may be attempted. If we merely take a single volume, Tocqueville's Ancien Régime, and ask ourselves whether anything at all like it could have been produced even in the eighteenth century, we shall have a sense of what has been going on in the line of historical study during the nineteenth. Ever since Niebuhr's great stroke, historical criticism has been patiently engaged in testing, sifting, and classifying the original materials, and it has now rendered impossible that medley of discordant authorities in which eighteenth-century learning found its confused notions of Romans in French costume, or sought for modern constitutional ideas as manifest in the policy of the Franks. Whole subjects and aspects of social life which, if treated at all, used to be sketchily treated in some appendix by the historian, or guessed at like a puzzle by the antiquarian, have come to the fore and are recognised as the really important parts of history. In a word, the study of the past vacillates no longer between the two extremes of minute research leading to no general results and general statements not based on any real investigation into facts. The laws of development may still appear only as dim outlines which must be more definitely traced by future generations of workers, but there is certainly a constant progress of generalisation on firmly established premises towards them.
.....
I may be excused for marshalling all these well-known points before the public by the consideration that they must serve to show how intimately these views are connected with the general principles of a great school. The stress laid by Kemble on property in land ought to be noticed especially: land gets to be the basis of all political and social condition. This is going much further than Palgrave ever went; though not further than Eichhorn. What actually severs Kemble from the Romantics is his estimate of the free element in the people. He does not try to picture a kind of political Arcadia in Saxon England, but there is no more talk about the rightless condition of the ceorls or the predominance of aristocracy. The Teutonic race towers above everything. Although the existence of Celts after the Conquests is admitted, neither Celtic nor Roman elements appear as exercising any influence in the course of history. Everything takes place as if Germanic communities had been living and growing on soil that had never before been appropriated. Curiously enough the weakest point of Kemble's doctrine seems to lie in its very centre—in his theory of social groups. One is often reminded of Grimm by his account of the Mark, and it was an achievement to call attention to such a community as distinct from the tribal group, but the political, legal, and economical description of the Mark is very vague. As to the reasoning about gilds, tithings, and hundreds, it is based on a constant confusion of widely different subjects.
Generally speaking, it is not for a lawyer's acuteness and precision that one has to look in Kemble's book: important distinctions very often get blurred in his exposition, and though constantly protesting against abstract theories and suppositions not based on fact, he indulges in them a great deal himself. Still Kemble's work was very remarkable: his extensive, if not very critical study of the charters opened his eyes to the first-rate importance of the law of real property in the course of medieval history: this was a great step in advance of Palgrave, who had recognised law as the background of history, but whose attention had been directed almost exclusively to the formal side—to judicial institutions. And Kemble actually succeeded in bringing forward some of the questions which were to remain for a long time the main points of debate among historians.
.....
Подняться наверх