Illustrations of Universal Progress: A Series of Discussions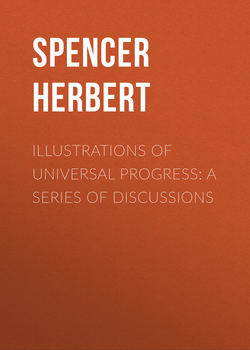 Оглавление
Spencer Herbert. Illustrations of Universal Progress: A Series of Discussions
AMERICAN NOTICE
EDITOR'S PREFACE
I. PROGRESS: ITS LAW AND CAUSE
II. MANNERS AND FASHION
III. THE GENESIS OF SCIENCE
IV. THE PHYSIOLOGY OF LAUGHTER
V. THE ORIGIN AND FUNCTION OF MUSIC
VI. THE NEBULAR HYPOTHESIS
VII. BAIN ON THE EMOTIONS AND THE WILL
VIII. ILLOGICAL GEOLOGY
IX. THE DEVELOPMENT HYPOTHESIS
X. THE SOCIAL ORGANISM
XI. USE AND BEAUTY
XII. THE SOURCES OF ARCHITECTURAL TYPES
XIII. THE USE OF ANTHROPOMORPHISM
Отрывок из книги
The essays contained in the present volume were first published in the English periodicals – chiefly the Quarterly Reviews. They contain ideas of permanent interest, and display an amount of thought and labor evidently much greater than is usually bestowed on review articles. They were written with a view to ultimate republication in an enduring form, and were issued in London with several other papers, under the title of "Essays; Scientific, Political, and Speculative," first and second series; – the former appearing in 1857, and the latter in 1863.
The interest created in Mr. Spencer's writings by the publication in this country of his valuable work on "Education," and by criticisms of his other works, has created a demand for these discussions which can only be supplied by their republication. They are now, however, issued in a new form, and are more suited to develop the author's purpose in their preparation; for while each of these essays has its intrinsic and independent claims upon the reader's attention, they are all at the same time but parts of a connected and comprehensive argument. Nearly all of Mr. Spencer's essays have relations more or less direct to the general doctrine of Evolution – a doctrine which he has probably done more to unfold and illustrate than any other thinker. The papers comprised in the present volume are those which deal with the subject in its most obvious and prominent aspects.
.....
There are good reasons for believing that, in consequence of the high tangential velocity, and consequent centrifugal force, acquired by the outer parts of the condensing nebulous mass, there must be a periodical detachment of rotating rings; and that, from the breaking up of these nebulous rings, there must arise masses which in the course of their condensation repeat the actions of the parent mass, and so produce planets and their satellites – an inference strongly supported by the still extant rings of Saturn.
Should it hereafter be satisfactorily shown that planets and satellites were thus generated, a striking illustration will be afforded of the highly heterogeneous effects produced by the primary homogeneous cause; but it will serve our present purpose to point to the fact that from the mutual attraction of the particles of an irregular nebulous mass there result condensation, rotation, heat, and light.
.....
Подняться наверх