Our Revolution: Essays on Working-Class and International Revolution, 1904-1917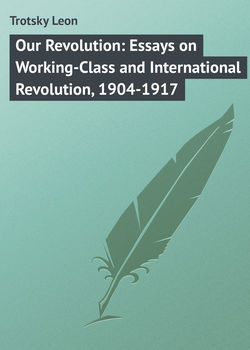 Оглавление
Trotsky Leon. Our Revolution: Essays on Working-Class and International Revolution, 1904-1917
PREFACE
LEON TROTZKY. BIOGRAPHICAL NOTES
THE PROLETARIAT AND THE REVOLUTION
THE EVENTS IN PETERSBURG
PROSPECTS OF A LABOR DICTATORSHIP
THE SOVIET AND THE REVOLUTION
PREFACE TO MY ROUND TRIP
THE LESSONS OF THE GREAT YEAR
ON THE EVE OF A REVOLUTION
TWO FACES
THE GROWING CONFLICT
WAR OR PEACE?
TROTZKY ON THE PLATFORM IN PETROGRAD
Отрывок из книги
Trotzky is a man of about forty. He is tall, strong, angular; his appearance as well as his speech give the impression of boldness and vigor. His voice is a high tenor ringing with metal. And even in his quiet moments he resembles a compressed spring.
He is always aggressive. He is full of passion, – that white-hot, vibrating mental passion that characterizes the intellectual Jew. On the platform, as well as in private life, he bears an air of peculiar importance, an indefinable something that says very distinctly: "Here is a man who knows his value and feels himself chosen for superior aims." Yet Trotzky is not imposing. He is almost modest. He is detached. In the depths of his eyes there is a lingering sadness.
.....
In Tiumen the prisoners had to leave the railway train for sleighs drawn by horses. The journey became very tedious and slow. The monotony was broken only by little villages, where revolutionary exiles were detained. Here and there the exiles would gather to welcome the leaders of the revolution. Red flags gave touches of color to the blinding white of the Siberian snow. "Long live the Revolution!" was printed with huge letters on the surface of the northern snow, along the road. This was beautiful, but it gave little consolation. The country became ever more desolate. "Every day we move down one step into the kingdom of cold and wilderness," Trotzky remarked in his notes.
It was a gloomy prospect, to spend years and years in this God forsaken country. Trotzky was not the man to submit. In defiance of difficulties, he managed to escape before he reached the town of his destination. As there was only one road along which travelers could move, and as there was danger that authorities, notified by wire of his escape, could stop him at any moment, he left the road and on a sleigh drawn by reindeer he crossed an unbroken wilderness of 800 versts, over 500 miles. This required great courage and physical endurance. The picturesque journey is described by Trotzky in a beautiful little book, My Round Trip.
.....
Подняться наверх