Cleg Kelly, Arab of the City: His Progress and Adventures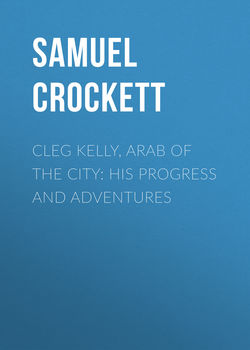 Оглавление
Crockett Samuel Rutherford. Cleg Kelly, Arab of the City: His Progress and Adventures
ADVENTURE I. THE OUTCASTING OF CLEG KELLY
ADVENTURE II. THE BURNING OF THE WHINNY KNOWES
ADVENTURE III. WHY CLEG KELLY HATED HIS FATHER
ADVENTURE IV. HOW ISBEL KELLY HEARD SWEET MUSIC
ADVENTURE V. THE BRIGANDS OF THE CITY
ADVENTURE VI. CLEG TURNS BURGLAR
ADVENTURE VII. THE ADVENTURE OF THE COCKROACHES
ADVENTURE VIII. THE FLIGHT OF SHEEMUS
ADVENTURE IX. THE WARMING OF THE DRABBLE
ADVENTURE X. THE SQUARING OF THE POLICE
ADVENTURE XI. THE BOY IN THE WOODEN HUT
ADVENTURE XII. VARA KAVANNAH OF THE TINKLERS' LANDS
ADVENTURE XIII. CLEG'S SECOND BURGLARY
ADVENTURE XIV. CLEG TURNS DIPLOMATIST
ADVENTURE XV. THE FIRE IN CALLENDAR'S YARD
ADVENTURE XVI. IN THE KEY OF BOY NATURAL
ADVENTURE XVII. THE KNUCKLE DUSTERS
ADVENTURE XVIII. BIG SMITH SUBDUES THE KNUCKLE DUSTERS
ADVENTURE XIX. THE PILGRIMS OF THE PENNY GAFF
ADVENTURE XX. THE DIFFICULTIES OF ADONIS BETWIXT TWO VENUSES
ADVENTURE XXI. AN IDYLL OF BOGIE ROLL
ADVENTURE XXII. THE SEDUCTION OF A BAILIE
ADVENTURE XXIII. THE AMOROUS ADVENTURES OF A NIGHT-SHIFT MAN
ADVENTURE XXIV. THE CROOK IN THE LOT OF CLEAVER'S BOY
ADVENTURE XXV. A COMELY PROVIDENCE IN A NEW FROCK
ADVENTURE XXVI. R. S. V. P
ADVENTURE XXVII. JANET OF INVERNESS TASTES THE HERB BITTER-SWEET
ADVENTURE XXVIII. THE ENGINE-DRIVER WITH THE BEARD
ADVENTURE XXIX. MUCKLE ALICK'S BANNOCKBURN
ADVENTURE XXX. HOW GEORDIE GRIERSON'S ENGINE BROKE ITS BUFFER
ADVENTURE XXXI. THE "AWFU' WOMAN."
ADVENTURE XXXII. MAID GREATHEART AND HER PILGRIMS
ADVENTURE XXXIII. THE BABES IN THE HAYSTACK
ADVENTURE XXXIV. THAT OF MARY BELL, BYRE LASS
ADVENTURE XXXV. THE KNIGHT IN THE SOFT HAT
ADVENTURE XXXVI. THE MADNESS OF HUGH BOY
ADVENTURE XXXVII. BOY HUGH FINDS OUT THE NATURE OF A KISS
ADVENTURE XXXVIII. OF MISS BRIGGS AND HER TEN CATS
ADVENTURE XXXIX. THE ADVENTURE OF SNAP'S PORRIDGE
ADVENTURE XL. A NEW KIND OF HERO
ADVENTURE XLI "TWA LADDIES – AND A LASSIE."
ADVENTURE XLII. MUCKLE ALICK CONSIDERS
ADVENTURE XLIII. TOWN KNIGHT AND COUNTRY KNIGHT
ADVENTURE XLIV. CLEG RELAPSES INTO PAGANISM
ADVENTURE XLV. THE CABIN ON THE SUMMIT
ADVENTURE XLVI. A CHILD OF THE DEVIL
ADVENTURE XLVII. THE SLEEP OF JAMES CANNON, SIGNALMAN
ADVENTURE XLVIII. MUCKLE ALICK SEES THE DISTANT SIGNAL STAND AT CLEAR
ADVENTURE XLIX. CLEG COLLECTS TICKETS
ADVENTURE L. GENERAL THEOPHILUS RUFF
ADVENTURE LI. THE GENERAL'S ESTABLISHMENT
ADVENTURE LII. THE THREE COFFINS IN THE STRONG-ROOM
ADVENTURE LIII. A STORMY MORNING AT LOCH SPELLANDERIE
ADVENTURE LIV. KIT KENNEDY'S FAREWELL
ADVENTURE LV. A YOUNG MAN'S FANCY
ADVENTURE LVI. THE VOICES IN THE MARSH
ADVENTURE LVII. FIGHTING THE BEASTS
ADVENTURE LVIII. WITHIN THE RED DOOR
ADVENTURE LIX. THE BEECH HEDGE
ADVENTURE LX. CLEG'S TREASURE-TROVE COMES TO HIM
Отрывок из книги
Cleg Kelly was now outcast and alien from the commonwealth. He had denied the faith, cast aside every known creed, and defied the Deity Himself. Soon he would defy the policeman and break the laws of man – which is the natural course of progression in iniquity, as every one knows.
So leaving Hunker Court he struck across the most unfrequented streets, where only a stray urchin (probably a benighted Episcopalian) was spending the Sabbath chivying cats, to the mountainous regions of Craigside, where the tall "lands" of St. Leonards look out upon the quarried crags and steep hill ridges of Arthur's Seat. For Cleg was fortunate enough to be a town boy who had the country at his command just over the wall – and a wall, too, which he could climb at as many as twenty points. Only bare stubby feet, however, could overpass these perilous clefts. Cleg's great toes, horny as if shod with iron, fitted exactly into the stone crevices from which the mortar had been loosened. His grimy little fingers found a purchase in the slightest nicks. And once on the other side, there was no policeman, park-keeper, or other person in authority, who could make the pace with Cleg's bare brown legs, at least up the loose clatter of the shingle between the lower greensward and the Radical Road.
.....
"Faith," answered Cleg, "ye should be braw an' thankfu', Warrior, for ye hae gotten what ye haena had for years, and had muckle need o'!"
"And what was that, ye de'il's buckie?" cried the angry ranger.
.....
Добавить отзыв
Отзывы и комментарии читателей
Нет рецензий. Будьте первым, кто напишет рецензию на книгу Cleg Kelly, Arab of the City: His Progress and Adventures
Подняться наверх