Charles Darwin: His Life Told in an Autobiographical Chapter, and in a Selected Series of His Published Letters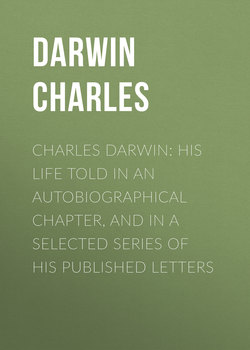 Оглавление
Darwin Charles. Charles Darwin: His Life Told in an Autobiographical Chapter, and in a Selected Series of His Published Letters
PREFACE. TO THE FIRST EDITION (1892)
NOTE TO THE SECOND EDITION
CHAPTER I. THE DARWINS
CHAPTER II. AUTOBIOGRAPHY
CHAPTER III. RELIGION
CHAPTER IV. REMINISCENCES OF MY FATHER'S EVERYDAY LIFE
CHAPTER V. CAMBRIDGE LIFE. – THE APPOINTMENT TO THE 'BEAGLE.'
CHAPTER VI. THE VOYAGE
CHAPTER VII. LONDON AND CAMBRIDGE. 1836-1842
CHAPTER VIII. LIFE AT DOWN. 1842-1854
CHAPTER IX. THE FOUNDATIONS OF THE 'ORIGIN OF SPECIES.'
CHAPTER X. THE GROWTH OF THE 'ORIGIN OF SPECIES.' 1843-1858
CHAPTER XI. THE WRITING OF THE 'ORIGIN OF SPECIES.'
CHAPTER XII. THE PUBLICATION OF THE 'ORIGIN OF SPECIES.'
CHAPTER XIII. THE 'ORIGIN OF SPECIES' – REVIEWS AND CRITICISMS – ADHESIONS AND ATTACKS
CHAPTER XIV. THE SPREAD OF EVOLUTION. 1861 – 1871
CHAPTER XV. MISCELLANEA. – REVIVAL OF GEOLOGICAL WORK. – THE VIVISECTION QUESTION. – HONOURS
BOTANICAL WORK
CHAPTER XVI. FERTILISATION OF FLOWERS
CHAPTER XVII
CHAPTER XVIII. CONCLUSION
APPENDIX I. THE FUNERAL IN WESTMINSTER ABBEY
APPENDIX II
Отрывок из книги
In preparing this volume, which is practically an abbreviation of the Life and Letters (1887), my aim has been to retain as far as possible the personal parts of those volumes. To render this feasible, large numbers of the more purely scientific letters are omitted, or represented by the citation of a few sentences.1 In certain periods of my father's life the scientific and the personal elements run a parallel course, rising and falling together in their degree of interest. Thus the writing of the Origin of Species, and its publication, appeal equally to the reader who follows my father's career from interest in the man, and to the naturalist who desires to know something of this turning point in the history of Biology. This part of the story has therefore been told with nearly the full amount of available detail.
In arranging my material I have followed a roughly chronological sequence, but the character and variety of my father's researches make a strictly chronological order an impossibility. It was his habit to work more or less simultaneously at several subjects. Experimental work was often carried on as a refreshment or variety, while books entailing reasoning and the marshalling of large bodies of facts were being written. Moreover many of his researches were dropped only to be resumed after years had elapsed. Thus a chronological record of his work would be a patchwork, from which it would be difficult to disentangle the history of any given subject. The Table of Contents will show how I have tried to avoid this result. It will be seen, for instance, that after Chapter VIII. a break occurs; the story turns back from 1854 to 1831 in order that the Evolutionary chapters which follow may tell a continuous story. In the same way the Botanical Work which occupied so much of my father's time during the latter part of his life is treated separately in Chapters XVI. and XVII.
.....
During the three years and eight months whilst we resided in London, I did less scientific work, though I worked as hard as I possibly could, than during any other equal length of time in my life. This was owing to frequently recurring unwellness, and to one long and serious illness. The greater part of my time, when I could do anything, was devoted to my work on Coral Reefs, which I had begun before my marriage, and of which the last proof-sheet was corrected on May 6th, 1842. This book, though a small one, cost me twenty months of hard work, as I had to read every work on the islands of the Pacific and to consult many charts. It was thought highly of by scientific men, and the theory therein given is, I think, now well established.
No other work of mine was begun in so deductive a spirit as this, for the whole theory was thought out on the west coast of South America, before I had seen a true coral reef. I had therefore only to verify and extend my views by a careful examination of living reefs. But it should be observed that I had during the two previous years been incessantly attending to the effects on the shores of South America of the intermittent elevation of the land, together with denudation and the deposition of sediment. This necessarily led me to reflect much on the effects of subsidence, and it was easy to replace in imagination the continued deposition of sediment by the upward growth of corals. To do this was to form my theory of the formation of barrier-reefs and atolls.
.....
Подняться наверх