Life and Letters of Charles Darwin — Volume 1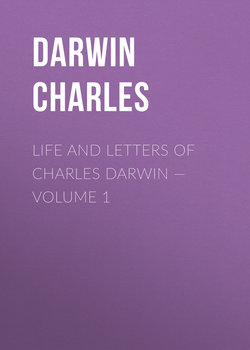 Оглавление
Darwin Charles. Life and Letters of Charles Darwin — Volume 1
VOLUME I
CHAPTER 1.I. — THE DARWIN FAMILY
CHAPTER 1.II. — AUTOBIOGRAPHY
CHAPTER 1.III. — REMINISCENCES OF MY FATHER'S EVERYDAY LIFE
CHAPTER 1.IV. — CAMBRIDGE LIFE
CHAPTER 1.V. — THE APPOINTMENT TO THE 'BEAGLE.'
CHAPTER 1.VI. — THE VOYAGE
CHAPTER 1.VII. — LONDON AND CAMBRIDGE
CHAPTER 1.VIII. — RELIGION
CHAPTER 1.IX. — LIFE AT DOWN
CHAPTER 1.X. — THE GROWTH OF THE 'ORIGIN OF SPECIES.'
Chapter I. "On the kind of intermediateness necessary, and the number
Chapter II. "The gradual appearance and disappearance of organic
Chapter III. "Geographical Distribution." Corresponds to Chapters XI
Chapter IV. "Affinities and Classification of Organic beings."
Chapter V. "Unity of Type," Morphology, Embryology
Chapter VI. Rudimentary Organs
Chapter VII. Recapitulation and Conclusion. The final sentence of the
CHAPTER 1.XI. — THE GROWTH OF THE 'ORIGIN OF SPECIES.'
CHAPTER 1.XII. — THE UNFINISHED BOOK
CHAPTER 1. XIII. — THE WRITING OF THE 'ORIGIN OF SPECIES.'
CHAPTER 1.XIV. — BY PROFESSOR HUXLEY
Отрывок из книги
The earliest records of the family show the Darwins to have been substantial yeomen residing on the northern borders of Lincolnshire, close to Yorkshire. The name is now very unusual in England, but I believe that it is not unknown in the neighbourhood of Sheffield and in Lancashire. Down to the year 1600 we find the name spelt in a variety of ways — Derwent, Darwen, Darwynne, etc. It is possible, therefore, that the family migrated at some unknown date from Yorkshire, Cumberland, or Derbyshire, where Derwent occurs as the name of a river.
The first ancestor of whom we know was one William Darwin, who lived, about the year 1500, at Marton, near Gainsborough. His great grandson, Richard Darwyn, inherited land at Marton and elsewhere, and in his will, dated 1584, "bequeathed the sum of 3s. 4d. towards the settynge up of the Queene's Majestie's armes over the quearie (choir) doore in the parishe churche of Marton." (We owe a knowledge of these earlier members of the family to researches amongst the wills at Lincoln, made by the well-known genealogist, Colonel Chester.)
.....
(After speaking of his happy married life, and of his children, he continues: — )
During the three years and eight months whilst we resided in London, I did less scientific work, though I worked as hard as I possibly could, than during any other equal length of time in my life. This was owing to frequently recurring unwellness, and to one long and serious illness. The greater part of my time, when I could do anything, was devoted to my work on 'Coral Reefs,' which I had begun before my marriage, and of which the last proof-sheet was corrected on May 6th, 1842. This book, though a small one, cost me twenty months of hard work, as I had to read every work on the islands of the Pacific and to consult many charts. It was thought highly of by scientific men, and the theory therein given is, I think, now well established.
.....
Подняться наверх