The History and Remarkable Life of the Truly Honourable Colonel Jacque, Commonly called Colonel Jack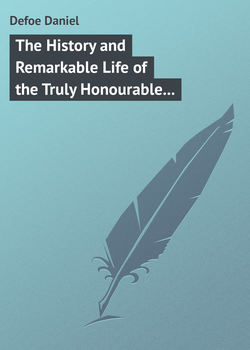 Оглавление
Defoe Daniel. The History and Remarkable Life of the Truly Honourable Colonel Jacque, Commonly called Colonel Jack
INTRODUCTION
AUTHOR'S PREFACE
THE LIFE OF COLONEL JACQUE
THE TRUE-BORN ENGLISHMAN
AN EXPLANATORY PREFACE
THE PREFACE
THE INTRODUCTION
THE TRUE-BORN ENGLISHMAN
PART I
PART II
BRITANNIA
His Fine Speech, Etc
The Conclusion
THE SHORTEST WAY WITH THE DISSENTERS; OR, PROPOSALS FOR THE ESTABLISHMENT OF THE CHURCH
THE SHORTEST WAY WITH THE DISSENTERS
Отрывок из книги
Sir, – It is so customary to write prefaces to all books of this kind, to introduce them with the more advantage into the world, that I cannot omit it, though on that account 'tis thought this work needs a preface less than any that ever went before it. The pleasant and delightful part speaks for itself; the useful and instructive is so large, and capable of so many improvements, that it would employ a book large as itself to make improvements suitable to the vast variety of the subject.
Here's room for just and copious observations on the blessings and advantages of a sober and well-governed education, and the ruin of so many thousands of youths of all kinds in this nation for want of it; also, how much public schools and charities might be improved to prevent the destruction of so, many unhappy children as in this town are every year bred up for the gallows.
.....
The various turns of his fortunes in the world make a delightful field for the reader to wander in; a garden where he may gather wholesome and medicinal fruits, none noxious or poisonous; where he will see virtue and the ways of wisdom everywhere applauded, honoured, encouraged, rewarded; vice and all kinds of wickedness attended with misery, many kinds of infelicities; and at last, sin and shame going together, the persons meeting with reproof and reproach, and the crimes with abhorrence.
Every wicked reader will here be encouraged to a change, and it will appear that the best and only good end of an impious, misspent life is repentance; that in this there is comfort, peace, and oftentimes hope, and that the penitent shall be returned like the prodigal, and his latter end be better than his beginning.
.....
Подняться наверх