An Isle of Surrey: A Novel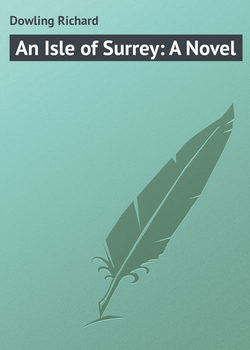 Оглавление
Dowling Richard. An Isle of Surrey: A Novel
CHAPTER I. WELFORD BRIDGE
CHAPTER II. CRAWFORD'S HOUSE
CHAPTER III. THE PINE GROVES OF LEEHAM
CHAPTER IV. THE MISSING MAN
CHAPTER V. A SECOND APPARITION
CHAPTER VI. CRAWFORD'S INVESTIGATIONS
CHAPTER VII. A VISITOR AT BOLAND'S AIT
CHAPTER VIII. FATHER AND SON
CHAPTER IX. CRAWFORD'S HOME
CHAPTER X. FATHER AND SON
CHAPTER XI "CAN I PLAY WITH THAT LITTLE BOY?"
CHAPTER XII. PHILIP RAY AT RICHMOND
CHAPTER XIII. AN INVITATION ACCEPTED
CHAPTER XIV. THE FIRE AT RICHMOND
CHAPTER XV. HOW WILLIAM GODDARD CHANGED HIS NAME
CHAPTER XVI. AT PLAY
CHAPTER XVII. THE POSTMAN'S HAIL
CHAPTER XVIII. PRIVATE THEATRICALS
CHAPTER XIX. THE TOW-PATH BY NIGHT
CHAPTER XX. A HOSTAGE AT CRAWFORD'S HOUSE
CHAPTER XXI. CRAWFORD SELLS A PATENT
CHAPTER XXII. WILLIAM CRAWFORD'S NIGHTMARE
CHAPTER XXIII "MAN OVERBOARD!"
CHAPTER XXIIV. REWARD FOR A LIFE
CHAPTER XXV. A NEW VISITOR AT CRAWFORD'S HOUSE
CHAPTER XXVI. A BRIDGE OF SIGHS
CHAPTER XXVII. A LAST RESOLVE
CHAPTER XXVIII. WILLIAM CRAWFORD'S LUCK
CHAPTER XXIX. AN INTRUDER UPON THE AIT
CHAPTER XXX. HETTY'S VISIT TO THE AIT
CHAPTER XXXI. BY THE BOY'S BEDSIDE
CHAPTER XXXII. BRAMWELL FINDS A SISTER
CHAPTER XXXIII "I MUST GO TO FETCH HER HOME."
CHAPTER XXXIIV. CRAWFORD'S PLANS FOR THE FUTURE
CHAPTER XXXV. HUSBAND AND WIFE
CHAPTER XXXVI. TEA AT CRAWFORD'S HOUSE
CHAPTER XXXVII. CRAWFORD WRITES HOME
CHAPTER XXXVIII. WILLIAM CRAWFORD FREE
CHAPTER XXXIX. CRAWFORD IS SLEEPLESS
CHAPTER XL. CRAWFORD SLEEPS
Отрывок из книги
Crawford Street, into which the stranger and his uncouth conductor had turned, was a narrow, dingy, neglected blind lane. The end of it was formed of a brick wall, moss-grown and ragged. On the right hand side were gates and doors of idle wharves, whose rears abutted on the bay; on the left, a long low unbroken wall separating the roadway from a desolate waste, where rubbish might be shot, according to a dilapidated and half-illegible notice-board; but on the plot were only two small mounds of that dreary material, crowned with a few battered rusty iron and tin utensils of undeterminable use.
In the street, which was a couple of hundred yards long, stood the only dwelling. Opposite the door Red Jim drew up, and, pointing, said, "That's Crawford's House. I belong to this neighourhood. I'm called after the place. My name is James Ford. I'm called after the place, same as a lord is called after a place. They found me twenty-nine years ago on the tow-path. Nobody wanted me much then or since. Maybe you're the new Mr. Crawford, and, like me, called after the place too?" He spoke in a tone of curiosity.
.....
"Why," cried her brother in amused surprise, "where on earth did you get this information?"
"From Mrs. Grainger, whom you sent to help me to-day. Mrs. Grainger knows the history of the whole neighbourhood from the time of Adam."
.....
Подняться наверх