The Business Blockchain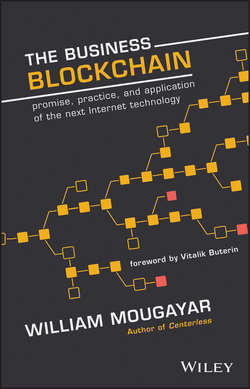 Оглавление
Mougayar William. The Business Blockchain
FOREWORD
ACKNOWLEDGMENTS
A PERSONAL PREFACE
INTRODUCTION
1. WHAT IS THE BLOCKCHAIN?
VISITING SATOSHI'S PAPER
THE WEB, ALL OVER AGAIN
ONE OR SEVERAL BLOCKCHAINS?
INTRODUCTION TO BLOCKCHAIN APPLICATIONS
THE BLOCKCHAIN'S NARRATIVE IS STRONG
A META TECHNOLOGY
SOFTWARE, GAME THEORY AND CRYPTOGRAPHY
THE DATABASE VS. THE LEDGER
LOOKING BACK SO WE CAN LOOK FORWARD
UNPACKING THE BLOCKCHAIN
STATE TRANSITIONS AND STATE MACHINES – WHAT ARE THEY?
THE CONSENSUS ALGORITHMS
KEY IDEAS FROM CHAPTER ONE
2. HOW BLOCKCHAIN TRUST INFILTRATES
A NEW TRUST LAYER
DECENTRALIZATION OF TRUST – WHAT DOES IT MEAN?
HOW AIRBNB DESIGNED TRUST FOR STRANGERS
A SPECTRUM OF TRUST SERVICES BASED ON PROOFS
THE BLOCKCHAIN LANDSCAPE
BENEFITS AND INDIRECT BENEFITS
EXPLAINING SOME BASIC FUNCTIONS
WHAT DOES A TRUSTED BLOCKCHAIN ENABLE?
IDENTITY OWNERSHIPS & REPRESENTATION
DECENTRALIZED DATA SECURITY
ANONYMITY & UNTRACEABLE COMMUNICATION
BLOCKCHAIN AS CLOUD
GETTING TO MILLIONS OF BLOCKCHAINS
KEY IDEAS FROM CHAPTER TWO
3. OBSTACLES, CHALLENGES, & MENTAL BLOCKS
ATTACKING THE BLOCKCHAIN WITH A FRAMEWORK APPROACH
TECHNICAL CHALLENGES
MARKET/BUSINESS CHALLENGES
LEGAL/REGULATORY BARRIERS
BEHAVIORAL/EDUCATIONAL CHALLENGES
KEY IDEAS FROM CHAPTER THREE
4. BLOCKCHAIN IN FINANCIAL SERVICES
ATTACKED BY THE INTERNET AND FINTECH
WHY CAN'T THERE BE A GLOBAL BANK?
BANKS AS BACKENDS
BLOCKCHAIN INSIDE REGULATIONS VERSUS PERMISSIONLESS INNOVATION
LANDSCAPE OF BLOCKCHAIN COMPANIES IN FINANCIAL SERVICES
BLOCKCHAIN APPLICATIONS IN FINANCIAL SERVICES
STRATEGIC QUESTIONS FOR FINANCIAL SERVICES
KEY IDEAS FROM CHAPTER FOUR
5. LIGHTHOUSE INDUSTRIES & NEW INTERMEDIARIES
THE NEW INTERMEDIARIES
LIGHTHOUSE INDUSTRIES
KEY IDEAS FROM CHAPTER FIVE
6. IMPLEMENTING BLOCKCHAIN TECHNOLOGY
INTERNAL STRATEGIES FOR TACKLING THE BLOCKCHAIN
THE BLOCKCHAIN CZAR
ORGANIZATIONAL MODELS
A BLOCKCHAIN FUNCTIONAL ARCHITECTURE
CORE & PROTOCOL
BLOCKCHAIN SOFTWARE DEVELOPMENT
ON-CHAIN SERVICES
END-USER VIEW
OFF-CHAIN SERVICES
OTHER DESIRED BLOCKCHAIN FEATURES
WRITING DECENTRALIZED APPLICATIONS
12 FEATURES OF A BLOCKCHAIN PLATFORM
13 STRATEGIES FOR CIOS AND CORPORATE EXECUTIVES
DECISION-MAKING FRAMEWORK
KEY IDEAS FROM CHAPTER SIX
7. DECENTRALIZATION AS THE WAY FORWARD
WHAT HAPPENED TO THE DECENTRALIZED INTERNET?
IT'S NOT EASY BEING DECENTRALIZED
WHAT WILL DECENTRALIZATION LOOK LIKE
THE CRYPTO ECONOMY
A NEW FLOW OF VALUE
HOW TECHNOLOGY PERMEATES
PEERING INTO 2025
KEY IDEAS FROM CHAPTER SEVEN
EPILOGUE
SELECTED BIBLIOGRAPHY
INDEX
ADDITIONAL RESOURCES
ABOUT THE AUTHOR
Отрывок из книги
THIS DECADE IS AN INTERESTING time for the development of decentralized technologies. Although cryptographers, mathematicians and coders have been working on increasingly specific and advanced protocols in order to get stronger and stronger privacy and authenticity guarantees out of various systems – from electronic cash to voting to file transfer – progress was slow for over 30 years. The innovation of the blockchain – or, more generally, the innovation of public economic consensus by Satoshi Nakamoto in 2009 – proved to be the one missing piece of the puzzle that single-handedly gave the industry its next giant leap forward.
The political environment seemed to almost snap into place: the great financial crisis in 2008 spurred growing distrust in mainstream finance, including both corporations and the governments that are normally supposed to regulate them, and was the initial spark that drove many to seek out alternatives. Then Edward Snowden's revelations in 2013, highlighting how active the government was in realms citizens once believed private, were the icing on the cake. Even though blockchain technologies specifically have not seen mainstream adoption as a result, the underlying spirit of decentralization to a substantial degree has.
.....
This is the story that arguably drives the interest in consortium chains in finance, blockchain applications in the supply chain industry, and blockchain-based identity systems. They all use decentralized databases to replicate the gains of everyone being on one platform without the costs of having to agree on who gets to control that platform and then put up with them if they choose to try to abuse their monopoly position.
In the first four years after Satoshi's launch of Bitcoin in January 2009, much attention focused on the currency, including its payment aspects and its function as an alternative store of value. In 2013, attention started to shift to the "blockchain 2.0" applications: uses of the same technology that underlies Bitcoin's decentralization and security to other applications, ranging from domain name registration to financial contracts to crowdfunding and even games. The core insight behind my own platform, Ethereum, was that a Turing-complete programming language, embedded into the protocol at the base layer, could be used as the ultimate abstraction, allowing developers to build applications with any kind of business logic or purpose while benefiting from the blockchain's core properties. Around the same time, systems such as the decentralized storage platform InterPlanetary File System (IPFS) began to emerge, and cryptographers came out with powerful new tools that could be used in combination with blockchain technology to add privacy, particularly zk-SNARKs, or zero-knowledge Succinct Non-Interactive ARgument Knowledge. The combination of Turing-complete blockchain computing, non-blockchain decentralized networks using similar cryptographic technologies, and the integration of blockchains with advanced cryptography was what I chose to call "crypto 2.0" – a title that may be ambitious, but which I feel best captures the spirit of the movement in its widest form.
.....
Подняться наверх