Birds, Illustrated by Color Photography, Vol. 2, No. 1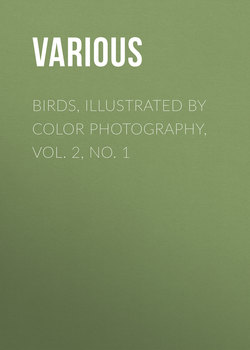 Оглавление
Various. Birds, Illustrated by Color Photography, Vol. 2, No. 1
INTRODUCTION
BIRD SONG
THE BALD-HEADED EAGLE
THE BALD-HEADED EAGLE
THE SEMI-PALMATED RING PLOVER
THE RING PLOVER
THE MALLARD DUCK
THE MALLARD DUCK
THE AMERICAN AVOCET
BIRD SONG – Continued from page 1
THE CANVAS-BACK DUCK
THE WOOD DUCK
THE WOOD DUCK
THE ANHINGA OR SNAKE BIRD
THE AMERICAN WOODCOCK
THE WOODCOCK
THE AMERICAN SCOTER
OLD ABE
THE SNOWY HERON
SUMMARY
Отрывок из книги
IT SHOULD not be overlooked by the young observer that if he would learn to recognize at once any particular bird, he should make himself acquainted with the song and call notes of every bird around him. The identification, however, of the many feathered creatures with which we meet in our rambles has heretofore required so much patience, that, though a delight to the enthusiast, few have time to acquire any great intimacy with them. To get this acquaintance with the birds, the observer has need to be prepared to explore perilous places, to climb lofty trees, and to meet with frequent mishaps. To be sure if every veritable secret of their habits is to be pried into, this pursuit will continue to be plied as patiently as it has ever been. The opportunity, however, to secure a satisfactory knowledge of bird song and bird life by a most delightful method has at last come to every one.
A gentleman who has taken a great interest in Birds from the appearance of the first number, but whose acquaintance with living birds is quite limited, visited one of our parks a few days ago, taking with him the latest number of the magazine. His object, he said, was to find there as many of the living forms of the specimens represented as he could. "Seating myself amidst a small grove of trees, what was my delight at seeing a Red Wing alight on a telegraph wire stretching across the park. Examining the picture in Birds I was somewhat disappointed to find that the live specimen was not so brilliantly marked as in the picture. Presently, however, another Blackbird alighted near, who seemed to be the veritable presentment of the photograph. Then it occured to me that I had seen the Red Wing before, without knowing its name. It kept repeating a rich, juicy note, oncher-la-ree-e! its tail tetering at quick intervals. A few days later I observed a large number of Red Wings near the Hyde Park water works, in the vicinity of which, among the trees and in the marshes, I also saw many other birds unknown to me. With Birds in my hands, I identified the Robin, who ran along the ground quite close to me, anon summoning with his beak the incautious angle worm to the surface. The Jays were noisy and numerous, and I observed many new traits in the Wood Thrush, so like the Robin that I was at first in some doubt about it. I heard very few birds sing that day, most of them being busy in search of food for their young."
.....
You can easily see by the picture that he is not bald-headed. The name White-headed would seem a better name. It is because at a distance his head and neck appear as though they were covered with a white skin.
He is called "Sea Eagle" because his food is mostly fish. He takes the fish that are thrown upon the shores by the waves, and sometimes he robs the Fish Hawk of his food.
.....
Подняться наверх