Birds, Illustrated by Color Photography, Vol. 1, No. 6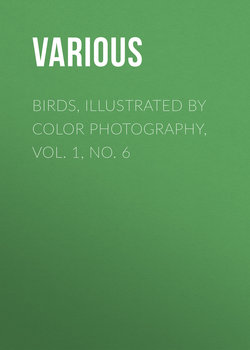 Оглавление
Various. Birds, Illustrated by Color Photography, Vol. 1, No. 6
KNOWLEDGE OF BIRD-LIFE
PREFACE
BIRD SONG
THE YELLOW-THROATED VIREO
THE MOCKING BIRD
JUNE
THE BLACK-CROWNED NIGHT HERON
THE RING-BILLED GULL
THE MOCKING BIRD
THE LOGGERHEAD SHRIKE
THE BALTIMORE ORIOLE
THE BALTIMORE ORIOLE
THE SNOWY OWL
THE SNOWY OWL
BIRDS AND FARMERS
THE SCARLET TANAGER
THE SCARLET TANAGER
THE RUFFED GROUSE
THE RUFFED GROUSE
THE BLACK AND WHITE CREEPING WARBLER
Отрывок из книги
IT has become a universal custom to obtain and preserve the likenesses of one's friends. Photographs are the most popular form of these likenesses, as they give the true exterior outlines and appearance, (except coloring) of the subjects. But how much more popular and useful does photography become, when it can be used as a means of securing plates from which to print photographs in a regular printing press, and, what is more astonishing and delightful, to produce the real colors of nature as shown in the subject, no matter how brilliant or varied.
We quote from the December number of the Ladies' Home Journal:
.....
The text is prepared with the view of giving the children as clear an idea as possible, of haunts, habits, characteristics and such other information as will lead them to love the birds and delight in their study and acquaintance.
In references to birds, Tennyson is the most felicitous of all poets and the exquisite swallow-song in "The Princess" is especially recommended to the reader's perusal.
.....
Подняться наверх