Birds Illustrated by Color Photography [February, 1898]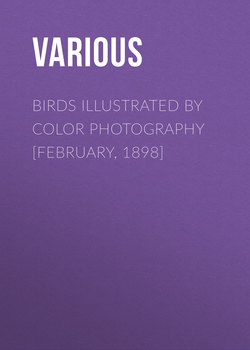 Оглавление
Various. Birds Illustrated by Color Photography [February, 1898]
GILBERT WHITE AND "SELBORNE."
A FRIEND OF BIRDS
QUEER DOINGS OF A CRANE
THE LEAST BITTERN
THE BALDPATE DUCK
THE BALDPATE
WOOING BIRDS' ODD WAYS
THE PURPLE FINCH
THE RED-BELLIED WOODPECKER
THE RED BELLIED WOODPECKER
A FORCED PARTNERSHIP
WHAT IS AN EGG?
THE SAW-WHET OWL
THE SAW-WHET OWL
THE BLACK SWAN
THE BLACK SWAN
LIFE IN THE NEST
THE SNOWY PLOVER
ONLY A BIRD
THE LESSER PRAIRIE HEN
THE NEW TENANTS
Отрывок из книги
IT is told of George H. Corliss, the famous engine builder of Providence, R. I., that when building a foundry at the Corliss works, some Blue Birds took the opportunity to build in some holes in the interior framework into which horizontal timbers were to go. The birds flew in and out – as Blue Birds will – and went on with their housekeeping, until in the natural course of things the workmen would have evicted them to put the apertures to their intended use of receiving timbers. But Mr. Corliss interfered and showed how the particular aperture the birds were occupying could be left undisturbed until they were done with it, without any serious delay to the building. So the pair came and went in the midst of the noise of building and brought up their little family safely, and after they had flown away, and not until then, that particular part of the framework was completed.
At another time, Mr. Corliss was working on a contract with the city of Providence to supply a steam pumping apparatus, power house and all, at Sockonosset, and the time was short, and there were forfeitures nominated in the bond for every day beyond a a specified date for its completion.
.....
The power house was to be upon virgin soil where were rocks and trees – little trees growing among rocks. In blasting and clearing the necessary place for the foundations of the building, a Robin's nest was discovered in a little tree within the space where the upheavals were to be made. When Mr. Corliss knew this he had the work transferred to the other side of the square or parallelogram around which the digging and blasting were to go, saying that it was just as well to do the other side first.
But it proved that when the workmen had got clear around and back to the Robin's tree, the young birds were still not quite ready to fly. This called for a new exercise of an inventor's power of adapting means to a worthy end. Looking at the little tree with its nest and little birds high in the branches he bade the men support the tree carefully while it was sawed through the trunk a little above the ground, and then carry it in an upright position to a safe distance and stick it into the ground with proper support.
.....
Подняться наверх