American World Policies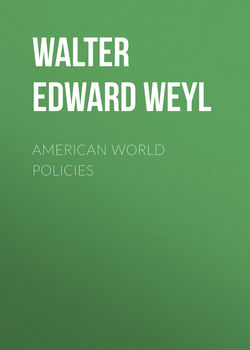 Оглавление
Walter Edward Weyl. American World Policies
PART I. OUR IDEALISTIC PAST. AMERICAN WORLD POLICIES
CHAPTER I. AMERICA AMONG THE NATIONS
CHAPTER II. THE SKELETON OF WAR
CHAPTER III. PEACE WITHOUT EFFORT
CHAPTER IV. AN UNRIPE IMPERIALISM
CHAPTER V. FACING OUTWARD
PART II. THE ROOT OF IMPERIALISM
CHAPTER VI. THE INTEGRATION OF THE WORLD
CHAPTER VII. THE ROOT OF IMPERIALISM
CHAPTER VIII. IMPERIALISM AND WAR
CHAPTER IX. INDUSTRIAL INVASION
CHAPTER X. THE REVOLT AGAINST IMPERIALISM
CHAPTER XI. THE APPEAL OF IMPERIALISM
CHAPTER XII. THE AMERICAN DECISION
PART III. TOWARDS ECONOMIC INTERNATIONALISM
CHAPTER XIII. NATURAL RESOURCES AND PEACE
CHAPTER XIV. AN ANTIDOTE TO IMPERIALISM
CHAPTER XV. AMERICAN INTERESTS ABROAD
CHAPTER XVI. PACIFISM STATIC AND DYNAMIC
CHAPTER XVII. TOWARDS INTERNATIONAL GOVERNMENT
CHAPTER XVIII. THE FREEDOM OF THE SEAS
CHAPTER XIX. THE HIGHER IMPERIALISM
CHAPTER XX. THE FORCES OF INTERNATIONALISM
CHAPTER XXI. AN IMMEDIATE PROGRAMME
Отрывок из книги
The Great War has thrown America back upon itself. It has come as a test and challenge to all our theories. Suddenly, yet subtly, it has shaken our optimism and undermined our faith in the peaceful progress of humanity. Our isolation is gone, and with it our sense of security and self-direction. Americans, who a few days ago would have dared to abolish army and navy as a supreme earnest of good faith, reluctantly agree to arm. "Self-defence," they now say, "comes before progress. We must lay aside our hopes of a world at peace and must guard our gates."
Doubtless there is some exaggeration in our change of mood. Men speak as though a miracle had swept away the Atlantic Ocean, leaving us stranded on Europe's western shore. Fortunately the Ocean, always America's ally, still lies there, narrowed and curbed, yet three thousand miles of storm-swept water. Physically and morally, however, our isolation has dwindled. Dreadnaughts, submarines and airships can now reach us and our commerce, industry and national ambitions are interwoven with those of Europe. We shall never again stand aloof from the world.
.....
It was an ideal, good or bad, according to its interpretation. A more definitely integrated America, with a concrete forward-looking internal and foreign policy, could aid disinterestedly in untying the European tangle. In the main, however, the demand for Americanism took on an aggressive, jingoistic, red-white-and-blue tinge. Out of it arose an exaggerated change of mood toward the "hyphenate," the American of foreign, and especially German, lineage. Newspapers teemed with attacks upon this man of divided allegiance.
In other ways our agitation for a United America took a reactionary shape. Though a pacific nation, we experienced a sudden revulsion against pacifism and Hague tribunals, as though it were the pacifists who had brought on the war. Contempt was expressed for our industrialism, our many-tongued democracy, our policy of diplomatic independence. Those most opposed to Prussianism, as it has been defined, were most stubbornly Prussian in their proposals. We heard praises of the supreme education of the German barracks, and a clamour arose for universal service, not primarily industrial or educational but military in character. A decaying patriotism of Americans was deplored quite in the manner of Bernhardi. More than ever there was talk of national honour, prestige, the rights of America. Our former attitude of abstention from European disputes was called "provincial," and we were urged to fight for all manner of reasons and causes. Even though we cravenly desired peace, we were to have no choice. An impoverished Germany, beaten to her knees, was to pay her indemnity by landing an army in New York and holding that city for ransom. Around such futilities did many American minds play.
.....
Подняться наверх