Sheppard Lee, Written by Himself. Vol. I (of 2)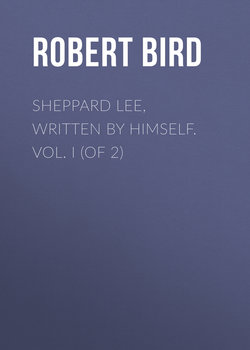 Оглавление
Bird Robert Montgomery. Sheppard Lee, Written by Himself. Vol. I (of 2)
BOOK I. CONTAINING INSTRUCTIONS HOW TO SPEND AND HOW TO RETRIEVE A FORTUNE
CHAPTER I. THE AUTHOR'S PREFACE, – WHICH THE READER, IF IN A GREAT HURRY, OR IF IT BE HIS PRACTICE TO READ AGAINST TIME, CAN SKIP
CHAPTER II. THE BIRTH AND FAMILY OF SHEPPARD LEE, WITH SOME ACCOUNT OF HIS TEMPER AND COMPLEXION OF MIND
CHAPTER III. THE PLEASURES OF HAVING NOTHING TO DO. – SOME THOUGHTS ON MATRIMONY
CHAPTER IV. HOW TO CONDUCT A FARM TO THE BEST ADVANTAGE, AND STEER CLEAR OF THE LAWYERS
CHAPTER V. THE AUTHOR FINDS HIMSELF IN TROUBLE. – SOME ACCOUNT OF HIS SERVANT, HONEST JAMES JUMBLE
CHAPTER VI. SHEPPARD LEE EXPERIENCES HIS SHARE OF THE RESPECT THAT IS ACCORDED TO "HONEST POVERTY." – HIS INGENIOUS AND HIGHLY ORIGINAL DEVICES TO AMEND HIS FORTUNE
CHAPTER VII. THE AUTHOR BECOMES A POLITICIAN, AND SEEKS FOR AN OFFICE. – THE RESULT OF THAT PROJECT
CHAPTER VIII. A DESCRIPTION OF THE OWL-ROOST, WITH MR. JUMBLE'S IDEAS IN RELATION TO CAPTAIN KID'S MONEY
CHAPTER IX. SHEPPARD LEE STUMBLES UPON A HAPPY MAN, AND QUARRELS WITH HIM
CHAPTER X. SHEPPARD LEE HAS AN EXTRAORDINARY DREAM, WHICH PROMISES TO BE MORE ADVANTAGEOUS THAN ANY OF HIS PREVIOUS ONES
CHAPTER XI. IN WHICH THE READER IS INTRODUCED TO A PERSONAGE WHO MAY CLAIM HIS ACQUAINTANCE HEREAFTER
CHAPTER XII. SHEPPARD LEE VISITS THE VILLAGE, MAKES A PATRIOTIC SPEECH, AND LEAVES THE FENCE
CHAPTER XIII. WHAT BEFELL THE AUTHOR ON HIS WAY TO THE OWL-ROOST
CHAPTER XIV. SHEPPARD LEE DIGS FOR THE BURIED TREASURE, BUT MAKES A BLOW WITH THE MATTOCK IN THE WRONG PLACE
CHAPTER XV. IN WHICH SHEPPARD LEE FINDS HIMSELF IN A QUANDARY WHICH THE READER WILL ALLOW TO BE THE MOST WONDERFUL AND LAMENTABLE EVER KNOWN TO A HUMAN BEING
CHAPTER XVI. SHEPPARD LEE FINDS COMFORT WHEN HE LEAST EXPECTS IT. THE EXTRAORDINARY CLOSE OF THE CATASTROPHE
CHAPTER XVII. A NATURAL MISTAKE, WHICH, ALTHOUGH IT PROCURES THE AUTHOR A ROUGH RECEPTION AT HIS OWN HOUSE, HAS YET THE GOOD EFFECT TO TEACH HIM THE PROPRIETY OF ADAPTING HIS MANNERS TO HIS CONDITION
BOOK II. CONTAINING SUNDRY ILLUSTRATIONS OF THE ADVANTAGES OF GOOD LIVING, WITH A FEW CHAPTERS ON DOMESTIC FELICITY
CHAPTER I. SOME PASSAGES IN THE LIFE OF JOHN H. HIGGINSON, ESQ., THE HAPPY SPORTSMAN; WITH A SURPRISING AFFLICTION THAT BEFELL THE AUTHOR
CHAPTER II. THE AUTHOR, BEING IN PRISON, MAKES A CONFIDANT OF A DEPUTY ATTORNEY-GENERAL. – THE INCONVENIENCE OF TELLING A TRUTH WHICH HAPPENS TO BE SOMEWHAT INCREDIBLE
CHAPTER III. SHEPPARD LEE IS VISITED BY NEW FRIENDS, RELEASED FROM PRISON, AND CARRIED TO HIS NEW PLACE OF ABODE
CHAPTER IV. CONTAINING ILLUSTRATIONS OF THE ADVANTAGES OF DYING AN UNUSUAL DEATH, IN TIMES OF HIGH POLITICAL EXCITEMENT
CHAPTER V. THE TRUE MEANING OF THE WORD PODAGRA
CHAPTER VI. SHEPPARD LEE'S INTRODUCTION TO HIS WIFE, AND HIS SUSPICION THAT ALL IS NOT GOLD THAT GLISTENS
CHAPTER VII. A COMPARISON BETWEEN DUNNING AND SCOLDING, WITH SOME THOUGHTS ON SUICIDE
CHAPTER VIII. SHEPPARD LEE FORMS SUNDRY ACQUAINTANCES, SOME OF WHICH ARE GENTEEL
CHAPTER IX. THE AUTHOR GROWS WEARY OF HIS WIFE, AND MISTAKES THE SCHUYLKILL FOR THE RIVER LETHE. – THE TRAGICAL ADVENTURE THAT BEFELL A YOUNG GENTLEMAN IN THAT ROMANTIC TIDE, WITH ITS EFFECTS UPON THE DESTINIES OF SHEPPARD LEE
BOOK III. CONTAINING MUCH THAT WILL BE INTERESTING TO YOUNG GENTLEMEN IN DEBT, AND TO FATHERS OF FAMILIES WHO DESIRE TO HAVE THEIR CHILDREN RISE IN SOCIETY
CHAPTER I. THE FIRST CHAPTER OF THE HISTORY OF I. D. DAWKINS, ESQ
CHAPTER II. A CONVERSATION BETWIXT THE AUTHOR AND HIS BOSOM FRIEND, JOHN TICKLE, ESQ
CHAPTER III. IN WHICH SHEPPARD LEE IS PREPARED FOR THE BRILLIANT DESTINY THAT AWAITS HIM
CHAPTER IV. IN WHICH SHEPPARD LEE HAS AN INTERVIEW WITH A LADY, WHO TELLS HIM A SECRET
CHAPTER V. AN INVENTORY OF A YOUNG GENTLEMAN'S EFFECTS, WITH SOME ACCOUNT OF MR. SNIGGLES, HIS LANDLORD
CHAPTER VI. SHEPPARD LEE HEARS NEWS OF HIS UNCLE, AND MR. SNIGGLES IS BROUGHT TO HIS SENSES
CHAPTER VII. IN WHICH SHEPPARD LEE IS TOLD HIS HISTORY
CHAPTER VIII. A CONVERSATION WITH A TAILOR. SHEPPARD LEE FINDS HIMSELF IN A SITUATION TRULY APPALLING
CHAPTER IX. THE AUTHOR RECEIVES A VISIT FROM HIS UNCLE, SAMUEL WILKINS, ESQ., AND IS RELIEVED FROM HIS TORMENTORS
CHAPTER X. SOME ACCOUNT OF SHEPPARD LEE'S COUNTRY KINSMEN
CHAPTER XI. CONTAINING A MORSEL OF METAPHYSICS, WITH A SHORT ACCOUNT OF THE AUTHOR'S EXPERIENCE IN GOOD SOCIETY
CHAPTER XII. SHEPPARD LEE MAKES THE ACQUAINTANCE OF HIS COUSIN, MISS PATTIE WILKINS
CHAPTER XIII. A FURTHER ACCOUNT OF MISS PATTIE WILKINS
CHAPTER XIV. A SHORT CHAPTER, CONTAINING AN ACCOUNT OF THE AUTHOR'S COUSIN, SAMUEL WILKINS, JR
CHAPTER XV. IN WHICH SHEPPARD LEE VISITS MR. PERIWINKLE SMITH AND HIS FAIR DAUGHTER, AND IS INTRUSTED WITH A SECRET WHICH BOTH ASTONISHES AND AFFLICTS HIM
CHAPTER XVI. CONTAINING MUCH INSTRUCTIVE MATTER IN RELATION TO GOOD SOCIETY, WHEREBY THE AMBITIOUS READER CAN DETERMINE WHAT ARE HIS PROSPECTS OF ENTERING IT
CHAPTER XVII. IN WHICH SHEPPARD LEE RELATES THE PASSION HE CONCEIVED FOR HIS FAIR COUSIN, AND HIS ENGAGEMENT TO ELOPE WITH HER
CHAPTER XVIII. IN WHICH SHEPPARD LEE RECOUNTS AN ENGAGEMENT OF A SIMILAR NATURE WHICH. HE FORMED WITH THE FAIR ALICIA
CHAPTER XIX. THE INGENIOUS DEVICES WITH WHICH SHEPPARD LEE PREPARED THE WAY FOR THE ELOPEMENT
CHAPTER XX. THE GUESTS THAT SHEPPARD LEE INVITED TO HIS WEDDING
CHAPTER XXI. CONTAINING A SCIALOGUE, OR CURIOUS CONVERSATION WITH NOTHING; WITH A DISCOVERY EXTREMELY ASTONISHING TO SEVERAL PERSONS
CHAPTER XXII. IN WHICH SHEPPARD LEE FINDS THAT HE HAS MADE THE FORTUNE OF HIS FRIENDS, WITHOUT HAVING GREATLY ADVANTAGED HIS OWN
CHAPTER XXIII. A CRISIS. SHEPPARD LEE IS REDUCED TO GREAT EXTREMITIES, AND TAKES REFUGE IN THE HOUSE OF MOURNING
CHAPTER XXIV. WHAT HAPPENED IN THE DEAD-CHAMBER. – THE DIRGE OF A WEALTHY PARENT
BOOK IV. CONTAINING ILLUSTRATIONS OF THE FOLLY OF BRINGING UP CHILDREN IN THE WAY THEY SHOULD GO, AND THE WISDOM OF MAKING A FORTUNE
CHAPTER I. THE PRIVATE HISTORY OF ABRAM SKINNER, THE SHAVER
CHAPTER II. SHEPPARD LEE'S FIRST HIT AT MONEY-MAKING
CHAPTER III. REFLECTIONS ON STOCK-JOBBING AND OTHER MATTERS
Отрывок из книги
I have often debated in my mind whether I should give to the world, or for ever lock up within the secrecy of my own breast, the history of the adventures which it has been my lot in life to experience. The importance of any single individual in society, especially one so isolated as myself, is so little, that it can scarcely be supposed that the community at large can be affected by his fortunes, either good or evil, or interested in any way in his fate. Yet it sometimes happens that circumstances conspire to elevate the humblest person from obscurity, and to give the whole world an interest in his affairs; and that man may safely consider himself of some value in his generation, whose history is of a character to instruct the ignorant and inexperienced. Such a man I consider myself to be; and the more I reflect upon my past life, the more I am convinced it contains a lesson which may be studied with profit; while, at the same time, if I am not greatly mistaken, the lesson will be found neither dry nor repulsive, but here and there, on the contrary, quite diverting. The psychologist (I hate big words, but one cannot do without them) and the metaphysician will discover in my relation some new subjects for reflection; and so perhaps will the doctor of medicine and the physiologist: but while I leave these learned gentlemen to discuss what may appear most wonderful in my revealments, I am most anxious that the common reader may weigh the value of what is, at least in appearance, more natural, simple, and comprehensible.
It will be perceived that many of the following adventures are of a truly extraordinary character. There are some men – and to such my story will seem incredible enough – who pride themselves on believing nothing that they do not know, and who endeavour, very absurdly, to restrict the objects of belief to those that admit of personal cognizance. There are others again who boast the same maxim, but have a more liberal understanding of the subjects of knowledge, and permit themselves to believe many things which are susceptible of satisfactory proof, but not of direct cognition. Now I must declare beforehand, in order to avoid all trouble, that, from the very nature of the life I have led, consisting of the strangest transitions and vicissitudes, it is impossible I should have laid up proofs to satisfy any one of the truth of my relation who is disposed to be incredulous. If any one should say, "I doubt," all the answer I could make would be, "Doubt, and be hanged," – not, however, meaning any offence to anybody; though it is natural one should be displeased at having his veracity questioned. I write for the world at large, which is neither philosophic nor skeptical; and the world will believe me: otherwise it is a less sensible world than I have all along supposed it to be.
.....
I was struck dumb by the multitude and intensity of his epithets; and before I could recover speech, he shouldered his gun, snapped his fingers in my face, and whistling to his dog, walked off the ground. Before he had gone six steps, however, he turned round, gave me a hard look, and bursting into a laugh, exclaimed, tapping his forehead as he spoke, —
"Poor fellow! you're wrong in your upper story!"
.....
Подняться наверх