Sheppard Lee, Written by Himself. Vol. II (of 2)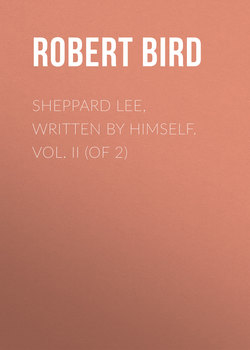 Оглавление
Bird Robert Montgomery. Sheppard Lee, Written by Himself. Vol. II (of 2)
BOOK IV (continued)
CHAPTER IV. THE MISER'S CHILDREN
CHAPTER V. THE FATE OF THE FIRSTBORN
CHAPTER VI. THE CATASTROPHE OF A TRAGEDY OFTEN PERFORMED ON THE GREAT STAGE OF LIFE
CHAPTER VII. IN WHICH IT IS SHOWN THAT A MAN MAY BE MORE USEFUL AFTER DEATH THAN WHILE LIVING
CHAPTER VIII. SHEPPARD LEE'S SEARCH FOR A BODY. – AN UNCOMMON INCIDENT
CHAPTER IX. IN WHICH THE AUTHOR MAKES THE ACQUAINTANCE OF A PHILANTHROPIST
CHAPTER X. CONTAINING AN AFFECTING ADVENTURE WITH A VICTIM OF THE LAW
CHAPTER XI. IN WHICH THE PLOT THICKENS, AND THE TRAGEDY GROWS DEEPER
BOOK V
CHAPTER I. THE PHILANTHROPIST'S FAMILY
CHAPTER II. SOME ACCOUNT OF THE WORTHY ABEL SNIPE
CHAPTER III. IN WHICH THE YOUNG MAN JONATHAN ARGUES SEVERAL CASES OF CONSCIENCE, WHICH ARE RECOMMENDED TO BE BROUGHT BEFORE YEARLY MEETING
CHAPTER IV. CONTAINING LITTLE OR NOTHING SAVE APOSTROPHES, EXHORTATIONS, AND QUARRELS
CHAPTER V. WHICH IS SHORT AND MORAL, AND CAN THEREFORE BE SKIPPED
CHAPTER VI. AN INCONVENIENCE OF BEING IN ANOTHER MAN'S BODY, WHEN CALLED UPON TO GIVE EVIDENCE AS TO ONE'S OWN EXIT
CHAPTER VII. THE SORROWS OF A PHILANTHROPIST
CHAPTER VIII. THE SAME SUBJECT CONTINUED
CHAPTER IX. CONTAINING A DIFFICULTY
CHAPTER X. IN WHAT MANNER MR. ZACHARIAH LONGSTRAW DETERMINED TO IMPROVE HIS FORTUNE
CHAPTER XI. IN WHICH A CATASTROPHE BEGINS
CHAPTER XII. IN WHICH THE CATASTROPHE IS CONTINUED
CHAPTER XIII. THE DÉNOUEMENT OF THE DRAMA
CHAPTER XIV. A REMARK, IN WHICH THE AUTHOR APPEARS AS A POLITICIAN, AND ABUSES BOTH PARTIES
CHAPTER XV. AN UNCOMMON ADVENTURE THAT BEFELL THE AUTHOR
CHAPTER XVI. IN WHICH SHEPPARD LEE TAKES A JOURNEY, AND DISCOVERS THE SECRET OBJECT OF HIS CAPTORS
CHAPTER XVII. CONTAINING OTHER SECRETS, BUT NOT SO IMPORTANT
CHAPTER XVIII. IN WHICH THE AUTHOR APPROACHES A CLIMAX IN HIS ADVENTURES
CHAPTER XIX. CONTAINING A SPECIMEN OF ELOQUENCE, WITH SOME ACCOUNT OF THE DANGERS OF LYNCHDOM
CHAPTER XX. IN WHICH SHEPPARD LEE REACHES THE DARKEST PERIOD OF HIS EXISTENCE
BOOK VI
CHAPTER I. IN WHICH SHEPPARD LEE FINDS EVERY THING BLACK ABOUT HIM
CHAPTER II. IN WHICH SHEPPARD LEE IS INTRODUCED TO HIS MASTER
CHAPTER III. AN OLD WOMAN'S CURE FOR A DISEASE EXTREMELY PREVALENT BOTH IN THE COLOURED AND UNCOLOURED CREATION
CHAPTER IV. SOME ACCOUNT OF RIDGEWOOD HILL, AND THE AUTHOR'S OCCUPATIONS
CHAPTER V. IN WHICH THE AUTHOR FURTHER DESCRIBES HIS SITUATION, AND PHILOSOPHIZES ON THE STATE OF SLAVERY
CHAPTER VI. RECOLLECTIONS OF SLAVERY
CHAPTER VII. A SCENE ON THE BANKS OF THE POTOMAC, WITH THE HUMOURS OF AN AFRICAN IMPROVISATORE
CHAPTER VIII. THE AUTHOR DESCENDS AMONG THE SLAVES, AND SUDDENLY BECOMES A MAN OF FIGURE, AND AN INTERPRETER OF NEW DOCTRINES
CHAPTER IX. WHAT IT WAS THE NEGROES HAD DISCOVERED AMONG THE SCANTLING
CHAPTER X. THE EFFECT OF THE PAMPHLET ON ITS READER AND HEARERS
CHAPTER XI. THE HATCHING OF A CONSPIRACY
CHAPTER XII. HOW THE SPOILS OF VICTORY WERE INTENDED TO BE DIVIDED
CHAPTER XIII. THE ATTACK OF THE INSURGENTS UPON THE MANSION AT RIDGEWOOD HILL
CHAPTER XIV. THE TRAGICAL OCCURRENCES THAT FOLLOWED
CHAPTER XV. THE RESULTS OF THE INSURRECTION, WITH A TRULY STRANGE AND FATAL CATASTROPHE THAT BEFELL THE AUTHOR
CHAPTER XVI. IN WHICH IT IS RELATED WHAT BECAME OF THE AUTHOR AFTER BEING HANGED
BOOK VII
CHAPTER I. CONTAINING AN INKLING OF THE LIFE AND HABITS OF MR. ARTHUR MEGRIM
CHAPTER II. THE HAPPY CONDITION IN WHICH SHEPPARD LEE IS AT LAST PLACED
CHAPTER III. THE EMPLOYMENTS OF A YOUNG GENTLEMAN OF FORTUNE
CHAPTER IV. SOME ACCOUNT OF THE INCONVENIENCES OF HAVING A DIGESTIVE APPARATUS
CHAPTER V. THE SAME SUBJECT CONTINUED, WITH AN ACCOUNT OF SEVERAL SURPRISING TRANSFORMATIONS
CHAPTER VI. AN ACCOUNT OF THE WOES OF AN EMPEROR OF FRANCE, WHICH HAVE NEVER BEFORE APPEARED IN HISTORY
CHAPTER VII. IN WHICH SHEPPARD LEE IS CONVINCED THAT ALL IS NOT GOLD WHICH GLISTENS
CHAPTER VIII. IN WHICH THE AUTHOR STUMBLES UPON AN OLD ACQUAINTANCE
CHAPTER IX. CONTAINING AN ACCOUNT OF THE WONDERFUL DISCOVERIES OF THE GERMAN DOCTOR
CHAPTER X. CONTAINING A MORE WONDERFUL DISCOVERY ON THE PART OF SHEPPARD LEE, WITH PERHAPS THE MOST SURPRISING ADVENTURE THAT EVER BEFELL HIM
BOOK VIII
CHAPTER I. SHEPPARD LEE FLIES FROM THE GERMAN DOCTOR, AND FINDS HIMSELF AGAIN IN NEW-JERSEY
CHAPTER II. WHAT HAD HAPPENED AT WATERMELON HILL DURING THE AUTHOR'S ABSENCE
CHAPTER III. CONTAINING THE SUBSTANCE OF A SINGULAR DEBATE BETWIXT THE AUTHOR AND HIS BROTHER, WITH A PHILOSOPHIC DEFENCE OF THE AUTHOR'S CREDIBILITY
CHAPTER IV. BEING THE LAST CHAPTER OF ALL
Отрывок из книги
It will scarcely be supposed that, with the passion of covetousness gnawing at my heart, I had space or convenience for any other feeling. But Abram Skinner had loved his children; and to this passion I was introduced, as well as to the other. At first I was surprised that I should bestow the least regard upon them, seeing that they were no children of mine. I endeavoured to shake off the feeling of attachment, as an absurdity, but could not; in spite of myself, I found my spirit yearning towards them; and by-and-by, having lost my identity entirely, I could scarcely, even when I made the effort, recall the consciousness that I was not their parent in reality.
Indeed, the transformation that had now occurred to my spirit was more thorough than it had been in either previous instance; I could scarce convince myself I had not been born the being I represented; my past existence began to appear to my reflections only as some idle dream, that the fever of sickness had brought upon my mind; and I forgot that I was, or had been, Sheppard Lee.
.....
He stared me in the face, but without making a reply. Then pushing a chair towards me, he sat down himself, and deliberately filled his glass a second time.
"Abbot! for Heaven's sake," said I, wringing my very hands in despair, "what will tempt you to quit this horrid practice?"
.....
Подняться наверх