The Argonauts of North Liberty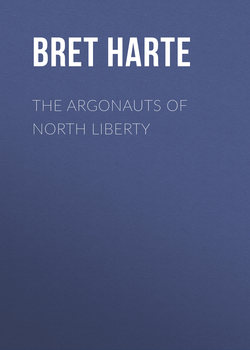 Оглавление
Bret Harte. The Argonauts of North Liberty
PART I
CHAPTER I
CHAPTER II
CHAPTER III
CHAPTER IV
PART II
CHAPTER I
CHAPTER II
CHAPTER III
CHAPTER IV
CHAPTER V
Отрывок из книги
The bell of the North Liberty Second Presbyterian Church had just ceased ringing. North Liberty, Connecticut, never on any day a cheerful town, was always bleaker and more cheerless on the seventh, when the Sabbath sun, after vainly trying to coax a smile of reciprocal kindliness from the drawn curtains and half-closed shutters of the austere dwellings and the equally sealed and hard-set churchgoing faces of the people, at last settled down into a blank stare of stony astonishment. On this chilly March evening of the year 1850, that stare had kindled into an offended sunset and an angry night that furiously spat sleet and hail in the faces of the worshippers, and made them fight their way to the church, step by step, with bent heads and fiercely compressed lips, until they seemed to be carrying its forbidding portals at the point of their umbrellas.
Within that sacred but graceless edifice, the rigors of the hour and occasion reached their climax. The shivering gas-jets lit up the austere pallor of the bare walls, and the hollow, shell-like sweep of colorless vacuity behind the cold communion table. The chill of despair and hopeless renunciation was in the air, untempered by any glow from the sealed air-tight stove that seemed only to bring out a lukewarm exhalation of wet clothes and cheaply dyed umbrellas. Nor did the presence of the worshippers themselves impart any life to the dreary apartment. Scattered throughout the white pews, in dull, shapeless, neutral blotches, rigidly separated from each other, they seemed only to accent the colorless church and the emptiness of all things. A few children, who had huddled together for warmth in one of the back benches and who had became glutinous and adherent through moisture, were laboriously drawn out and painfully picked apart by a watchful deacon.
.....
"No, thank you," returned Blandford, "it's locked, and I'll have to open it from the other side after I go in. The horse will stand until then. I think I'll have to say good-night, now," he added, with a sudden half-ashamed consciousness of the forbidding aspect of the house, and his own inhospitality. "I'm sorry I can't ask you in—but you understand why."
"All right," returned Demorest, stoutly, turning up his coat-collar, and unfurling his umbrella. "The hotel is only four blocks away—you'll find me there to-morrow morning if you call. But mind you tell your wife just what I told you—and no meandering of your own—you hear! She'll strike out some idea with her woman's wits, you bet. Good-night, old man!" He reached out his hand, pressed Blandford's strongly and potentially, and strode down the street.
.....
Подняться наверх