The Variation of Animals and Plants under Domestication — Volume 2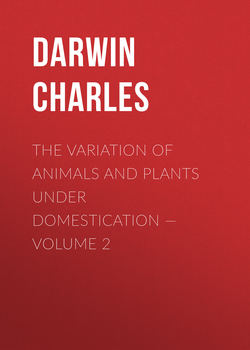 Оглавление
Darwin Charles. The Variation of Animals and Plants under Domestication — Volume 2
CHAPTER 2.XIII
CHAPTER 2.XIV
CHAPTER 2.XV
CHAPTER 2.XVI
CHAPTER 2.XVII
CHAPTER 2.XVIII
CHAPTER 2.XIX
CHAPTER 2.XX
CHAPTER 2.XXI
CHAPTER 2.XXII
CHAPTER 2.XXIII
CHAPTER 2.XXIV
CHAPTER 2.XXV
CHAPTER 2.XXVI
CHAPTER 2.XXVII
CHAPTER 2.XXVIII
Отрывок из книги
INHERITANCE continued. — FIXEDNESS OF CHARACTER — PREPOTENCY — SEXUAL LIMITATION — CORRESPONDENCE OF AGE.
In the last two chapters the nature and force of Inheritance, the circumstances which interfere with its power, and the tendency to Reversion, with its many remarkable contingencies, were discussed. In the present chapter some other related phenomena will be treated of, as fully as my materials permit.
.....
This is an important subject. Since the publication of my 'Origin of Species' I have seen no reason to doubt the truth of the explanation there given of one of the most remarkable facts in biology, namely, the difference between the embryo and the adult animal. The explanation is, that variations do not necessarily or generally occur at a very early period of embryonic growth, and that such variations are inherited at a corresponding age. As a consequence of this the embryo, even after the parent-form has undergone great modification, is left only slightly modified; and the embryos of widely-different animals which are descended from a common progenitor remain in many important respects like one another and probably like their common progenitor. We can thus understand why embryology throws a flood of light on the natural system of classification, as this ought to be as far as possible genealogical. When the embryo leads an independent life, that is, becomes a larva, it has to be adapted to the surrounding conditions in its structure and instincts, independently of those of its parents; and the principle of inheritance at corresponding periods of life renders this possible.
This principle is, indeed, in one way so obvious that it escapes attention. We possess a number of races of animals and plants, which, when compared with one another and with their parent-forms, present conspicuous differences, both in their immature and mature states. Look at the seeds of the several kinds of peas, beans, maize, which can be propagated truly, and see how they differ in size, colour, and shape, whilst the full-grown plants differ but little. Cabbages, on the other hand, differ greatly in foliage and manner of growth, but hardly at all in their seeds; and generally it will be found that the differences between cultivated plants at different periods of growth are not necessarily closely connected together, for plants may differ much in their seeds and little when full-grown, and conversely may yield seeds hardly distinguishable, yet differ much when full-grown. In the several breeds of poultry, descended from a single species, differences in the eggs and chickens whilst covered with down, in the plumage at the first and subsequent moults, as well as in the comb and wattles, are all inherited. With man peculiarities in the milk and second teeth (of which I have received the details) are inheritable, and longevity is often transmitted. So again with our improved breeds of cattle and sheep, early maturity, including the early development of the teeth, and with certain breeds of fowl the early appearance of secondary sexual characters, all come under the same head of inheritance at corresponding periods.
.....
Подняться наверх