The Variation of Animals and Plants Under Domestication, Volume II (of 2)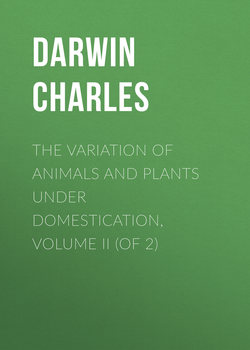 Оглавление
Darwin Charles. The Variation of Animals and Plants Under Domestication, Volume II (of 2)
CHAPTER XII. INHERITANCE
CHAPTER XIII. INHERITANCE continued– REVERSION OR ATAVISM
CHAPTER XIV. INHERITANCE continued– FIXEDNESS OF CHARACTER – PREPOTENCY – SEXUAL LIMITATION – CORRESPONDENCE OF AGE
CHAPTER XV. ON CROSSING
CHAPTER XVI. CAUSES WHICH INTERFERE WITH THE FREE CROSSING OF VARIETIES – INFLUENCE OF DOMESTICATION ON FERTILITY
CHAPTER XVII. ON THE GOOD EFFECTS OF CROSSING, AND ON THE EVIL EFFECTS OF CLOSE INTERBREEDING
CHAPTER XVIII. ON THE ADVANTAGES AND DISADVANTAGES OF CHANGED CONDITIONS OF LIFE: STERILITY FROM VARIOUS CAUSES
CHAPTER XIX. SUMMARY OF THE FOUR LAST CHAPTERS, WITH REMARKS ON HYBRIDISM
CHAPTER XX. SELECTION BY MAN
CHAPTER XXI. SELECTION, continued
CHAPTER XXII. CAUSES OF VARIABILITY
CHAPTER XXIII. DIRECT AND DEFINITE ACTION OF THE EXTERNAL CONDITIONS OF LIFE
CHAPTER XXIV. LAWS OF VARIATION – USE AND DISUSE, ETC
CHAPTER XXV. LAWS OF VARIATION, continued– CORRELATED VARIABILITY
CHAPTER XXVI. LAWS OF VARIATION, continued– SUMMARY
CHAPTER XXVII. PROVISIONAL HYPOTHESIS OF PANGENESIS
Part I
Part II
CHAPTER XXVIII. CONCLUDING REMARKS
Отрывок из книги
The cases of reversion may be divided into two main classes, which, however, in some instances, blend into each other; namely, first, those occurring in a variety or race which has not been crossed, but has lost by variation some character that it formerly possessed, and which afterwards reappears. The second class includes all cases in which a distinguishable individual, sub-variety, race, or species, has at some former period been crossed with a distinct form, and a character derived from this cross, after having disappeared during one or several generations, suddenly reappears. A third class, differing only in the manner of reproduction, might be formed to include all cases of reversion effected by means of buds, and therefore independent of true or seminal generation. Perhaps even a fourth class might be instituted, to include reversions by segments in the same individual flower or fruit, and in different parts of the body in the same individual animal as it grows old. But the two first main classes will be sufficient for our purpose.
The aboriginal species from which our domesticated cattle and sheep are descended, no doubt possessed horns; but several hornless breeds are now well established. Yet in these – for instance, in Southdown sheep – "it is not unusual to find among the male lambs some with small horns." The horns, which thus occasionally reappear in other polled breeds, either "grow to the full size, or are curiously attached to the skin alone and hang loosely down, or drop off."66 The Galloways and Suffolk cattle have been hornless for the last 100 or 150 years, but a horned calf, with the horn often loosely attached, is occasionally born.67
.....
These latter facts remind us of the statements, so frequently made by travellers in all parts of the world, on the degraded state and savage disposition of crossed races of man. That many excellent and kind-hearted mulattos have existed no one will dispute; and a more mild and gentle set of men could hardly be found than the inhabitants of the island of Chiloe, who consist of Indians commingled with Spaniards in various proportions. On the other hand, many years ago, long before I had thought of the present subject, I was struck with the fact that, in South America, men of complicated descent between Negroes, Indians, and Spaniards, seldom had, whatever the cause might be, a good expression.110 Livingstone, – and a more unimpeachable authority cannot be quoted, – after speaking of a half-caste man on the Zambesi, described by the Portuguese as a rare monster of inhumanity, remarks, "It is unaccountable why half-castes, such as he, are so much more cruel than the Portuguese, but such is undoubtedly the case." An inhabitant remarked to Livingstone, "God made white men, and God made black men, but the Devil made half-castes."111 When two races, both low in the scale, are crossed, the progeny seems to be eminently bad. Thus the noble-hearted Humboldt, who felt none of that prejudice against the inferior races now so current in England, speaks in strong terms of the bad and savage disposition of Zambos, or half-castes between Indians and Negroes; and this conclusion has been arrived at by various observers.112 From these facts we may perhaps infer that the degraded state of so many half-castes is in part due to reversion to a primitive and savage condition, induced by the act of crossing, as well as to the unfavourable moral conditions under which they generally exist.
It will be shown in a future chapter that the position of flowers on the summit of the axis, and the position of seeds within the capsule, sometimes determine a tendency towards reversion; and this apparently depends on the amount of sap or nutriment which the flower-buds and seeds receive. The position, also, of buds, either on branches or on roots, sometimes determines, as was formerly shown, the transmission of the proper character of the variety, or its reversion to a former state.
.....
Подняться наверх