The Life and Adventures of Robinson Crusoe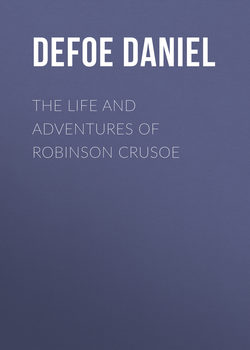 Оглавление
Defoe Daniel. The Life and Adventures of Robinson Crusoe
CHAPTER I – START IN LIFE
CHAPTER II – SLAVERY AND ESCAPE
CHAPTER III – WRECKED ON A DESERT ISLAND
CHAPTER IV – FIRST WEEKS ON THE ISLAND
CHAPTER V – BUILDS A HOUSE – THE JOURNAL
CHAPTER VI – ILL AND CONSCIENCE-STRICKEN
CHAPTER VII – AGRICULTURAL EXPERIENCE
CHAPTER VIII – SURVEYS HIS POSITION
CHAPTER IX – A BOAT
CHAPTER X – TAMES GOATS
CHAPTER XI – FINDS PRINT OF MAN'S FOOT ON THE SAND
CHAPTER XII – A CAVE RETREAT
CHAPTER XIII – WRECK OF A SPANISH SHIP
CHAPTER XIV – A DREAM REALISED
CHAPTER XV – FRIDAY'S EDUCATION
CHAPTER XVI – RESCUE OF PRISONERS FROM CANNIBALS
CHAPTER XVII – VISIT OF MUTINEERS
CHAPTER XVIII – THE SHIP RECOVERED
CHAPTER XIX – RETURN TO ENGLAND
CHAPTER XX – FIGHT BETWEEN FRIDAY AND A BEAR
Отрывок из книги
That evil influence which carried me first away from my father's house – which hurried me into the wild and indigested notion of raising my fortune, and that impressed those conceits so forcibly upon me as to make me deaf to all good advice, and to the entreaties and even the commands of my father – I say, the same influence, whatever it was, presented the most unfortunate of all enterprises to my view; and I went on board a vessel bound to the coast of Africa; or, as our sailors vulgarly called it, a voyage to Guinea.
It was my great misfortune that in all these adventures I did not ship myself as a sailor; when, though I might indeed have worked a little harder than ordinary, yet at the same time I should have learnt the duty and office of a fore-mast man, and in time might have qualified myself for a mate or lieutenant, if not for a master. But as it was always my fate to choose for the worse, so I did here; for having money in my pocket and good clothes upon my back, I would always go on board in the habit of a gentleman; and so I neither had any business in the ship, nor learned to do any.
.....
Our ship was about one hundred and twenty tons burden, carried six guns and fourteen men, besides the master, his boy, and myself. We had on board no large cargo of goods, except of such toys as were fit for our trade with the negroes, such as beads, bits of glass, shells, and other trifles, especially little looking-glasses, knives, scissors, hatchets, and the like.
The same day I went on board we set sail, standing away to the northward upon our own coast, with design to stretch over for the African coast when we came about ten or twelve degrees of northern latitude, which, it seems, was the manner of course in those days. We had very good weather, only excessively hot, all the way upon our own coast, till we came to the height of Cape St. Augustino; from whence, keeping further off at sea, we lost sight of land, and steered as if we were bound for the isle Fernando de Noronha, holding our course N.E. by N., and leaving those isles on the east. In this course we passed the line in about twelve days' time, and were, by our last observation, in seven degrees twenty-two minutes northern latitude, when a violent tornado, or hurricane, took us quite out of our knowledge. It began from the south-east, came about to the north-west, and then settled in the north-east; from whence it blew in such a terrible manner, that for twelve days together we could do nothing but drive, and, scudding away before it, let it carry us whither fate and the fury of the winds directed; and, during these twelve days, I need not say that I expected every day to be swallowed up; nor, indeed, did any in the ship expect to save their lives.
.....
Подняться наверх