The Further Adventures of Robinson Crusoe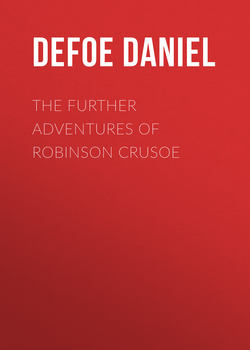 Оглавление
Defoe Daniel. The Further Adventures of Robinson Crusoe
CHAPTER I – REVISITS ISLAND
CHAPTER II – INTERVENING HISTORY OF COLONY
CHAPTER III – FIGHT WITH CANNIBALS
CHAPTER IV – RENEWED INVASION OF SAVAGES
CHAPTER V – A GREAT VICTORY
CHAPTER VI – THE FRENCH CLERGYMAN'S COUNSEL
CHAPTER VII – CONVERSATION BETWIXT WILL ATKINS AND HIS WIFE
CHAPTER VIII – SAILS FROM THE ISLAND FOR THE BRAZILS
CHAPTER IX – DREADFUL OCCURRENCES IN MADAGASCAR
CHAPTER X – HE IS LEFT ON SHORE
CHAPTER XI – WARNED OF DANGER BY A COUNTRYMAN
CHAPTER XII – THE CARPENTER'S WHIMSICAL CONTRIVANCE
CHAPTER XIII – ARRIVAL IN CHINA
CHAPTER XIV – ATTACKED BY TARTARS
CHAPTER XV – DESCRIPTION OF AN IDOL, WHICH THEY DESTROY
CHAPTER XVI – SAFE ARRIVAL IN ENGLAND
Отрывок из книги
It was in the latitude of 27 degrees 5 minutes N., on the 19th day of March 1694-95, when we spied a sail, our course SE. and by S. We soon perceived it was a large vessel, and that she bore up to us, but could not at first know what to make of her, till, after coming a little nearer, we found she had lost her main-topmast, fore-mast, and bowsprit; and presently she fired a gun as a signal of distress. The weather was pretty good, wind at NNW. a fresh gale, and we soon came to speak with her. We found her a ship of Bristol, bound home from Barbadoes, but had been blown out of the road at Barbadoes a few days before she was ready to sail, by a terrible hurricane, while the captain and chief mate were both gone on shore; so that, besides the terror of the storm, they were in an indifferent case for good mariners to bring the ship home. They had been already nine weeks at sea, and had met with another terrible storm, after the hurricane was over, which had blown them quite out of their knowledge to the westward, and in which they lost their masts. They told us they expected to have seen the Bahama Islands, but were then driven away again to the south-east, by a strong gale of wind at NNW., the same that blew now: and having no sails to work the ship with but a main course, and a kind of square sail upon a jury fore-mast, which they had set up, they could not lie near the wind, but were endeavouring to stand away for the Canaries.
But that which was worst of all was, that they were almost starved for want of provisions, besides the fatigues they had undergone; their bread and flesh were quite gone – they had not one ounce left in the ship, and had had none for eleven days. The only relief they had was, their water was not all spent, and they had about half a barrel of flour left; they had sugar enough; some succades, or sweetmeats, they had at first, but these were all devoured; and they had seven casks of rum. There was a youth and his mother and a maid-servant on board, who were passengers, and thinking the ship was ready to sail, unhappily came on board the evening before the hurricane began; and having no provisions of their own left, they were in a more deplorable condition than the rest: for the seamen being reduced to such an extreme necessity themselves, had no compassion, we may be sure, for the poor passengers; and they were, indeed, in such a condition that their misery is very hard to describe.
.....
As soon as Friday told me he saw people, I caused the English ancient to be spread, and fired three guns, to give them notice we were friends; and in about a quarter of an hour after we perceived a smoke arise from the side of the creek; so I immediately ordered the boat out, taking Friday with me, and hanging out a white flag, I went directly on shore, taking with me the young friar I mentioned, to whom I had told the story of my living there, and the manner of it, and every particular both of myself and those I left there, and who was on that account extremely desirous to go with me. We had, besides, about sixteen men well armed, if we had found any new guests there which we did not know of; but we had no need of weapons.
As we went on shore upon the tide of flood, near high water, we rowed directly into the creek; and the first man I fixed my eye upon was the Spaniard whose life I had saved, and whom I knew by his face perfectly well: as to his habit, I shall describe it afterwards. I ordered nobody to go on shore at first but myself; but there was no keeping Friday in the boat, for the affectionate creature had spied his father at a distance, a good way off the Spaniards, where, indeed, I saw nothing of him; and if they had not let him go ashore, he would have jumped into the sea. He was no sooner on shore, but he flew away to his father like an arrow out of a bow. It would have made any man shed tears, in spite of the firmest resolution, to have seen the first transports of this poor fellow's joy when he came to his father: how he embraced him, kissed him, stroked his face, took him up in his arms, set him down upon a tree, and lay down by him; then stood and looked at him, as any one would look at a strange picture, for a quarter of an hour together; then lay down on the ground, and stroked his legs, and kissed them, and then got up again and stared at him; one would have thought the fellow bewitched. But it would have made a dog laugh the next day to see how his passion ran out another way: in the morning he walked along the shore with his father several hours, always leading him by the hand, as if he had been a lady; and every now and then he would come to the boat to fetch something or other for him, either a lump of sugar, a dram, a biscuit, or something or other that was good. In the afternoon his frolics ran another way; for then he would set the old man down upon the ground, and dance about him, and make a thousand antic gestures; and all the while he did this he would be talking to him, and telling him one story or another of his travels, and of what had happened to him abroad to divert him. In short, if the same filial affection was to be found in Christians to their parents in our part of the world, one would be tempted to say there would hardly have been any need of the fifth commandment.
.....
Подняться наверх