The True-Born Englishman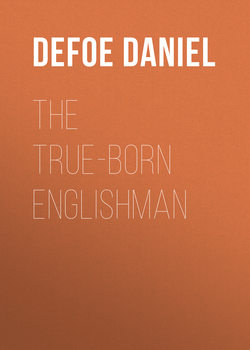 Оглавление
Defoe Daniel. The True-Born Englishman
PREFATORY NOTE
I. ROBINSON WITH HIS PARENTS
II. ROBINSON AS AN APPRENTICE
III. ROBINSON'S DEPARTURE
IV. ROBINSON FAR FROM HOME ROBINSON'S VOYAGE
V. THE SHIPWRECK
VI. ROBINSON SAVED
VII. THE FIRST NIGHT ON LAND
VIII. ROBINSON ON AN ISLAND
IX. ROBINSON'S SHELTER
X. ROBINSON MAKES A HAT
XI. ROBINSON'S CALENDAR
XII. ROBINSON MAKES A HUNTING BAG
XIII. ROBINSON EXPLORES THE ISLAND
XIV. ROBINSON AS A HUNTER
XV. ROBINSON'S SHOES AND PARASOL
XVI. GETTING FIRE
XVII. ROBINSON MAKES SOME FURNITURE
XVIII. ROBINSON BECOMES A SHEPHERD
XIX. ROBINSON BUILDS A HOME FOR HIS GOAT
XX. ROBINSON GETS READY FOR WINTER
XXI. HOW ROBINSON LAYS UP A STORE OF FOOD
XXII. ROBINSON'S DIARY
XXIII. ROBINSON IS SICK
XXIV. ROBINSON'S BOWER
XXV. ROBINSON AGAIN EXPLORES HIS ISLAND
XXVI. ROBINSON AND HIS BIRDS
XXVII. ROBINSON GETS FIRE
XXVIII. ROBINSON MAKES BASKETS
XXIX. ROBINSON BECOMES A FARMER
XXX. ROBINSON AS POTTER
XXXI. ROBINSON AS BAKER
XXXII. ROBINSON AS FISHERMAN
XXXIII. ROBINSON BUILDS A BOAT
XXXIV. ROBINSON AS A SAILOR
XXXV. A DISCOVERY
XXXVI. THE LANDING OF THE SAVAGES
XXXVII. ROBINSON AS A TEACHER
XXXVIII. ANOTHER SHIPWRECK
XXXIX. SAVING THINGS FROM THE SHIP
XL. THE RETURN OF THE SAVAGES
XLI. DELIVERANCE AT LAST
XLII. ROBINSON AT HOME
Отрывок из книги
There once lived in the city of New York, a boy by the name of Robinson Crusoe. He had a pleasant home. His father and mother were kind to him and sent him to school. They hoped that he would study hard and grow up to be a wise and useful man, but he loved rather to run idle about the street than to go to school. He was fond of playing along the River Hudson, for he there saw the great ships come and go. They were as big as houses. He watched them load and unload their cargoes and hundreds of people get off and on. His father had told him that the ships came from far distant lands, where lived many large animals and black men. His father told him too, that in these faraway countries the nuts on the trees grew to be as large as one's head and that the trees were as high as church steeples.
When Robinson saw the ships put out to sea, he would watch them till they would disappear below the horizon far out in the ocean, and think, "Oh, if I could only go with them far away to see those strange countries!" Thus he would linger along the great river and wish he might find an opportunity of making a voyage. Often it would be dark before he would get home. When he came into the house his mother would meet him and say in a gentle voice, "Why, Robinson, how late you are in getting home! You have been to the river again."
.....
So without saying "Good-bye" to his parents, Robinson went immediately on board the ship with his friend. This happened on the 10th of August.
It was hard work to get down from the tree. His limbs and back ached from sitting in the tree all night At last he slipped down and fell on the ground. He clasped his hands in prayer and thanked God for keeping him through the night.
.....
Подняться наверх