Eclectic Magazine of Foreign Literature, Science, and Art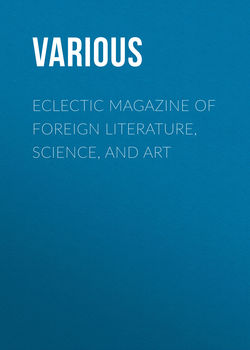 Оглавление
Various. Eclectic Magazine of Foreign Literature, Science, and Art
MOUNTAIN OBSERVATORIES
GOETHE
BYGONE CELEBRITIES AND LITERARY RECOLLECTIONS
I. Daniel O'Connell – Serjeant Talfourd – Robert Carruthers
II. Patric Park, Sculptor
A FEMALE NIHILIST
I
II
III
IV
AMONG THE TRAPPISTS. A GLIMPSE OF LIFE AT LE PORT DU SALUT
THUNDERBOLTS
THE LOCAL COLOR OF "ROMEO AND JULIET."
WILLIAM SMITH AND WILLIAM SHAKSPEARE
SOME SICILIAN CUSTOMS
THE FUTURE OF ELECTRICITY AND GAS
BEYOND THE HAZE
MRS. MONTAGU
GENERAL GORDON AND THE SLAVE TRADE
WÜRZBURG AND VIENNA. SCRAPS FROM A DIARY
ANCIENT ORGANS OF PUBLIC OPINION.56
THREE GLIMPSES OF A NEW ENGLAND VILLAGE
GLIMPSE THE FIRST
GLIMPSE THE SECOND
GLIMPSE THE THIRD
LAST WORDS ABOUT AGNOSTICISM AND THE RELIGION OF HUMANITY
LITERARY NOTICES
FOREIGN LITERARY NOTES
MISCELLANY
Отрывок из книги
The highest rank in literature belongs to those who combine the properly poetical with philosophical qualities, and crown both with a certain robust sincerity and common sense. The sovereign poet must be not merely a singer, but also a sage; to passion and music he must add large ideas; he must extend in width as well as in height; but, besides this, he must be no dreamer or fanatic, and must be rooted as firmly in the hard earth as he spreads widely and mounts freely towards the sky. Goethe, as we have described him, satisfies these conditions, and as much can be said of no other man of the modern world but Dante and Shakspeare.
Of this trio each is complete in all the three dimensions. Each feels deeply, each knows and sees clearly, and each has a stout grasp of reality. This completeness is what gives them their universal fame, and makes them interesting in all times and places. Each, however, is less complete in some directions than in others. Dante though no fanatic, yet is less rational than so great a man should have been. Shakspeare wants academic knowledge. Goethe, too, has his defects, but this is rather the place for dwelling on his peculiar merits. In respect of influence upon the world, he has for the present the advantage of being the latest, and therefore the least obsolete and exhausted, of the three. But he is also essentially much more of a teacher than his two predecessors. Alone among them he has a system, a theory of life, which he has thought and worked out for himself.
.....
In primitive times, when the main business of life was war, this was otherwise. Then men gave their hearts to the pursuit to which they gave their time. What was most important was also most interesting, and the poet when he sang of war sang of business too. Hence came the inimitable fire and life of Homeric and Shakspearian poetry. But when war gave place to industry, it seemed that this grand unity of human life is gone. Business, the important half of life, became unpoetical, from the higher point of view uninteresting – for how could the imagination dwell on the labors of the office or the factory? – and all higher interest was confined to that part of life in which energy is relaxed. Goethe's peculiar realism at once prompts and enables him to introduce a reform here. He denies that business is uninteresting, and maintains that the fault is in our own narrowness and in our slavery to a poetical tradition. It is the distinction of "Wilhelm Meister" that it is actually a novel about business, not merely a realistic novel venturing to approach the edge of that slough of dulness which is supposed to be at the centre of all our lives, but actually a novel about business as such, an attempt to show that the occupation to which a man gives his life is a matter not only for serious thought, but that it is a matter also for philosophy and poetry. That such a novel must at first sight appear tame and dull is obvious; it undertakes to create the taste by which it can be enjoyed, and will be condemned at once by all who are not disposed to give it a serious trial. But the question it raises is the fundamental question of modern life. Comprehensive and practical at once, Goethe's mind has found out that root of bitterness which is at the bottom of all the uneasy social agitations of the nineteenth century. We live in the industrial ages, and he has asked the question whether industry must of necessity be a form of slavery, or whether it can be glorified and made into a source of moral health and happiness.
It is commonly said that "Wilhelm Meister," seems to make Art the one object of life; but this is not Goethe's intention. He was himself an artist, and, as the work is in a great degree autobiographical, art naturally comes into the foreground, and the book becomes especially interesting to artists, but the real subject of it is vocations in general. In the later books, indeed, art drops into the background, and we have a view of feminine vocations. The "Beautiful Soul" represents the pietistic view of life; then Therese appears in contrast, representing the economic or utilitarian view; finally, Natalie hits the golden mean, being practical like Therese but less utilitarian, and, ideal like her aunt, the pietist, but less introspective. On the whole, then, the lesson of the book is that we should give unity to our lives by devoting them with hearty enthusiasm to some pursuit, and that the pursuit is assigned to us by Nature through the capacities she has given us. It is thus that Goethe substitutes for the idea of pleasure that of the satisfaction of special inborn aptitudes different in each individual. His system treats every man as a genius, for it regards every man as having his own unique individuality, for which it claims the same sort of tender consideration that is conceded to genius. But in laying down such rules Goethe thinks first of himself. He has spent long years in trying to make out his own vocation. He has had an opportunity of living almost every kind of life in turn. It was not till he returned from Italy that he felt himself to have arrived at clearness. What was Goethe's vocation? Or, since happiness consists in faithful obedience to a natural vocation, what was Goethe's happiness? His happiness is a kind of religion, a perpetual rapt contemplation, a beatific vision. The object of this contemplation is Nature, the laws or order of the Universe to which we belong. Of such contemplation he recognizes two kinds, one of which he calls Art and the other Science. He was in the habit of thinking that in Art and Science taken together he possessed an equivalent for what other men call their religion. Thus, in 1817, on the occasion of the tercentenary of the Reformation, he writes a poem in which he expresses his devout resolution of showing his Protestantism, as ever, by Art and Science.37 It was because his view of Art was so realistic, that he was able thus to regard Art as a sort of twin-sister of Science. But the principle involved in this twofold contemplation of Nature is the very principle of religion itself, and in one sense it is true that no man was ever more deliberately and consciously religious than Goethe. No man asserted more emphatically that the energy of action ought to be accompanied by the energy of feeling. It is the consistent principle of his life that the whole man ought to act together, and he pushes it so far that he seems to forbid all division of labor in science. This is the position taken up in "Faust" which perhaps is seldom rightly understood. Science, according to "Faust," must not be dry analysis pursued at a desk in a close room; it must be direct wondering contemplation of Nature. The secrets of the world must disclose themselves to a loving gaze, not to dry thinking (trocknes Sinnen), man must converse with Nature "as one spirit with another," "look into her breast as into the bosom of a friend." How we should not study is conveyed to us by the picture of Wagner, who is treated with so much contempt. He is simply the ordinary man of science, perhaps we may think the modest practical investigator, of the class to which the advance of science is mainly due. But Goethe has no mercy on him – why? Because his nature is divided, because his feelings do not keep pace with his thoughts, because his attention is concentrated upon single points. Such a man is to Goethe "the dry creeper," "the most pitiable of all the sons of earth."
.....
Подняться наверх