Eclectic Magazine of Foreign Literature, Science, and Art, March 1885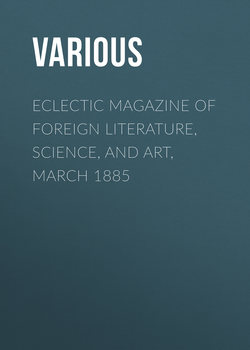 Оглавление
Various. Eclectic Magazine of Foreign Literature, Science, and Art, March 1885
FROM SIBERIA TO SWITZERLAND. The Story of an Escape
The Arrest
The Sentence
Sent to Siberia
The Convoy
The Substitution
The Flight
Liberty
COLERIDGE AS A SPIRITUAL THINKER
THE PORTRAIT. A Story of the Seen and the Unseen
DELLA CRUSCA AND ANNA MATILDA: An Episode in English Literature
THE SAVAGE
LE BONHOMME CORNEILLE
CHARLES DICKENS AT HOME. With Especial Reference to His Relations with Children
THE SUMMER PALACE, PEKING
THE CAMORRA
THE DECAY OF IRISH HUMOR
PRINCE BISMARCK'S CHARACTER
A FEW NOTES ON PERSIAN ART
HOW INSECTS BREATHE
PIERRE'S MOTTO: A CHACUN SELON SON TRAVAIL
BEHIND THE SCENES
GO TO THE ANT
LITERARY NOTICES
FOREIGN LITERARY NOTES
MISCELLANY
Отрывок из книги
Escapes of political and other convicts from Western Siberia are more frequent than is generally supposed, but from Eastern Siberia, though often attempted, they seldom succeed. Save for convicts under sentence of penal servitude, and actually imprisoned, it is easy to elude the vigilance of the police and get away from a convict village or settlement, but it is almost impossible to get out of the country. The immense distances to be traversed, the terrible climate, lack of money, the absolute necessity of keeping to the high roads, prove, except in very few instances, insuperable obstacles to final success. In order to be really free, moreover, it is imperative for a fugitive not alone to pass the frontier of European Russia, but to reach some country where he runs no risk of falling into the clutches of the imperial police. Even in Germany he is liable to be recaptured, and is really safe only in England, France, or Switzerland. Hence, to make good a flight from Eastern Siberia requires a conjuncture of so many favorable and nearly impossible circumstances as to render a complete escape a rare and remarkable event. But the incentives to escape are as great as the obstacles to success. No life can be more horrible than that of a political exile in the far east or far north of Siberia. Even at Irkoutsk the mean temperature is fifty degrees below the freezing-point of Réaumur; for many months of the year the sun in some parts of the country shines but two or three hours in the twenty-four, and for days together darkness covers the face of the land. A man untrained to manual labor, or unacquainted with the arts of trapping and killing wild animals and collecting peltry, turned adrift in the remoter parts of Siberia, runs the risk of perishing of hunger and cold. A Russian refugee, now at Geneva, tells that, during his sojourn in Eastern Siberia, he spent the greater part of the long winter in bed, rising only to swallow some rancid oil, the sole food he could obtain. To escape from such a life as this a man will risk almost anything. Even incarceration in a central prison, or the penal servitude of the mines, can hardly be more terrible. The trouble is, that the way to freedom lies through Western Siberia and Russia in Europe. The road south is barred by the wild tribes that haunt the frontiers of Mongolia and Manchuria, who either kill or give up to the Russians all the fugitives that fall into their hands.
On the other hand, the escape of a prisoner or of a convict under sentence of penal servitude is far more difficult than the flight of an involuntary exile; the latter may leave when he will, the former must either break out of prison or evade his guardians, and being soon missed he runs great risk of being quickly recaptured. How, in one instance at least, by boldness, address, presence of mind, and good luck, the difficulties were overcome, the following narrative, related, as nearly as possible, in Debagorio Mokrievitch's own words, will show. Other fugitives, for instance Nicolas Lopatin, a gentleman now living in Geneva, who escaped from Vercholensk in 1881, may have encountered great hardships, but, being exiles at large, they were neither so soon missed nor so quickly pursued. Debagorio was under sentence of penal servitude, and the flight from Siberia of a man condemned to penal servitude is almost unexampled. Even rarer than an escape is the true account of one, related by the fugitive himself. Imaginary accounts exist in plenty, but, so far as I am aware, no authentic personal narrative of an escape from Eastern Siberia – at any rate in English or French – has ever before been given to the world.
.....
I was so much altered that I hardly knew myself. I saw before me the reflection of a wild, strange, haggard face, and I could almost have believed I was somebody else.
"When did you hear of my flight?" I asked.
.....
Подняться наверх