Life of Napoleon Bonaparte. Volume II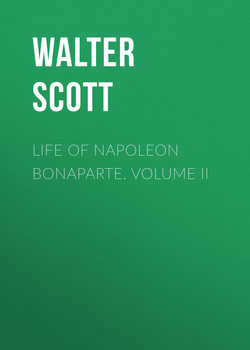 Оглавление
Walter Scott. Life of Napoleon Bonaparte. Volume II
CHAPTER I
CHAPTER II
CHAPTER III
CHAPTER IV
CHAPTER V
CHAPTER VI
CHAPTER VII
CHAPTER VIII
CHAPTER IX
CHAPTER X
CHAPTER XI
CHAPTER XII
CHAPTER XIII
CHAPTER XIV
CHAPTER XV
CHAPTER XVI
CHAPTER XVII
CHAPTER XVIII
CHAPTER XIX
CHAPTER XX
CHAPTER XXI
CHAPTER XXII
CHAPTER XXIII
CHAPTER XXIV
APPENDIX
Отрывок из книги
The siege of Toulon was the first incident of importance, which enabled Buonaparte to distinguish himself in the eyes of the French Government, and of the world at large.
Buonaparte's professional qualifications were still better vouched than the soundness of his political principles, though these were sufficiently decided. The notes which the inspectors of the Military School always preserve concerning their scholars, described his genius as being of the first order; and to these he owed his promotion to the rank of a lieutenant-colonel of artillery, with the command of the artillery during this siege.
.....
It seems to have been in general felt and admitted, that the blending of the executive and legislative power together, as both had been exercised by the existing Convention, opened the road to the most afflicting tyranny; and that to constitute a stable government, the power of executing the laws, and administering the ministerial functions, must be vested in some separate individuals, or number of individuals, who should, indeed, be responsible to the national legislature for the exercise of this power, but neither subject to their direct control, nor enjoying it as emanating immediately from their body. With these reflections arose others, on the utility of dividing the legislative body itself into two assemblies, one of which might form a check on the other, tending, by some exercise of an intermediate authority, to qualify the rash rapidity of a single chamber, and obstruct the progress of any individual, who might, like Robespierre, obtain a dictatorship in such a body, and become, in doing so, an arbitrary tyrant over the whole authorities of the state. Thus, loth and late, the French began to cast an eye on the British constitution, and the system of checks and balances upon which it is founded, as the best means of uniting the protection of liberty with the preservation of order. Thinking men had come gradually to be aware, that in hopes of getting something better than a system which had been sanctioned by the experience of ages, they had only produced a set of models, which were successively wondered at, applauded, neglected, and broken to pieces, instead of a simple machine, capable, in mechanical phrase, of working well.
Had such a feeling prevailed during the commencement of the Revolution, as was advocated by Mounier and others,68 France and Europe might have been spared the bloodshed and distress which afflicted them during a period of more than twenty years of war, with all the various evils which accompanied that great convulsion. France had then a king; nobles, out of whom a senate might have been selected; and abundance of able men to have formed a lower house, or house of commons. But the golden opportunity was passed over; and when the architects might, perhaps, have been disposed to execute the new fabric which they meditated, on the plan of a limited monarchy, the materials for the structure were no longer to be found.
.....
Подняться наверх