The Foundations of the Origin of Species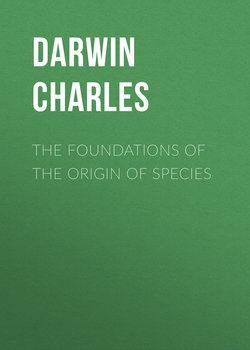 Оглавление
Darwin Charles. The Foundations of the Origin of Species
INTRODUCTION
PART I
§ I. «On Variation under Domestication, and on the Principles of Selection.»
§ II. «On Variation in a State of Nature and on the Natural Means of Selection.»
§ III. «On Variation in instincts and other mental attributes.»
PART II104
§§ IV. & V. «On the evidence from Geology.»
«Geographical Distribution.» § VI. Let us consider the absolute state of distribution of organisms of earth's face
§ VII. «Affinities and Classification.»
§ VIII. Unity [or similarity] of type in the great classes
§ IX. «Abortive organs.»
§ X. Recapitulation and conclusion
PART I
CHAPTER I. ON THE VARIATION OF ORGANIC BEINGS UNDER DOMESTICATION; AND ON THE PRINCIPLES OF SELECTION
On the hereditary tendency
Causes of Variation
On Selection
Crossing Breeds
Whether our domestic races have descended from one or more wild stocks
Limits to Variation in degree and kind
In what consists Domestication
Summary of first Chapter
CHAPTER II. ON THE VARIATION OF ORGANIC BEINGS IN A WILD STATE; ON THE NATURAL MEANS OF SELECTION; AND ON THE COMPARISON OF DOMESTIC RACES AND TRUE SPECIES
Natural means of Selection227
Differences between "Races" and "Species": – first, in their trueness or variability
Difference between "Races" and "Species" in fertility when crossed
Causes of Sterility in Hybrids
Infertility from causes distinct from hybridisation
Points of Resemblance between "Races" and "Species259."
External characters of Hybrids and Mongrels
Summary of second chapter265
Limits of Variation
CHAPTER III. ON THE VARIATION OF INSTINCTS AND OTHER MENTAL ATTRIBUTES UNDER DOMESTICATION AND IN STATE OF NATURE; ON THE DIFFICULTIES IN THIS SUBJECT; AND ON ANALOGOUS DIFFICULTIES WITH RESPECT TO CORPOREAL STRUCTURES
Variation of mental attributes under domestication
Hereditary habits compared with instincts
Variation in the mental attributes of wild animals
Principles of Selection applicable to instincts
Difficulties in the acquirement of complex instincts by Selection
Difficulties in the acquirement by Selection of complex corporeal structures
PART II305. ON THE EVIDENCE FAVOURABLE AND OPPOSED TO THE VIEW THAT SPECIES ARE NATURALLY FORMED RACES, DESCENDED FROM COMMON STOCKS
CHAPTER IV. ON THE NUMBER OF INTERMEDIATE FORMS REQUIRED ON THE THEORY OF COMMON DESCENT; AND ON THEIR ABSENCE IN A FOSSIL STATE
CHAPTER V. GRADUAL APPEARANCE AND DISAPPEARANCE OF SPECIES326
Extinction of species
CHAPTER VI. ON THE GEOGRAPHICAL DISTRIBUTION OF ORGANIC BEINGS IN PAST AND PRESENT TIMES
Section First
Distribution of the inhabitants in the different continents
Relation of range in genera and species
Distribution of the inhabitants in the same continent
Insular Faunas
Alpine Floras
Cause of the similarity in the floras of some distant mountains
Whether the same species has been created more than once
On the number of species, and of the classes to which they belong in different regions
Section Second
Geographical distribution of extinct organisms
Changes in geographical distribution
Summary on the distribution of living and extinct organic beings
Section Third
An attempt to explain the foregoing laws of geographical distribution, on the theory of allied species having a common descent
Improbability of finding fossil forms intermediate between existing species
CHAPTER VII. ON THE NATURE OF THE AFFINITIES AND CLASSIFICATION OF ORGANIC BEINGS425
Gradual appearance and disappearance of groups
What is the Natural System?
On the kind of relation between distinct groups
Classification of Races or Varieties
Classification of "races" and species similar
Origin of genera and families
CHAPTER VIII. UNITY OF TYPE IN THE GREAT CLASSES; AND MORPHOLOGICAL STRUCTURES
Unity of Type454
Morphology
Embryology
Attempt to explain the facts of embryology
On the graduated complexity in each great class
Modification by selection of the forms of immature animals
Importance of embryology in classification
Order in time in which the great classes have first appeared
CHAPTER IX. ABORTIVE OR RUDIMENTARY ORGANS
The abortive organs of naturalists
The abortive organs of physiologists
Abortion from gradual disuse
CHAPTER X. RECAPITULATION AND CONCLUSION
Recapitulation
Why do we wish to reject the theory of common descent?
Conclusion
Отрывок из книги
An individual organism placed under new conditions [often] sometimes varies in a small degree and in very trifling respects such as stature, fatness, sometimes colour, health, habits in animals and probably disposition. Also habits of life develope certain parts. Disuse atrophies. [Most of these slight variations tend to become hereditary.]
When the individual is multiplied for long periods by buds the variation is yet small, though greater and occasionally a single bud or individual departs widely from its type (example)36 and continues steadily to propagate, by buds, such new kind.
.....
The gradations by which each individual organ has arrived at its present state, and each individual animal with its aggregate of organs has arrived, probably never could be known, and all present great difficulties. I merely wish to show that the proposition is not so monstrous as it at first appears, and that if good reason can be advanced for believing the species have descended from common parents, the difficulty of imagining intermediate forms of structure not sufficient to make one at once reject the theory.
The mental powers of different animals in wild and tame state [present still greater difficulties] require a separate section. Be it remembered I have nothing to do with origin of memory, attention, and the different faculties of the mind88, but merely with their differences in each of the great divisions of nature. Disposition, courage, pertinacity «?», suspicion, restlessness, ill-temper, sagacity and «the» reverse unquestionably vary in animals and are inherited (Cuba wildness dogs, rabbits, fear against particular object as man Galapagos89). Habits purely corporeal, breeding season &c., time of going to rest &c., vary and are hereditary, like the analogous habits of plants which vary and are inherited. Habits of body, as manner of movement do. and do. Habits, as pointing and setting on certain occasions do. Taste for hunting certain objects and manner of doing so, – sheep-dog. These are shown clearly by crossing and their analogy with true instinct thus shown, – retriever. Do not know objects for which they do it. Lord Brougham's definition90. Origin partly habit, but the amount necessarily unknown, partly selection. Young pointers pointing stones and sheep – tumbling pigeons – sheep91 going back to place where born. Instinct aided by reason, as in the taylor-bird92. Taught by parents, cows choosing food, birds singing. Instincts vary in wild state (birds get wilder) often lost93; more perfect, – nest without roof. These facts [only clear way] show how incomprehensibly brain has power of transmitting intellectual operations.
.....
Подняться наверх