On the Origin of Species By Means of Natural Selection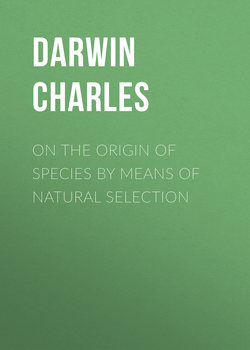 Оглавление
Darwin Charles. On the Origin of Species By Means of Natural Selection
INTRODUCTION
1. VARIATION UNDER DOMESTICATION
2. VARIATION UNDER NATURE
3. STRUGGLE FOR EXISTENCE
4. NATURAL SELECTION
5. LAWS OF VARIATION
6. DIFFICULTIES ON THEORY
7. INSTINCT
8. HYBRIDISM
9. ON THE IMPERFECTION OF THE GEOLOGICAL RECORD
10. ON THE GEOLOGICAL SUCCESSION OF ORGANIC BEINGS
11. GEOGRAPHICAL DISTRIBUTION
12. GEOGRAPHICAL DISTRIBUTION – continued
13. MUTUAL AFFINITIES OF ORGANIC BEINGS: MORPHOLOGY:
14. RECAPITULATION AND CONCLUSION
Отрывок из книги
When on board H.M.S. 'Beagle,' as naturalist, I was much struck with certain facts in the distribution of the inhabitants of South America, and in the geological relations of the present to the past inhabitants of that continent. These facts seemed to me to throw some light on the origin of species – that mystery of mysteries, as it has been called by one of our greatest philosophers. On my return home, it occurred to me, in 1837, that something might perhaps be made out on this question by patiently accumulating and reflecting on all sorts of facts which could possibly have any bearing on it. After five years' work I allowed myself to speculate on the subject, and drew up some short notes; these I enlarged in 1844 into a sketch of the conclusions, which then seemed to me probable: from that period to the present day I have steadily pursued the same object. I hope that I may be excused for entering on these personal details, as I give them to show that I have not been hasty in coming to a decision.
My work is now nearly finished; but as it will take me two or three more years to complete it, and as my health is far from strong, I have been urged to publish this Abstract. I have more especially been induced to do this, as Mr. Wallace, who is now studying the natural history of the Malay archipelago, has arrived at almost exactly the same general conclusions that I have on the origin of species. Last year he sent to me a memoir on this subject, with a request that I would forward it to Sir Charles Lyell, who sent it to the Linnean Society, and it is published in the third volume of the Journal of that Society. Sir C. Lyell and Dr. Hooker, who both knew of my work – the latter having read my sketch of 1844 – honoured me by thinking it advisable to publish, with Mr. Wallace's excellent memoir, some brief extracts from my manuscripts.
.....
Some facts in regard to the colouring of pigeons well deserve consideration. The rock-pigeon is of a slaty-blue, and has a white rump (the Indian sub-species, C. intermedia of Strickland, having it bluish); the tail has a terminal dark bar, with the bases of the outer feathers externally edged with white; the wings have two black bars; some semi-domestic breeds and some apparently truly wild breeds have, besides the two black bars, the wings chequered with black. These several marks do not occur together in any other species of the whole family. Now, in every one of the domestic breeds, taking thoroughly well-bred birds, all the above marks, even to the white edging of the outer tail-feathers, sometimes concur perfectly developed. Moreover, when two birds belonging to two distinct breeds are crossed, neither of which is blue or has any of the above-specified marks, the mongrel offspring are very apt suddenly to acquire these characters; for instance, I crossed some uniformly white fantails with some uniformly black barbs, and they produced mottled brown and black birds; these I again crossed together, and one grandchild of the pure white fantail and pure black barb was of as beautiful a blue colour, with the white rump, double black wing-bar, and barred and white-edged tail-feathers, as any wild rock-pigeon! We can understand these facts, on the well-known principle of reversion to ancestral characters, if all the domestic breeds have descended from the rock-pigeon. But if we deny this, we must make one of the two following highly improbable suppositions. Either, firstly, that all the several imagined aboriginal stocks were coloured and marked like the rock-pigeon, although no other existing species is thus coloured and marked, so that in each separate breed there might be a tendency to revert to the very same colours and markings. Or, secondly, that each breed, even the purest, has within a dozen or, at most, within a score of generations, been crossed by the rock-pigeon: I say within a dozen or twenty generations, for we know of no fact countenancing the belief that the child ever reverts to some one ancestor, removed by a greater number of generations. In a breed which has been crossed only once with some distinct breed, the tendency to reversion to any character derived from such cross will naturally become less and less, as in each succeeding generation there will be less of the foreign blood; but when there has been no cross with a distinct breed, and there is a tendency in both parents to revert to a character, which has been lost during some former generation, this tendency, for all that we can see to the contrary, may be transmitted undiminished for an indefinite number of generations. These two distinct cases are often confounded in treatises on inheritance.
Lastly, the hybrids or mongrels from between all the domestic breeds of pigeons are perfectly fertile. I can state this from my own observations, purposely made on the most distinct breeds. Now, it is difficult, perhaps impossible, to bring forward one case of the hybrid offspring of two animals CLEARLY DISTINCT being themselves perfectly fertile. Some authors believe that long-continued domestication eliminates this strong tendency to sterility: from the history of the dog I think there is some probability in this hypothesis, if applied to species closely related together, though it is unsupported by a single experiment. But to extend the hypothesis so far as to suppose that species, aboriginally as distinct as carriers, tumblers, pouters, and fantails now are, should yield offspring perfectly fertile, inter se, seems to me rash in the extreme.
.....
Подняться наверх