Lost in the Jungle; Narrated for Young People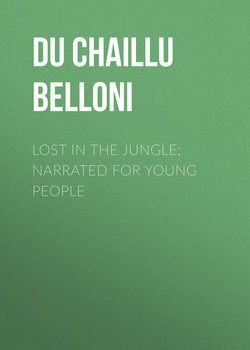 Оглавление
Du Chaillu Paul Belloni. Lost in the Jungle; Narrated for Young People
CHAPTER I
CHAPTER II
CHAPTER III
CHAPTER IV
CHAPTER V
CHAPTER VI
CHAPTER VII
CHAPTER VIII
CHAPTER IX
CHAPTER X
CHAPTER XI
CHAPTER XII
CHAPTER XIII
CHAPTER XIV
CHAPTER XV
CHAPTER XVI
CHAPTER XVII
CHAPTER XVIII
CHAPTER XIX
CHAPTER XX
CHAPTER XXI
CHAPTER XXII
CHAPTER XXIII
CHAPTER XXIV
CHAPTER XXV
CHAPTER XXVI
CHAPTER XXVII
CHAPTER XXVIII
CHAPTER XXIX
CHAPTER XXX
CHAPTER XXXI
Отрывок из книги
The sun is hot; it is midday. The flies are plaguing us; the boco, the nchouna, the ibolai are hard at work, and the question is, which of these three flies will bite us the hardest; they feel lively, for they like this kind of weather, and they swarm round our canoes.
I wish you could have seen the magnificent canoes we had; they were made of single trunks of huge trees. We had left the village of Goumbi, where my good friend Quengueza, of whom I have spoken before, and the best friend I had in Africa, reigned.
.....
On a sudden all merriment stopped, for Ouendogo had shouted "let Etia tell us some of his hunting adventures." This order was received with a tremendous cheer, and Etia was placed in the centre. How eager were the eyes and looks of those who knew the story-telling gift of their friend Etia, who began thus: "Years ago, I remember it as well as if it were but yesterday, I was in a great forest at the foot of a high hill, through which a little stream was murmuring; the jungle was dense, so much so that I could hardly see a few steps ahead of me; I was walking carefully along, very carefully, for I was hunting after the gorilla, and I had already met with the footprints of a huge one. I looked on the right, on the left, and ahead of me, and I wished I had had four eyes, that is, two more eyes on the back of my head, for I was afraid that a great gorilla might spring upon me from behind."
"Suddenly I spied a huge python coiled round a tree near to a little brook. The serpent was perfectly quiet. His huge body was coiled several times round the tree close to the ground, and there he was waiting for animals to come and drink. It was the dry season, and water was very scarce, and many animals came to that spring to drink. I can see, even to this day, its glittering eyes. Its color was almost identical with that of the bark of the tree. I immediately lay down behind another tree, for I had come also in search of game, and I could do nothing better than wait for the beasts to come there and drink.
.....
Подняться наверх